Thrice
Circa Survive, Pelican
House of Blues, Orlando, Fl • April 27, 2008
Jen Cray
"The Alchemy Index was almost like an exercise, an experiment," Thrice drummer Riley Breckenridge told me just before the doors were set to open on his band's sold-out Orlando show.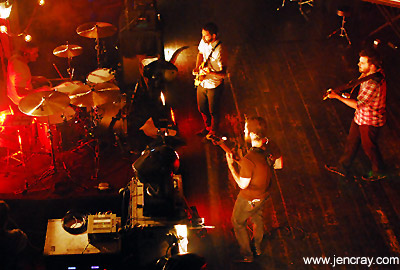 "Ya know, those Crayola crayons. There's the pack of eight that are your standard colors, and then there's the 64 pack with the sharpener on the back. In the past, it was like we had eight colors to draw with… (songs) didn't always come out the way we wanted them to… Now it's like we have this huge box of colors – this huge palette to work with – and the only thing we're limited by is our ability, or self restraint, I guess."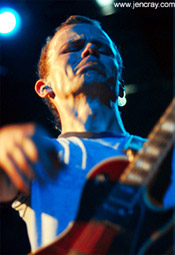 With the second half of their ambitious conceptual double album based around the four elements finally in the hands of fans, the band continues its ascension out of the claustrophobic puddles of post-hardcore and into the spacious skies of the indefinable.
Instrumental quintet Pelican laid the groundwork for what was sure to be a challenging evening of modern music for many fans whose familiarity with Thrice and support band Circa Survive may have been their earlier screamo releases. As skilled as Pelican are as musicians, watching a vocal-less rock performance by a band that was barely lit and who didn't do much got a little tedious after about 15 minutes. Still, what this band is trying to do is worthy of appreciation.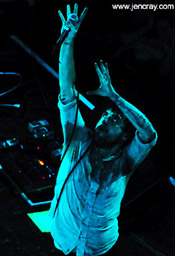 Circa Survive is not a band that I ever thought I'd come around to liking, yet the development of vocalist Anthony Green as a jaw-dropping front man has managed to hook me in. Similar in presence to Fair To Midland's Darroh Sudderth, Green steeps his style in dramatics in a manner that stays personable. His gestures are epic, his blue eyes, wild, and his contortions are spell binding. When he jumps into the arms of fans down front, he melts into their eager embrace.
As for his voice, the young prodigy has pipes like Perry Farrell and a loosely structured style like a male Bjork. Both artists have been huge influences on the singer, he told me after the show.
There are still no Circa Survive songs that have buried themselves into my subconscious, but so long as they stay fronted by Green, I'll be paying attention. I'll also be on the lookout for Green's upcoming solo album.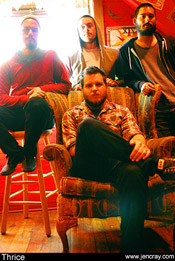 Thrice has outgrown its genre and, in so doing, outgrown mid-sized venues like the House of Blues. Until the band realizes its potential for bigger things, we – as fans – can bask in the intimacy of these smaller shows.
Starting things off with a bang, "Of Dust and Nations" whet everyone's appetites for a great set. The aggressive songs are always sure to go over well, it's how the crowds react to the more experimental personality of Thrice that can make or break a show for them. This crowd swayed, transfixed and singing, to the slower Water and Earth theme songs like "Digital Sea" and "Come All You Weary" in an almost unheard of appreciation of a band whose sound has taken a 180 since their first records.
"There's still the people yelling old song titles during quiet parts of new songs, which is really frustrating, but then it's such an awesome feeling when I hear someone yell, 'Shut up! Let them play what they want!'," bassist Eddie Breckenridge told me.
Because of these more transcendental moments, when the band tapped into their explosive side (as on "Hold Fast Hope," and the Fire EP's "Burn the Fleet") the pits ignited and the pent-up energy of the moshers were allowed release. The band even threw the old school fans a bone, by including "The Artist In The Ambulance," and "Deadbolt" into the mix.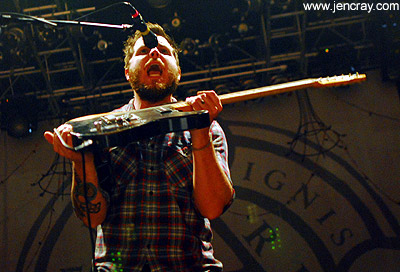 Thrice is a better band than it has ever been. Where will it go next?
"On The Alchemy Index…we made the songs the way we wanted them to be, but there were still the thoughts like 'that has to stay Earth, that has to stay Air.' I'm really excited to just be able to throw it all in there and have each song be whatever it wants to be,"said Eddie with a smile.
To see more photos of this show, and others, go to [www.jencray.com](http://www.jencray.com).
Thrice: http://www.thrice.net ◼
---