Be Your Own Pet
The Virgins, Switches
House of Blues, Orlando, Fl • May 22, 2008
Jen Cray
Later this summer they'll be stealing hearts all over the country while they play sweaty sets on the Van's Warped Tour, but as a preview to the outdoor chaos to come, Be Your Own Pet are stealing shows right out from under the other acts on the Nylon Summer Music Tour.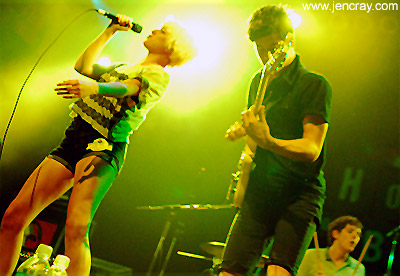 On a bill bogged down with boys, a band fronted by a cute and spunky blond who tosses herself around the stage like a rag doll is bound to grab attention. It's too bad there weren't more people inside Orlando's House of Blues to see them play.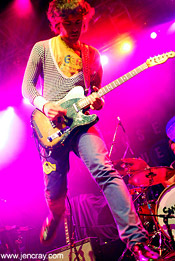 Opening up the show to a nearly empty room, London's answer to Weezer prepped themselves to win over some American fans. Switches have some damn catchy tunes – "Drama Queen" and "Lay Down the Law" especially – but they could use two things. First, a bit more confidence and energy on-stage. Second, fashion that doesn't borrow from the emo handbook. I will say it once more, headbands are not cool!
This young British bunch has harnessed the dance floor poppiness of Franz Ferdinand (what the hell happen to them, by the way?!), injected the faintest hint of Strokes-era garage rock, and then dressed it all up in a teen-ready package. As the band played on, more and more fans began to dance. What better sign to point toward success?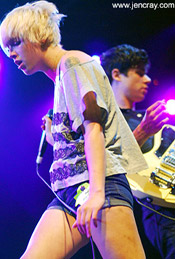 Virgins are a great, little punk band from Orlando whose music is raw and classic sounding. The Virgins are a modern disco band from NYC whose music sounds like The BeeGees. Take a guess as to which one I prefer. It's not that this band was offensively bad, they just didn't do anything for me. The fact that the song they closed with contained a riff eerily similar to "Life is a Highway," that god-awful Tom Cochrane song from 1991, left a bad taste in my mouth that I was all too eager for Be Your Own Pet to cleanse.
Nashville, Tennessee has given the world a lot of great music over the last century, and none of it anything like Be Your Own Pet. The teenage quartet plays two-minute long bursts of sugar and spice punk. Frontwoman, Jemina Pearl, sings like Kathleen Hanna, looks like a platinum blond Karen O, and is one of the most intriguing vocalists in modern music. Needless to say, the crowd loved her. "I love you, Jemina!" and "Marry me, Jemina!" were frequent calls from both sexes in the room.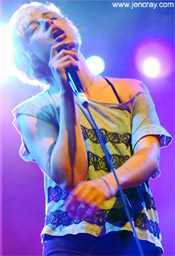 When this band opened up for Arctic Monkeys last year, I was convinced of their potential for something spectacular, even though their songs didn't have quite the punch that their performance promised. Their new material off Get Awkward retains the brash and splash of their 2006 self-titled release, but layers it up thick with irresistible melodies. "The Kelly Affair" is poised to be my summertime anthem, and watching Pearl bounce around from toe to toe while shaking her head into what must surely result in a vicious migraine only fueled the fire of this perfect pop song.
I now know whose set I'll most be seeking out at this summer's Warped Tour.
To see more photos from this show, and others, go to [www.jencray.com](http://www.jencray.com/bands_live.htm).
Be Your Own Pet: http://www.beyourownpet.net
Nylon Summer Music Tour: http://www.nylonmag.com/summertour/ ◼
---