Meat Beat Manifesto
Raz Mesinai's Badawi
Highline Ballroom, New York, NY • April 26, 2008
Kiran Aditham
During an oddly mild April evening in the Big Apple, the spacious, theater-style confines of Manhattan's Highline Ballroom played host to legendary electronic beatsmith Jack Dangers and his Meat Beat Manifesto crew. Having formed in the late '80s with an innovative blend of industrial and hip-hop (an ideal evolution from his previous Perennial Divide project), Dangers' style has been constantly mutating from techno territory (1992's Satyricon), to ambient dub soundscapes (1996's double-disc Subliminal Sandwich), to psychedelic (2002's RUOK), and even into further hip-hop/scratch work under his Tino Corp project.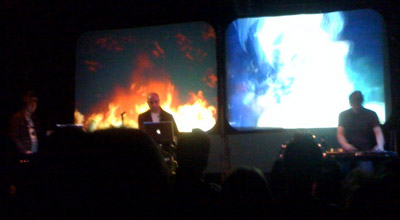 A consistently touring act, MBM brought in a packed house to Highline, who were first treated to opening act, Raz Mesinai's Badawi. Led by New York avant-garde artist, Mesinai, the group's brief set covered material from their album Unit of Resistance, which consisted of speaker-blowing, Middle Eastern-flavored dub and reggae filled with dark undertones. While the space was half-filled by that point, the crowd, consisting of die-hard Meat Beat fans and hipsters alike, seemed to appreciate the styles that were displayed since it seemed somewhat related to MBM's output.
After a half-hour respite, Dangers took to the stage flanked by two band mates and an army of electronic equipment ranging from keyboards to several laptops. Taking the center position and backed by a series of large video screens displaying a constantly shifting barrage of random imagery, Dangers kicked off with the upbeat, breakbeat-driven "I Hold the Mic!" off Meat Beat's latest return-to-its-roots release Autoimmune. Quiet and reserved for the most part between songs, Dangers wasn't afraid to rock the mic on several tracks and shove his mug in front of a mini-camera that was projected on the screen amid all the various visuals.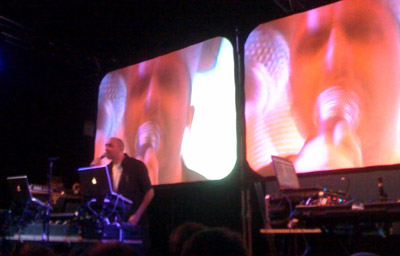 Still, despite offering several other tracks from his newest opus including the ominous, stomping "Lonely Soldier" and the experimental "Hellfire," as well as a smattering of cuts from recent releases, Dangers wasn't hesitant to please fans and look back to the past by dishing out banging version of classics like " I am Electro," "Acid Again," and "Helter Skelter."
Judging by the overwhelmingly positive reaction of the crowd for MBM's 80+ minute set, capped by a two-track encore of unrecognizable, yet beat-friendly anthems, the 20-year odyssey of Meat Beat Manifesto will continue for the foreseeable future.
Before the show, we had a chance to wander back to the dressing room area and talk with Mr. Dangers himself about the new record, the visual emphasis in his live shows, and his inspiration.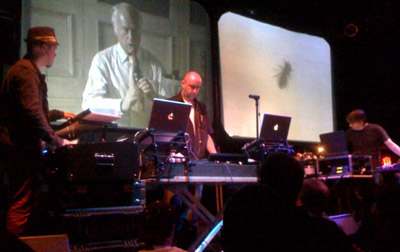 Tell me about Autoimmune and how you approached it versus the previous efforts.
Probably the main difference between this and the other ones is I've got some guest vocalists. Apart from that, it's the usual procedure I went through. It took a couple years to shave it down to one CD. It was going to be a double CD with 28 tracks, but I like the quality rather than quantity so I narrowed it down to what we have now. There is also a different version in Europe out now.
Since '94, I've been working in the same studio with the same procedure. If there was anything different this time around, I was more aware of thinking about using video sampling so when we're out live, there's more of a connection between the light show and this album.
What was the impetus for doing guest vocalists on Autoimmune?
I was trying for a different flavor. I've been doing [my own vocals] for 22 years and wanted to work with some brothers. I'm just a white guy from England so I haven't got that vocal style.
How important is the video aspect in relation to the audio?
During the first ten years of doing Meat Beat Manifesto records, I was getting audio/spoken word stuff from television and film rather than from records. So, I was able to track down these old pieces I've used, like VHS tapes. It's a complete connection when you see the visual and the audio.
Even for specific parts, the last show we did, I stumbled upon Pete Townsend of The Who doing his thing. If you didn't have the visual, it would be very one-dimensional and just another guitar sound. It's the whole aspect of taking something that already exists and turning it into something else.
You usually have a bank of instruments even out of the studio and on the stage. Do you think having a more minimal setup is the way to go now with all the software and synth emulators out there?
I don't think I'm known for being too minimal. (Laughs) I like to stack things and it's the same thing for visuals. You can't go out and buy a Roland video sampler. It just doesn't exist. You have to use six different programs to get to a point of playing it back via a MIDI keyboard. There's a lot of work that goes into it. The piece of software we use is actually polyphonic so we can layer several visuals at the same time, so again, there's nothing minimal to it.
Twenty years ago, the visual part of the show contained like 12 samplers, and we toured around Europe. We didn't come over here with those; we came with three. Now, it's one and video sampling and that's the way I like to do it. We're playing live and there's a lot of visualization. The music is running from Ableton and I'm putting solos in.
How do you coordinate the music with your band mates? Is there a lot of rehearsal?
There's a lot of rehearsal, and when you do the first show, it feels somewhat different. There are happy accidents that happen and you've got these completely different video samples and there's a sense of humor to it.
What would you say overall differentiates Autoimmune from your previous work?
There's probably more dub-step stuff on this. But we've always been doing stuff like this even on [1989's] Storm the Studio. [There are new acts, like Burial] but other bands like Scorn have also been doing this for ages. There's a certain music scene over [in England] that seems to be more of a weekly [trend] thing rather than a monthly thing because it's a small country. There's always music that has to be called something or put into a pigeonhole, but if there's anything different than other albums, there's probably more of that [dub-step].
Who inspires you?
I like Scorn. But I think what we do is just different than just being straight dub-step. People are riding on it because it's now a catchphrase. Like I said, we use different elements and Scorn sounds like something definitely beyond that. ◼
---