Alkaline Trio
American Steel, The Fashion
House of Blues, Orlando, Fl • July 19, 2008
Jen Cray
A thousand fists pound the air as an equal number of voices scream along to the most loved of Alkaline Trio's long list of adored songs. It's the encore, capping off a revitalizing night of music at Orlando's House of Blues – the song is "Radio."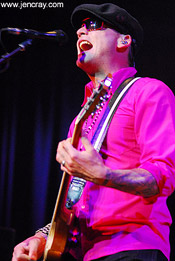 It's moments like this one when being part of the legion of Alkaline Trio fans feels like being with family.
"…A band going on tour and connecting with the people…That's what inspired me to be in a band," bassist/singer Dan Andriano explained to me. "Having that connection inspires me to want to write stuff that will be catchy or sing-songy. (laughs) It's fun, right?"
Fun may very well be defined as seeing a band whose songs you know every single word of and can shamelessly sing alongside masses of other crazed fans. This Chicago-borne trio is the quintessential sing-along pop/punk band, and they have managed to retain their underground roots even while flirting with mainstream stardom.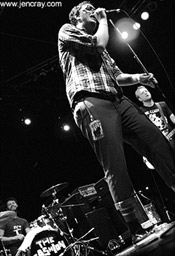 Starting the fun early on, Denmark's The Fashion flashed back to the quirkier side of the '80s, and the crowd eagerly went along with them. While their music didn't entirely win me over, their spirit – particularly that of the somewhat spastic frontman Jakob Printzlau – did. The songs were bouncy and fun in a very post-punk/ electronic/ new-wave kind of vein, but only one struck me as noteworthy – the impossible-to-resist "Solo Impala."
Keeping with my current musical tastes, Fat Wreck Chords' American Steel were less about revamping new wave and more about keeping the spirit of rock – both punk and otherwise – alive. A little background check on the band finds that, though they got together as far back as 1995, they are back on the scene as American Steel after a six-year detour under the moniker Communique. Under that name, their sound was more like the bouncy synth-rock of The Fashion. I'm happy that my first experience with this group of guys was under the American Steel name.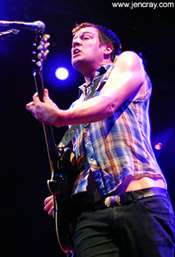 As for the audience's reaction, I heard plenty of impassioned cries of approval at the end of each song. What percentage of the fans were seeing and hearing American Steel for the first time, like me, was anyone's guess, but the band's success goes without question. Orlando opened its arms to the California band, but it laid a big wet one on Alkaline Trio.
Dressed in a bright pink button-up shirt, shades, and a beret, singer/guitarist Matt Skiba greeted the audience with a wave and a smile. During the 90-minute set the shades and beret were abandoned, but the smile never left his face. With every surge of escalating applause, the band's already good spirits seemed to rise.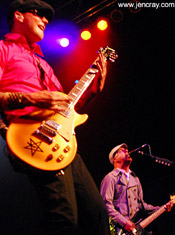 The set list for the show was much the same as it had been for the rest of the tour. They began with "Calling All Skeletons," the first song off of their latest album Agony and Irony, ended with the encore of "For Your Lungs Only" and "Radio," and slipped old favorites in between. Highlights included "Cringe," "Nose Over Tail," and "Private Eye." Of the new songs they played, "Help Me" and "In Vein" were met with enthusiasm, but "Do You Wanna Know" fell kind of flat. "Love Love Kiss Kiss" would have been a safer bet, but was strangely missing from the list.
There wasn't a whole lot of conversation throughout the set, but with songs paced as perfectly as they were, talking was not necessary. The fans weren't looking for down time, but merely holding their breath in anticipation of what the next song choice would be. With so many countless three minute gems to choose from, going all the way back to the band's debut disc in 1998, the boys could do no wrong in the eyes of the Florida fans.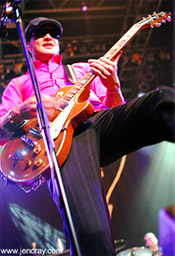 Skiba ingratiated himself with the fans by slipping local references into his lyrics, like when he altered "Mercy Me" to include the line "I took a long walk straight back home/ I could've walked back to Orlando."
After the last chords of "Radio" finished, the band waved their good-byes, and I left the venue with a renewed sense of hope for live music. The memories of recent mediocre, or just plain awful, live experiences began to fade behind the night's glowing success. I could watch this band play every night of the week and never get tired.
If you missed out on this tour, keep a look out for the triple-threat bill hitting the road in the fall: Alkaline Trio, Thrice, and Rise Against.
To see more photos of this show, and others, go to [www.jencray.com](http://www.jencray.com/bands_live.htm).
Alkaline Trio: http://www.alkalinetrio.com ◼
---