Wild Sweet Orange
What Made Milwaukee Famous, The Crash Moderns
The Social, Orlando, Fl • August 27, 2008
Jen Cray
Wild Sweet Orange and What Made Milwaukee Famous are not yet household names, so though the thin crowd that came out for their weekday show in Orlando may have discouraged some, this pair of bands appeared happy to have an audience that numbered in the double digits. It may have been a mild crowd, and one that stay planted on the barstools in the back, but it was a crowd nonetheless.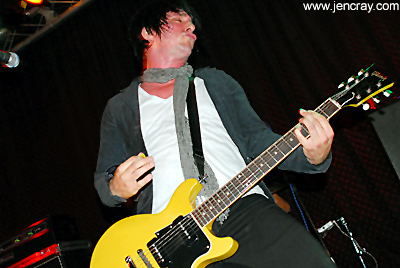 Fans of the dialed-down indie rock of the headliners stood bewildered as The Crash Moderns crashed the evening's bill. The power pop band from New York City wasn't bad, but it was severely out of place. On a bill with bands like The Matches or All American Rejects these guys would have been adored and hounded after their set, but the indie rock fans merely awaited their set's end and then offered polite applause as the band broke down their gear and headed to the bar to cash in their drink tickets. Downhearted though they must have been, they put forth the most high-energy 30 minutes of performance all night. Singer/guitarist Danny Roselle didn't worry about looking foolish as he rocked out riffs on the edge of the stage into an open space that should have held people, and his unabashed confidence in doing so gave me a bit of respect for this young bunch of black-clad boys.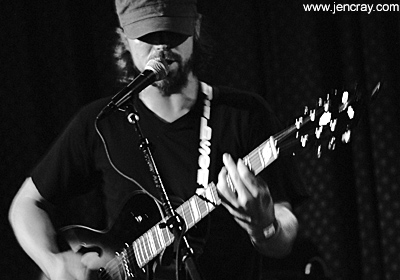 I remembered liking What Made Milwaukee Famous well enough the last time I saw them play, though I couldn't remember for the life of me who I had previously seen them open for. They were one of those bands that blended into the background as a decent bar band, their musical wallpaper pleasant enough to serve as drinking music, but not distinct enough to have been memorable. Every now and then a good song would poke its head through the smoke, like the celebration of inebriation tune "Cheap Wine," but where the band was lacking was in singularity. They had gradations as widespread as Radiohead, Wilco, and Boston, but there didn't seem to a be a defining element that set them apart from any of the other eclectically-influenced rock bands out there. Even when singer/guitarist Jason Davis fell to his knees to tease some feedback out of his amp during the final song, it wasn't enough to carry the otherwise lackluster set.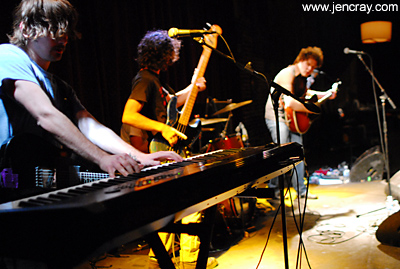 A band can be mellow, yet still emote enough feeling onstage to be captivating. Wild Sweet Orange was a band that I checked in on based on a few songs that caught my ear off of their recent full length debut We Have Cause to Be Uneasy. I wasn't expecting too much, and so when their quiet beauty filled the space of The Social I was knocked off guard.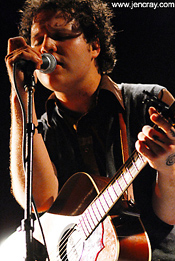 This band that hails from the Southern Baptist state of Alabama is blessed with that indefinable thing that makes it more than the sum of its parts. The secret lies within the subtle but dramatic gestures of Preston Lovinggood, as much as within the strangely poetic lyrics (also penned by Lovinggood). What songwriter can turn a song about dead dogs into one of the most gorgeous songs of the year?
I saw ten dead dogs on the side of the road/ driving late last night to your apartment/ and I thought it was an omen/ so I headed on back home and/ walked in circles 'round my room/ alone – from Ten Dead Dogs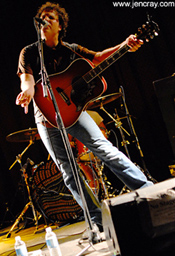 When the band launched into this heartbreaking song early in their set, I was completely won over. Even the audience, which by the time of the closing set had multiplied in number, had moved from their stools ever closer to the stage's edge. Lovinggood responded to the audience's approval by letting everyone know how happy they were to finally make it down to Florida, and to apologize if they seemed a little tired.
"We just played (bassist) Garrett Kelly's grandmother's wedding. She's 80 years old, which proves that you're never too old to find love," he said with a smile.
There's a understated brilliance to Wild Sweet Orange, and it's exactly the sort of quality that bands like What Made Milwaukee Famous are just on the doorstep of – but haven't quite found.
To see more photos of this show, and others, go to [www.jencray.com](http://www.jencray.com/bands_live.htm).
Wild Sweet Orange: http://www.myspace.com/wildsweetorange ◼
---