Rise Against
Alkaline Trio, Thrice, The Gaslight Anthem
House of Blues, Orlando, Fl • October 23, 2008
Jen Cray
Rise Against, Alkaline Trio, Thrice, and The Gaslight Anthem all on the same stage, all on the same night. If there's a better bill of bands touring together right now, I'm not aware of it. Each one of these bands can do their own headlining tours and seeing them all with one ticket is a steal! Their Orlando date, like most dates on the tour thus far, is a big sell-out.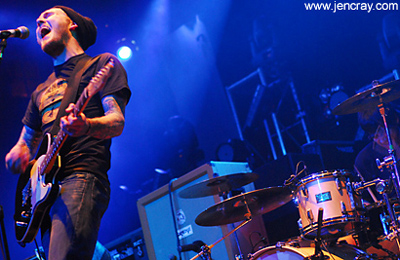 Rather than playing to a half-empty house as most opening acts end up doing, The Gaslight Anthem takes to the stage in front of a not only capacity crowd, but an enthusiastic one. There's been buzz building around the NJ boys and their Springsteen-by-way-of-Against Me! sound, and the audience arrives early to see if it measures up to the hype. Indeed it does, the band has grown by leaps and bounds since I saw them last February. Vocalist/guitarist Brian Fallon, in such a short time, has graduated from timid singer to confident and witty frontman. Fallon's newly developed comfort onstage, combined with a new album of songs rich with story telling and Top 40 melodies, turns out to be all the band needed to become noteworthy. Their set ends all too quickly, but not before satisfying my need to hear "The '59 Sound," and the gorgeous and soulful "We Came to Dance."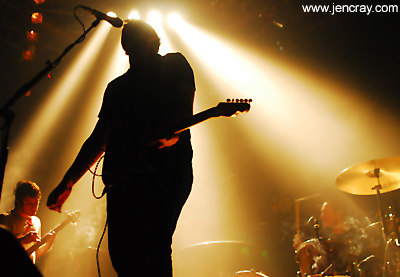 While we're speaking of things gorgeous and soulful, let us take a moment to appreciate the magnificence of Thrice. The band, which began as a screamo outfit, is constantly being underestimated for their range of talent and today sounds nothing like they once did. Where once they rubbed shoulders with bands like Underoath and Hot Water Music, their sound has since evolved into something closer in comparison to Radiohead. Their emergence onstage marks the first of the evening's instances of blissful adulation on the part of the audience.
The band's condensed yet visually stunning set is heavy on the blood pumping songs that get the fans moving, "Silhouette" and "Blood Clots and Black Holes" being the favorites. After an ambitious, eardrum shattering cover of The Beatles' "Helter Skelter," they close out the set with one of their more subtle, spine tingling songs. "The Earth Will Shake," off of the band's transitional album Vihessu, is a haunting song about breaking free that will move you from the inside out. It's a shame that openers aren't permitted the time to grant encores because Thrice is not a band that should be limited to a measly 30 minutes.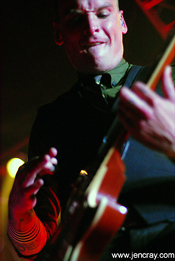 At least we have Alkaline Trio to brings our spirits back up again.
Decked out in a vest and tie, Alkaline Trio's co-vocalist/guitarist Matt Skiba is ever the fashionista, bringing a little elegance to the dirty world of pop punk. During the songs that find bassist Dan Andriano handling lead vocals, he flirts with the edge of the stage, sporting a sly little smile that sends his fans – male and female alike – into a frenzy. Skiba may not be as androgynous as the ghosts of Rock music's past, but he has just enough ambiguity to get even the straightest man in the crowd worked up. Those fans may disagree with me, but I've seen it. Nothing to be ashamed of, boys.
The band doesn't say much between songs, after all they have 45 minutes to cram in twelve years worth of material. They thank their fellow tour mates, and send out a dedication to "anyone who has friends or family serving in Iraq" before launching into "Over and Out," off of this year's Agony and Irony. This heartfelt dedication, and the bittersweet power ballad, inspires a pair of tough military guys behind me to scream along to every lyric until I fear their eyes will bleed. (sample: Run for cover and you'll find us there/ we'll take on the anguish, make it disappear/ with hand grenades and napalm flames/ are leaving you tonight/ Let this candle burn til you get home). The beloved Trio closes out the set with "This Could Be Love."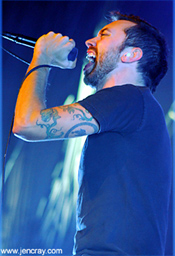 As much as this is an audience in love with both Alkaline and Thrice, at the end of the day their hearts lie with Rise Against.
I've seen the Chicago band play twice before, but had never really listened. It's just recently that I've come around to discovering the draw of this band's sound, and so I'm psyched to see them through a brand new pair of eyes… They do not disappoint.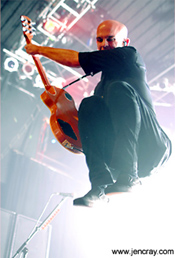 Opening up with "Drones," the band starts off its set with the kind of energy that usually takes a good three or four songs to slip into. The crowd meets them at the peak, and begins churning the room into a whirlpool of bodies faster than the security guards can say "no crowd surfing." A near 90-minute set follows, and the momentum never lets up. Brand new guitarist Zach Blair (who has done time in Gwar, Only Crime, and Hagfish) is a speedball of happy madness who spends as much time leaping into the air as he does slipping small metal-tinged solos into the songs. He's an exciting addition to an already dominant band.
Their pre-election setlist is chock full of the sort of politically-tinged rants and commentaries that the band is known for, made all the more powerful by the no-holds-barred vocals of Tim Mcllrath. With a decade long career and a brand new album to pull from, the night's collection of songs is versatile enough to satisfy the newly born fans as well as the veterans. Speaking of veterans, the band has brought the Iraqi Veterans Against the War (IVAW) out to a lot of their shows on this tour which proves two things: 1. Rise Against hates the war, not the military, and 2. It's not un-American to support a band that questions government policy.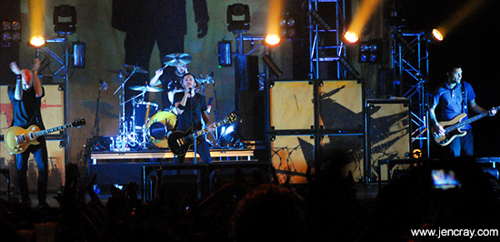 An acoustic encore of "Hero of War" and "Swing Life Away" gives everyone a chance to breathe before the band leaves us all on a three-song adrenaline rush that culminates with "Prayer for the Refugee."
To see more photos of this show, and others, go to [www.jencray.com](http://www.jencray.com/bands_live.htm).
Thrice: http://www.thrice.net • Alkaline Trio: http://www.alkalinetrio.com • Rise Against: http://www.riseagainst.com ◼
---