Dave Barnes
The Next Best Thing
Lynn Wallace
Pop singer/songwriter Dave Barnes may just be the next best thing to come out of Nashville, Tennessee. With a fresh sound, original lyrics, and a sense of humor that could knock your socks off, Barnes is rare and refreshing in a music world gone awry. Barnes' music is a unique melting pot of pop, rock, blues, soul, jazz, and gospel and has received rave reviews from many, including USA Today, Billboard, and even John Mayer himself.
Barnes released his third full-length album Me and You and the World in April and has already toured with several big acts such as One Republic, Taylor Swift, Bonnie Raitt, Jonny Lang, and Los Lonely Boys. He also recently completed a tour opening for Hanson.
Aside from his music, Barnes is also known for his clean and original comedy. Barnes will often spruce up his live show with his witty charm and, not long ago, he even performed a sold-out comedy show in Nashville. Barnes' comedy videos have also gained growing popularity on YouTube, with over 500,000 video views to date.
Yet, Barnes has a serious side as well. He has a great heart for helping Africa and is a proud sponsor of the Mocha Club ([www.mochaclub.org](http://www.mochaclub.org)). This organization helps provide aid and relief to Africans through local leadership in the form of education, HIV/AIDS treatment, and job creation by gathering donations of $7 per month, the price of roughly two mochas.
In a recent phone interview, I got a chance to talk with Dave Barnes about Me and You and the World, touring, and what drives his unique sense of humor.
Your most recent release is Me and You and the World. What was a personal highlight for you while making this album?
Anytime I get to do those albums it's like the whole time is a highlight, which is maybe the cheesiest thing I've ever said. But records are just fun to make. You put all this work into writing and into these songs and the lyrics and the melody, so it's so nice to finally get to record them. It's sort of like when you get through writing them, most of them kinda feel like the junior high versions of themselves, and by the time you record them they're like the just-got-out-of-college-ready-to-take-on-the-job-and-become-a-young-man. (laughs) So, it's fun to kind of see them change into something. There's been so many times in the studio where I feel like I bring a song in and I have a pretty good idea of how it should sound and then one of the people playing on it or my producer will say, "You know, man, let's try it this way." And all of a sudden it becomes this completely different thing. So, it's always fun. It's a really fun process.
Do you have a favorite song from this album? Why is it a favorite?
You know, probably my favorite one to listen to is a song called "Nothing Else." I think it's just because it's so different and I love the orchestration and the horns. It's one of those songs that we were like, "Let's just really go for it. Let's just really blow it out." So, it's fun to listen to.
What are you most proud of on this album?
I really try to take at least a step or two forward with every record that I do in every sense – lyrically, melodically, and the way that I play – and this record for sure is a pretty huge step forward. I played a lot more electric and lead [guitar] parts on this record than I did before. Lyrically, I'm really, really proud of it. I think it's sort of the first time I've [lyrically] dealt with social injustice and the time I spent in Africa. So, it was a pretty big step for me.
That kind of leads me into my next question. How has your involvement with the Mocha Club, including traveling abroad to African countries in need, influenced your songwriting?
More than anything, it's just exposed me to such new things. You can't see the stuff that I saw when I went over [to Africa], from meeting children and orphans and mothers who have HIV and AIDS and stuff like that, without coming back and feeling like you have to think about something else and sort of re-address life as you knew it. So, I really wanted that to make its way into my writing. It was a pretty big influence, which I've really tried my best to represent. It's hard because you don't want to come off as preaching, but you also want to try to make a potent statement. And pop music isn't always the safest place to do that. So, I tried to be as gentle as I could, but I was also true to how I felt [and] where my heart was.
I think the Mocha Club is a really great project. I saw you play at a show about a year ago and I signed up for the Mocha Club at that show, so I'm a member now.
Oh, that's great! I think one of the most interesting things about [the Mocha Club] is now people are going on trips to Africa. And the thing that's so cool about it is seeing that from me going to Africa and from me being able to get involved in this and then talking about it at shows, not only are people giving money to [the Mocha Club], but now they're taking trips [to Africa]. That's when it gets really cool. It's so cool to see people give money, but to think that people would think, "I want to go experience that; I want that to become something that's a part of my life" and then, even more so, talking to people who are thinking of changing professions and maybe becoming involved, that's so overwhelming. And I think that's obviously a career that has much more eternal significance than writing a song does. It's cool to see that something that you spend time doing gives some massive life change or at least creates an avenue for people to do something else with their lives or what they feel is important.
I noticed that some of your songs have seemed kind of faith-based. How has your faith influenced your music and your outlook toward writing music?
I think completely, like 100%. It's not something you can get away from. It influences everything. It's the parameters in which I see the world and it's the parameters that I write my songs and the lyrics and the worldview that I have and how I perceive things and operate, so it dictates everything. I don't think anything I ever write sort of gets outside of those lines.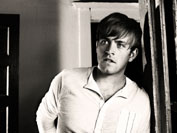 Me and You and the World has done very well from the get-go it seems. It's done really well on the charts and you've gotten some exposure on MTV and things like that. What do you attribute to the growing success of this album and also your growing success as an artist at this stage in your career?
I think the massive amounts of money that I'm paying people – every fan gets five dollars. (laughs) No, you hope as the guy who sings it and writes it that it's because people like the music and it's good music. But, the biggest deal to me – and I would argue probably a lot of people who write songs would say this – the goal you have is to see someone take a song you've written and say, "This now has become a necessary part of my life. Not just do I enjoy it, but when I listen to it it makes me feel a certain way which I deem as necessary to continue to be happy or thoughtful or sad or whatever." And, so, that's what I'm trying to do. I want to write songs that are good, but I really want to write songs that people walk away with thinking, "This now has become sort of the framework or a backdrop to a scene in my life." I would hope that's why.
So, not because of the five bucks for each fan?
Well, that doesn't hurt.
I don't think people would complain.
I don't either, actually. (laughs) Other than me.
I know you've opened for some pretty big artists recently – One Republic, Taylor Swift, Bonnie Raitt, Jonny Lang, Los Lonely Boys, and Hanson to name a few. What has it been like touring with artists like this? What have you taken away from those experiences?
It's such a massive privilege and blessing. I feel like I go to a different school every tour I go on and watch how [artists] do what they do and how they conduct themselves with the fans and how they do their shows and it's really great. It's sort of like a huge rock 'n' roll school because every band has different quirks and strengths and weaknesses. So, it's fun for me to get to go out every night and watch that.
I know you've done some comedy videos on YouTube and you've done some stand-up comedy and you're just really funny. How are you so freakin' funny?
A lot of it is that's just how I've worked for a long time. I grew up doing skits and sort of little funny, stupid videos and stuff and so somewhere down the road I thought, "You know, if I'm trying to market myself, not just my music, this is absolutely a part of who I am and how I work." So, it's not fair to not let people see that. 'Cause I'm kind of at the point where I just want people to get to know me – music also – but I kind of like feeling like they kind of know who I am.
Well, I'm just really amused by your sense of humor because when I saw you in concert I thought you were so funny I had tears in my eyes at one part in the show.
Hopefully, not from pain. (laughs)
No. (laughs)
Hopefully, that's what we're going for because I think the live show is an experience. You want to be able to put on a show that you can't replicate and people kind of feel like it's a once in a lifetime kind of thing. And, at my level, I can't get out with lights and smoke and sound because I'm not like the biggest thing in the world. So, you have to sort of figure out how to do that other than like (in dramatic announcer voice), "ONE-NIGHT ONLY, DAVE BARNES." You know, you just can't do that. So, instead, I've learned that what you do is you engage the crowd and you hope that they enjoy it and have fun with you and there's a sense of something special about the night other than hearing music, but maybe they get to have a good time and laugh.
You seem to have a lot of fun with your music. How do you always manage to make things fun, on the road or elsewhere?
You know, thanks for saying that. That's the hope. It's like, if you aren't enjoying it, why are you doing it? I think with your profession, especially, and what you do to make your living, for me it's kind of like, "Man, I need to figure out what makes this enjoyable and kind of hang out there." Or, it's just going to be miserable. So, I've tried to find the things that keep me excited about music. And it's just fun. I love when a crowd laughs because I think, especially, when they don't know you it's such a pleasant surprise. You know, I've been to so many shows when I wasn't ready for someone to be funny. And it's just really fun. You suddenly go, "Oh my gosh, there's like this whole new level and it just makes this whole thing so much more enjoyable because now not only am I ready for the next song but I can't wait to kind of hear what he says." So, that's the hope.
There's tours I've been on where I don't have as much time to talk because you kind of have to crank your way through the set and so there's definitely a time and place for that because the last thing you want to do is open for somebody and become the guy who's like circus boy. (sings circus music) "Alright, but what's this? Juggling… fire… and a sword! Swallowing a sword… " Because, at some point, people are kind of like, "Okay, dude. Can we hear some music first?" And I think that's important. I think people need to know that you write good music and sing good songs because it's then that they can really relax and have the rest of the fun. I think if you're not very good, but you're funny, it's not the same experience. (laughs) "That guy's music sucks, but man, he was pretty funny."
Well, good thing I like your music too. So, win-win…
Aww, that was a close one! Everything hinged on what you were about to say. Whoo-hoo!
What's next for Barnes? What are your goals for the future?
Short-term would be eat dinner tonight and then probably go to bed at some point. And I need to watch the new "Heroes." I've got it TiVo'd, so I'm pretty stoked about that. Long-term goals would just be to continue doing this. Continue playing with really cool bands that I'm excited to be on the road with and feel the same about me and what I'm doing.
Music is in a weird place – I think it's probably the weirdest place it's ever been right now. So, I feel very blessed that people still pay money to come see me, even if they don't know they are. (laughs) So, I just feel very privileged that I get to do it. It's a huge blessing.
I ran into this guy and he and I were just kind of [talking about] all things music and I was kind of saying, "You know, it's been tough because it's just hard to know what the future of music is. And the economy sucks so people aren't coming to shows quite as much. There's been a little bit of a freeze on people buying music as much." And he said, "You know, man, I look at it this way. You're able to make a living playing music and I think that's pretty cool." And I was like, "Well said, my friend, well said." (laughs) Though I had to sort of shut up after that because I think I was sort of put in my place.
But, you know, I try to be careful about making too many plans because – sort of like pride comes before the fall – I think pride's weird brother is expectation. And, so, I try to be as levelheaded as I can on things that I expect and hope for. But, at the same time, having fun and knowing that there are so many fun things that could happen.
Dave Barnes: http://www.davebarnes.com ◼
---