The Letters of Allen Ginsberg
edited by Bill Morgan
Da Capo Press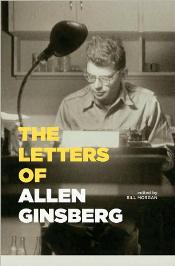 I had a Beat phase. It was the late '80s – early '90s and pop metal still ruled the radio and record stores. I was growing bored of hardcore punk and, more distressing, life. Then I discovered the poetry of Allen Ginsberg. When I read the long, meandering lines of his landmark poem, Howl, it was like the first time I heard Black Flag's "Rise Above"; it was a revelation, an epiphany. Howl (many years before Black Flag) was angry, funny, and beautiful. All this, and much more, is on display in The Letters of Allen Ginsberg, a compilation of 165 "best-of" letters, culled from more than 3,500 by archivist and friend Bill Morgan.
Ginsberg's erudite, passionate nature, especially as it relates to politics, is evident early in his life. At age 15, in 1941, Ginsberg wrote to The New York Times: "I have long believed, in principle, the ideals of Woodrow Wilson and regretted that we did not choose to live with the world… by joining the League of Nations." There are many more letters dedicated to world affairs, and, according to Morgan, Ginsberg wrote to every president since Dwight Eisenhower on matters ranging from American foreign policy to appointing a writer to the National Council of the Arts. Interestingly, the last letter he wrote, four days before his death of liver cancer, was to Bill Clinton.
As much as Ginsberg could be a devoted activist, the Letters illustrate how funny he was, too. In a 1943 letter to his brother, Eugene, Ginsberg writes about his reading list: "…and also finish the whole of Milton's Paradise Lost. I don't look forward to reading it." In another, to Beat legend William Burroughs, Ginsberg writes about losing a job at a literary agent's office where "after about two weeks it was discovered that my spelling was lousy… and so I got sacked."
Some of the most interesting letters are those in defense of his friends, though. In a letter to Lionel Trilling, Ginsberg's former professor at Columbia and sometimes nemesis, he writes about Jack Kerouac and On the Road: "I produced him as a genius a few years ago, has all along been writing a novel I don't know if I told you that… he has been writing steadily, five and eight and eleven and sixteen hours… it is a great book, monumental, magnificent, profound, far far finer than anything I had imagined, a literary work of enormous importance, etc." Ginsberg wrote many more like the above about Burroughs, Gregory Corso, Neal Cassady, and his partner, Peter Orlovsky.
The above quote about Kerouac also illustrates why some find Ginsberg's poetry and prose infuriating; his sentences are sprawling, at times disjointed, and skew the conventions of grammar. But it is those same zealous sentences that make The Letters of Allen Ginsberg a superb collection that mirrors the beauty, humor, and energy of Ginsberg's work, and will serve well those who, like me, entered, and maybe never left, their Beat stage.
Perseus Books: http://www.perseusbooksgroup.com/DaCapo/index.jsp • Allen Ginsberg: http://www.allenginsberg.org/
---