Wilderness
San Serac
Beachland Tavern, Cleveland, OH • November 24, 2008
Aaron Shaul
Having played in a fairly active band for the last three years, my drive to partake in gigs solely from the audience's side of the stage has steadily declined. It's hard to muster enough interest to make the trek a few miles down the road for shows, let alone ones that would require the crossing of state lines.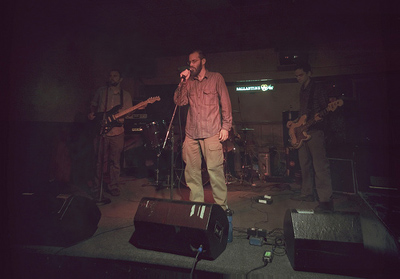 Baltimore, MD's Wilderness, however, are a definite exception to that rule. To my knowledge, in their three years as a band they've only passed through Michigan once, well before my interest in them had a chance to solidify. Here was an opportunity to see them via a reasonably manageable 6-hour round trip.
The Beachland Tavern wasn't exactly bustling with indie rock throngs shortly before opener San Serac began his short set, but he was quick to win over those in attendance. Serac played the part of an electro vampire; it was almost as if he was a holdover from a theoretical age of auteur disco. Preprogrammed beats and melodies streamed from his iPod, while he added occasional keyboard/synth flourishes. It was all invigorating, disposable leftist dance-pop – which he referred to as "The House Song" and "The Peter Gabriel Song" among others – but his stage presence was his true x-factor. His vocalization and mannerisms struck many of the same poses as David Bowie in his blue-eyed soul era, with a more manic slant. His set even went so far as to inspire break dancing from a kid with a broken foot.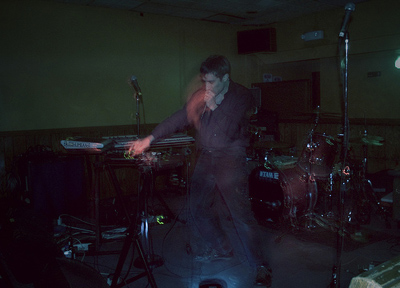 While San Serac was a colorful act in his own right, there's little to link him and Wilderness beyond an affinity for progressive politics and for pushing the realms of music in subtly experimental directions. Tenuous though these connections may be, Serac provided an excellent hedonistic foil to the headliner's cerebral repetitions.
Wilderness' wordless introduction to their set began with a low guitar drone of "High Nero" and took the band sequentially through their entire new album, (K)no(w)here. There wasn't even breathing room between the tracks for applause, as the band's reverb-rich sound and improvised noisy connective tissue interludes mimicked the album's ebb and flow of the songs into each other. In an age of MP3s, it was amazing to hear a band treat an album as a complete document, rather than a collection of songs to be re-arranged and integrated into their old material.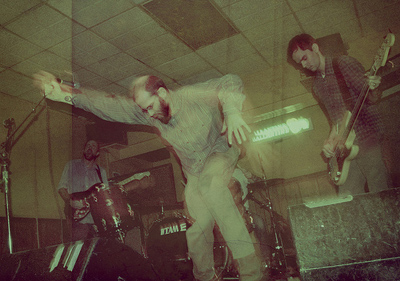 The group's music is majestic in its aural assault. They ply tropes from post-punk, post-rock, shoegaze, prog, and world music onto the most anthemic templates. Perhaps the best song of the evening "Strand the Test of Time" saw guitarist Colin McCann joining William Goode on drumming duties for the first verse before launching into a stratospheric release of guitar. McCann and singer James Johnson provided their set's visual engagement and tonal counterpoints. McCann flailed over his guitar like a not-quite-reformed hardcore casualty, while Johnson's slow, fluid movements evoked a marionette attempting Tai Chi or Ian Curtis walking on the bottom of the ocean. I've never seen anything like it, though it was a fitting physical display from a singer whose phrasing and enunciation are some of the most idiosyncratic out there. It's easy to overlook the rhythm section when there are two such strong focal points elsewhere, but bassist Brian Gossman and drummer Goode provided the launching point and guided the trajectory of a band whose sound excels on a tight leash. All together they transmitted an hour of catharsis churned out at maximum volume that was surely echoing off Lake Erie days later.
Wilderness: http://www.wildernesssounds.com ◼
---