Q-Tip
Rebirth of the Original Renaissance Rapper
John-Thomas Crockett
Despite the subway not fully cooperating, I arrive to the interview a few minutes early, only to hear "We're running a bit behind today. If you want, you can come back in a half an hour." Having had this interview postponed already and running up against a deadline, there was no way I was leaving, so I took the time to go outside for a few puffs to calm my anxiety.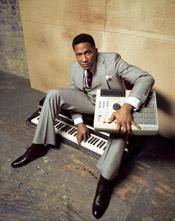 As I stand outside Universal/Motown's Manhattan offices, listening to an advance copy of The Renaissance on my headphones and exhaling a particularly tasty drag, one of the millions of New Yorkers in a hurry at that very second turns the corner and walks headlong into a plume of second-hand smoke. "Yo, what up fam?" he says, offering a small apology, then walking around me into the building.
Not expecting anyone to enter my personal space, I just nod at Q-Tip and watch him go inside. I take another couple of puffs realizing that "We're running a bit behind" was code for "We don't know where Q-Tip is," and walk past my interview subject on the way to elevators as he waits in line at the security desk.
The old adage goes "You never get a second chance to make a first impression." My first impression of the former A Tribe Called Quest front man may have been affected by his tardiness, the fact that the interview was on, then off, then on again, or by the list of things his publicity team said he would not be willing to discuss. It may have been affected by my terrible commute that morning, or the fact that Q-Tip is known to be a bit peevish, if not truculent, in interviews. Instead, my first impression was shaped by two related if random facts: standing face to face with him, he was taller than I thought he would be, and he had the decency to excuse himself for almost running into me.
The old adage aside, we live in a time when everyone from bloggers to politicians is interested in cultivating and maintaining both a brand and a persona. In 2000, while Q-Tip was fashioning himself into a solo artist with a string of hit songs and an album that was flying off the shelves, John McCain was making his bid for the Republican party's presidential nomination. Eight years later, Q-Tip is still trying to accomplish as a solo artist what he was able to do with Tribe, and John McCain is still trying to get elected president.
So how does it feel to be you and Daddy Yankee, the only rappers voting for McCain?
I'm not voting for no – (laughter). … Daddy Yankee really is?
Yeah.
Are you serious? (more laughter)
As he plugged away at his Blackberry, Q-Tip spoke about his desire to have Barack Obama on his record and the significance of releasing an album on November 4, 2008, Election Day. "It was a speech [of Obama's] that I lifted and put on the song "Shaka." His people came and said if it's coming out Election Day, you gotta chill. So we gon' put it out – we're gonna leak it the day after."
He's about to be the president it looks like.
I know; that's crazy!
You've got the president on your record.
That's crazy!
What is the overall theme of The Renaissance?
We've been talking for a while about…there has been banter about hip-hop: the musicality has depreciated, the lyricism has "waned," pardon the pun, with the exception of a few artists, the music overall is stuff that comes and goes fly by night and this has been happening now for the past eight, nine years.
Maybe there's a few bright spots; the biggest bright spot is Kanye West. Over the past few years, he's managed to not subjugate or challenge his creativity and bring Common up. And interestingly enough, those guys all come from a tradition of Tribe.
Andre 3000, Lupe [Fiaso], Kanye, [Lil] Wayne – they are all influenced – it's like your DNA is in their music.
Yeah it's appreciative. And, I feel like… a lot of people still relate to A Tribe Called Quest and relate to me a certain way. I feel like this is really a great beginning. The Renaissance means 'rebirth.' … [L]ike the rebirth of the artistic sense.
A Tribe Called Quest was one of those "off limits" topics Q-Tip's people had warned me to stay away from. Alas, he brought up the band so I just let him talk. He puts down his phone and begins moving his hands demonstratively, trying desperately to communicate the grandness of what he is thinking non-verbally, as though he feels his words are not enough. It is an earnest gesture that makes me care about what he is saying.
"I feel like we are in a renaissance period, given the political climate – what's happening with Barack Obama [being] on the precipice of history, where the music is at, where we're at as a world, in an ecological sense, how the planet Earth is starting to collapse onto herself. We're just in a very important time. And I think that we are about to turn a corner and hopefully give one last good push on all fronts and flourish. So that's why I put this album out."

Q-Tip goes on to list an impressively long list of young artists, Wale, Kid Cuti, and Amanda Diva among them, with whom he hopes to work to "put this seasoning on this meat."
We talk about his new music videos, specifically "Getting Up." When I mention that there is a Q-Tip vs. Lil Wayne argument in the comments section of the video on YouTube, he is genuinely taken aback ("Yeah?").
I think you are both figureheads for different periods in rap. People make a distinction, the fans do. But when I hear you two, I don't hear that distinction.
"Right."
I think he's influenced by you, in terms of what he's doing lyrically. I mean it reminds me of you: it's abstract. It's as much about process as it is about where you're going. On The Renaissance you give love to Wayne, you give love to Kanye, but you make mention of … "ringtone rappers" and how that's a just a fad and it's gonna play [itself] out. So you do see a distinction, just maybe not the one everyone else sees. So what is your distinction between real hip-hop and…
Well I think Wayne is real hip-hop. I think Wayne is a dope lyricist. He's been doing it for a long time… people forget that. He's a veteran. It's not like this is a new-found thing. He's dope. But I do think that there are ringtone rappers. This is no disrespect to any of these brothers. Because I feel like – and when I speak this, I hope this is included – but when I speak this, I offer this critique out of caring for the music and loving the genre and trying to be constructive. Not trying to hate, at all. But I have to give an example to root my claim about ringtone rap.
Stuff like … [D4L's] 'Laffy Taffy.' I mean, that was a big ringtone joint. It was a big joint that spun, but it didn't sell. [Shop Boyz'] 'Party Like a Rockstar,' that was a big record in the clubs, a big ringtone joint, big on the radio. You know, but what happened? You have to be able to… breed artistry in the records. That art is gone.
"That is why I give a kudos and hats off to Wayne and Cash Money because they did it themselves. Because, had they left it up to the label, they wouldn't have did it. Wayne and those guys know the importance of grooming, staying on the road, trying to keep up and not just becoming some ringtone rapper. Lyrics – Wayne is a student. He can talk about Eric B. and Rakim with depth. He can talk about A Tribe Called Quest with depth."
Interestingly, despite his iconic pedigree, Q-Tip does not see himself merely as an elder statesman in rap but as an artist who still has much to prove. That humility becomes apparent when he thanks Lupe Fiasco, Kanye West, and Common for "opening the door" and creating a space for him to reintroduce his aesthetic to many rap fans who were not born when A Tribe Called Quest dropped People's Instinctive Travels and the Paths of Rhythm in 1990.
Branding yourself an agent of change is certainly a 2008 thing to do, but the last decade has forced change on the rapper born Jonathan Davis. Q-Tip converted to Islam and changed his name to Kamaal Fareed in the mid 1990's, shortly before Tribe dissolved. After the group's final album, The Love Movement in 1998, Q-Tip enlisted J Dilla (also known as Jay Dee, who along with Q-Tip and Ali Shaheed Muhammad formed Tribe's production core as The Ummah) and put out a commercially successful record, Amplified, in 1999.
Amplified, however, marked a critical moment in Q-Tip's musical career. Some fans of Tribe's more thoughtful work felt short-changed while Arista records saw in Q-Tip a cash cow. The creative/ financial tensions came to a head when Arista/ BMG head L.A. Reid refused to release Tip's next album, the experimental Kamaal the Abstract in 2002. Eventually Q-Tip requested and received his release from Arista, only to sign with J Records and watch another project get shelved.
In 2006, Q-Tip's friend and collaborator J Dilla died from complications of kidney failure. There are only a coupe beats on The Renaissance not produced by Q-Tip and one of its best is "Move," a niftily reworked version of The Jackson 5's "Dancing Machine" composed by Dilla. "For him to still be associated, to still be a part of this is great for me," a somber Q-Tip notes.
Over the course of our conversation, it is apparent that the seemingly absent-minded guy who almost ran into me downstairs has thought a lot about change. Listening to the new album, we get a peek at an artist who is not simply trying to put lipstick on a pig, but one who believes in change so much that he has penned an entire album about it. Whether on "We Fight, We Love," a song that subtly protests America's two wars abroad, or on "Dance on Glass," an indictment of modern-day minstrels, Q-Tip is back to making message music.
Perhaps Motown will offer Q-Tip a platform to embark upon on the changes he plans. Amplified is, as the name implies, an up-tempo, party-themed album. The brooding, ethereal Kamaal the Abstract is, in many ways, completely antithetical. Despite the laid back sound of "Getting Up," The Renaissance is a mélange of sampled and live sounds (including samples of music recorded originally for this project). Q-Tip shares credit for the fullness and diversity of the sound with engineer Blare Wells.
Whether or not this label works out, he has already begun work on his next album. When I ask him if he has a theme, his knuckles contort and his face falls into a disgusted-looking grimace. He starts by stating that he sees it is an extension of The Renaissance but then says with resolution, "I'm tryin' to make it stink!" It would appear then for Q-Tip, change is the only constant.
Q-Tip: http://www.myspace.com/qtip ◼
---