Operation Rooster
Kevin Johanssen
My conspirator and I shared more than a love for Vincent Gallo and his work. We also shared a loathing that often bordered on the macabre. Gallo's work is a textbook example of the Spinal Tap maxim "there's such a fine line between stupid and clever," managing to be both – in varying proportions. Buffalo '66 is the story of a strange love affair with Christina Ricci, an obvious homage to Nick Cassavetes and David Lynch, but also a scripted opportunity for main-actor/writer/director/producer/editor/soundtrack-composer Gallo to grope this piece of heavenly weirdcake. The hotly anticipated The Brown Bunny received a reaction at Cannes that got more coverage than the film itself. Years later, the event was immortalized by, of all things, Mr. Bean's Holiday, in which Rowan Atkinson's man-child taunts a transparently Gallo-like megalomaniacal director who carefully dances between commercial success and indie film stardom.
But let's go back about five years ago, when my conspirator happened across Vincent Gallo's personal email address under circumstances we can't divulge. We decided to see if we could push one of Vinnie's buttons – "Operation Rooster" we called it, since "Gallo" meant "rooster" in Spanish and we could hardly call it "Operation Cock." Well, maybe we could. Anyway, Operation Rooster was about seeing what it would take to inspire a response from this controversial auteur.
In Gallo's defense, we had to try really hard. Perhaps if he answered every vaguely disparaging email he received, he'd have no time to manage his eBay auctions, where he was selling off all his beautiful film gear in a snit of under-appreciation. Gallo would be a master at fending off criticism, so we decided that if we wanted a response from him, it would have to be carefully finessed. We conjured up a character named "Kevin Johanssen" (after Kevin Seconds and David Johanssen), then thought of the qualities we imagined would enrage Vincent Gallo the most: arrogance, ignorance, amateurism. With these weapons we constructed a persona not unlike Gallo himself, and attempted to engage his attention.
• •
FROM: Kevin Johanssen
TO: Vincent Gallo
Dear Mr. Gallo ("Rooster")–
I have been following your work for some time now, and must admit that your dedication and inspiration – and especially your sense of commitment and focus – have been instrumental in my building my career in film. I have made a variety of short films, none of them as fine as work done by you, but am now working on my first feature-length film that promises to blow Buffalo '69 out of the water!
I saw that you had your filmmaking gear for auction on eBay a while back, and I was really excited…I'd have the opportunity to make a film that measures up to Vincent Gallo's high standards. But I must say that I was surprised at the great expense involved with making your films, which to me have always had the rough and unfinished charm of DIY projects made on borrowed/obsolete equipment. I went back after a couple of weeks and saw that your gear didn't sell, even though somebody was bidding in the low six digits, because your reserve hadn't been met.
So, I went to Circuit City and got a DV cam. My sister has an old iMac in her garage, and I used her iMovie to put together a film that's pretty good. Not Vincent Gallo-quality (since I don't have access to expensive equipment like yours), but certainly good enough to make me feel bold enough to write you and tell you about it.
I'll send you a copy of my film when it is completed. Maybe you can learn something. But you better not rip me off! Hahaha.
Signed,
Kevin Johanssen
PS – Can you read Mac CDs?
We didn't expect to receive a response, and Vincent Gallo failed to disappoint. After waiting some time, we drafted a followup. To keep things current (and slightly creepy), we injected a reference to the poorly-constructed building in New York City where he owned a multi-million dollar condominium, a slow-news-day item that had been making the rounds lately.
FROM: Kevin Johanssen
TO: Vincent Gallo
Mr. Gallo,
I emailed you a couple of weeks ago and haven't heard anything back from you. My email was over limit for a brief amount of time, so I may have missed your reply. I imagine you are a busy person, appearing in rap videos and re-puttying the leaky windows in your swanky New York apartment.
I heard you did some voice work for cartoons for a while, but that sounds unlike you. Is that true?
Signed,
Kevin Johanssen
PS – Have you seen Shrek II yet?
Still nothing. After a couple of weeks of tense waiting, we decided to go for broke. The man had definitely not seen Shrek II, so what was the point of sparing his feelings? My conspirator used some spare time and photoshop to construct his own homage to Vincent Gallo. With only a hint of explanation, we sent it off.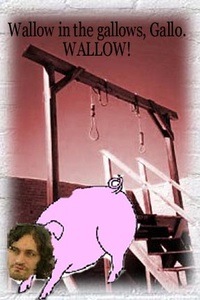 FROM: Kevin Johanssen
TO: Vincent Gallo
Mr. Gallo,
My friends and I were noticing the many humorous words that can rhyme with your unique last name. I was then inspired to do a little bit of art illustrating this. Let me know what you think!
Signed,
Kevin Johanssen
PS – If you want to use this for your website or something, please ask my permission first.
Jackpot!
FROM: Vincent Gallo
TO: Kevin Johanssen
Nice work putting my head on your moms [sic] body. I miss her, and fucking her pig ass and shooting cum in her pig mouth. Makes you like a son to me.
That was direct and to the point! Not quite what we expected, but Vincent Gallo's admission of a predilection for pig-sex was a nice bonus. We knew we would get no further response, but we couldn't let Vincent Gallo have the last word, because that's just not what Vincent Gallo would do, even when arguing with Vincent Gallo. Which I'm sure happens all the time.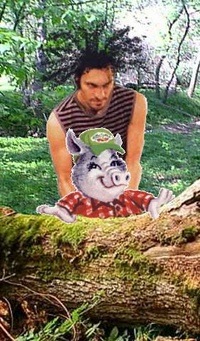 FROM: Kevin Johanssen
TO: Vincent Gallo
Mr. Gallo,
Thanks for the reply! You sounded just like your character in Buffalo '69 – HILARIOUS! You mentioned fucking a pig up the ass and I thought, "What a great image," so I shopped around the internet and composed this picture. I kinda put it in the woods like Deliverance (you should rent it, its [sic] cool!) because of the pig stuff and all. If you thought my first picture was neat, you'll really like this one, Dad.
Signed,
Kevin Johanssen
• •
And so ended Operation Rooster. We considered it a rousing success. It's been a while since it all happened, but you know the internet never forgets. When it came time to document this particular adventure, all the relevant documents were at hand. I still have some qualms about writing this – I have murky expectations of answering my doorbell to Vincent Gallo's mangy fist. But what the hell. These days he could use the publicity.
---