Fujiya & Miyagi
with Project Jenny/Project Jan, Lush Progress
BackBooth, Orlando, FL • February 23, 2009
Phillip Haire
I would not normally have ventured into the unknown on a Monday evening. The allure of a new venue (to me), a live set by Fujiya & Miyagi, plus two other acts relatively unknown to my ears, was enough to entice me to the BackBooth in Orlando.
Tampa quartet Lush Progress gave a nice opening performance for the few of us who were actually on time to witness it. They incorporate a cellist, which injects an interesting mood to their sound. The result was an art-rock, tempo-shifting affair that kept us engaged for the entire half-hour set.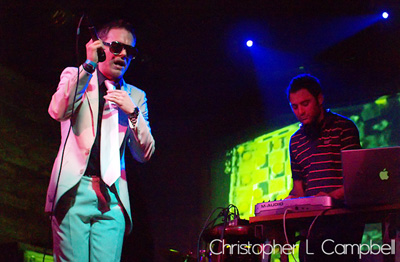 All rules were ready to be shredded and burned as Brooklyn duo Project Jenny/Project Jan set up a minimalist stage from which to unleash. A projector, microphone, computer, and synthesizer were all they needed to bring PJ/PJ to life. Although it was their first gig in Florida, vocalist Jeremy Haines immediately connected with the growing crowd and wasted no time launching into "Dia de los Niños," a Spanish number with an infectious back-beat that made us all take notice – think Ween meets Beck.
There's not much stage fluff to hide behind for PJ/PJ, so they rely on keyboardist Sammy Rubin's clever hooks and beats, paired with the presence of Haines' raps, and often humorous lyrics to present something unique, and according to Haines, ever-evolving. Oh, and that projector I mentioned beamed a great visual accompaniment to their songs. Funky, twisted images of fish, spiders, and worms rolled through "Zoobar," while dizzying footage of a subway set a backdrop for the pop-infused "Train Track." Other standouts included "320" and their "breakthrough" track "Negative," as featured on Nick & Nora's Infinite Playlist. The energy, talent and humor exhibited by Project Jenny/Project Jan will hopefully propel them to headliners next time they tour Florida.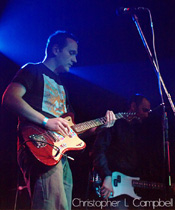 But tonight, it was Fujiya & Miyagi getting top billing, and rightfully so. Having been at it since 2000, their time had come. Although the set began a bit stoic, by the time they got to "Uh," and "Paper Airplanes," you could see a more relaxed and settled Steve Lewis on guitar and vocals. F&M may be touted as "electronica," but I found the live ensemble to be more balanced by having a drummer and bassist. David Best's keyboards maintained a necessary, but balanced, portion of the overall experience. Lewis' crisp guitar licks resonated throughout the show on songs like "Transparent Things" and "Collarbone," the track Miller used to pimp its brew. I believe Lewis' guitar sets the foundation for the F&M sound as opposed to a synth or drum machine.
F&M had the entire club moving to their infectious playlist which was a nice blend of tracks from their albums Transparent Things and Lightbulbs. They even came back with a couple encores to cap the night off – "Pickpocket," and "Electro Karaoke," from their first release, put an exclamation point on an already great evening. It's also great to have this forum to tell you if an opportunity arises to see any or all of these artists… DON'T blow it… Get your tickets and enjoy! Monday nights aren't always a drag.
Fujiya and Miyagi: http://www.myspace.com/fujiyaandmiyagi ◼
---