Mr. Quintron and Miss Pussycat
with Omebi and the Telepathik Friends Orchestra
Jack Rabbits, Jacksonville FL • November 26, 2008
Matthew Moyer
Well, you missed it. Whatever your excuses were, this-that-and-the-other, they were flimsy and pointless at best, because if you weren't at Jackrabbits that November evening, (just a few days shy of Thanksgiving), then you missed the best musical revue show to hit Jacksonville in 2008.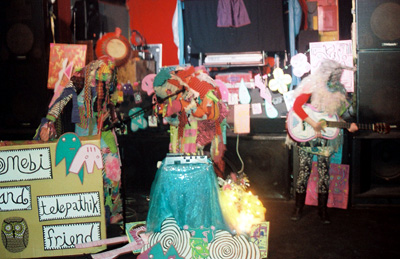 Three strange creatures appear from out of nowhere, seemingly clad in rags, jewels, fur, and bright, bright primary colors, looking like they stepped out of a particularly jarring scene (aren't they all) from the Dark Crystal. They assume places amidst Kirbyesque assemblages constructed at the foot of the stage. Mysterious pillars, cardboard/wooden instruments, and a small dais wrapped in Xmas lights, upon which perched a small four track recorder. Two musicians took places behind a fake organ and a fake guitar, soon to be miming, jerking and spasming like the Residents in super slow-motion or aliens reenacting the Beatles on Ed Sullivan. This is, of course, Omebi and the Telepathik Friends Orchestra. Telepathik Friend is a longrunning Jacksonville-based performance/art/music project, responsible for much of Jacksonville's currently raucous noise and improv scene. Tonight former member Omebi is stepping out on her own, with all new music and the "orchestra's" name as the only clue to her past. Omebi walked up to the dais and with a microphone in one hand and the other hand on the controls of a four-track recorder, began conjuring forth a whole alternate world of mysterious, fractured, ancient music.
On this particular night (I saw Omebi again the next night and it sounded like a completely different set), she performed a set of new subliminal soundforms. Omebi's songs are more about the spaces between sounds than verse/chorus/verse zzzzzz-dom. It's Karen Dalton gulping for air in between words, it's Robert Johnson's fingers reaching for the next chord, it's the very walls of a church absorbing and buzzing with the sounds of Sacred harp singers, it's Sonic Boom's amps singing sweetly to one another long after all of the humans have left. This reviewer was somewhat reminded of Charalambides, Loren Mazzacane Connors, Fursaxa, the long forgotten Zeek Sheek and the Slits, but then again, it was nothing like any of them.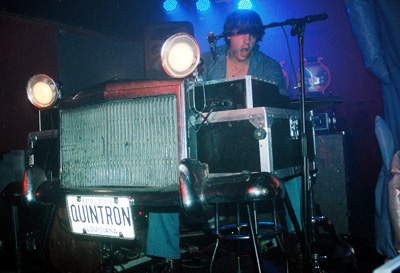 Separate songpieces merged into one painterly sticky whole. A hidden mouth beautifully sang words that might not even be words, a hand glides over controls and faders – the rush of twilit, prismatic sound rises and falls. The audience stared in rapt, open-mouthed attention, afraid to break the spell. The last song ended, the creatures disappeared into thin air. I hear tell that Miss Pussycat jumped up and yelled for an encore after they stopped playing.
So Quintron. I'm on record over and over again as a Quintron partisan; but all that aside, you won't get a better live value for your dollar than those you fork over to Mr. Quintron. Things have been a little quiet of late on the Quintron front, it's been a period of rebuilding and re-evaluating since Katrina destroyed Quintron's Spellcaster Lodge, but now it's time again for stylin' and profilin', and really is there any higher calling? Miss Pussycat's puppet show is bursting with more gonzo goodness than ever. A witch takes over an art museum, Santa Claus saves the day with a machinegun, there are psychedelic freakout sequences, the goddamn puppet stage even becomes a puppet. This is the stuff of serious craft.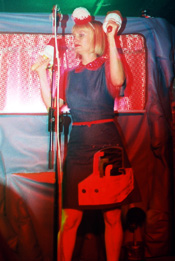 Cue billowing crowds of dry ice and ominous flashes of primary color stage lights, total arena rock spectacle, right? Finally, Quintron's stage setup is fully visible and it's something to behold. The Drum Buddy oscillates like William Burrough's Dream Machine, partially hidden behind an organ and some drums. Mounted on the front of the organ, making it look like a klassic kustom car, is the grille, headlights, vanity plate and chassis of some roadster. The headlights pulse strobelike as Quintron takes his place behind the organs and Pussycat walks over to stage left, stepping behind a single microphone, maracas in hand.
Look at 'em! Quintron is decked out in a blue jumpsuit with some kinda predatory animal stitched out in rhinestones on the back, with an unruly moptop haircut that quickly becomes drenched in sweat and some kerrrazy eyes. Pussycat has a bow in her blond hair and a prim'n'proper dress that looks like a bobbysoxer/gleeclubber…. well, on acid. Quintron launches into some heavy gospel/noise workout and from there it's a sweaty couple of hours of the Cramps crossed with Dr. John and a lounge combo from a Holiday Inn circa 1962. It goes like this, polymath Quintron plays the organ, his homemade/self-devised Drum Buddy drum machine, and a snare/hi-hat combo with his spare hand, while singing too. Pussycat handles backing vocals and shakes the maracas – with aplomb, it must be said.
Tonight they play with a delirious, nervous intensity that I haven't seen before – reveling in the sound bouncing back at them from the walls of the club. Shit, at one point Quintron lets the louche mask drop, exclaiming earnestly, "I love the sound in this place. I'm having more fun tonight than I've had at a show ever." And then pointing gleefully at the kids at the front dancing like the Charlie Brown gang during the Christmas special. Quintron leaves the stage several times, wading into the crowd to sing, stare people down, shout and dance.
This one time, and I'm tellin' you the truth, he sets the Drum Buddy on repeat and wades into the crowd, shaking maracas, Pussycat close on his heels – they do this sorta two-person conga line, all mad-eyed stares and shimmies through the crowd, taking a small group of Pied-Piper-hypnotized kids on a merry chase until they end up at the bar – and next thing I know, they're making like Pee Wee Herman at the biker bar in that one movie and they're dancin' and high-steppin' and drinkin' and it's… just… glorious.
They're called back on for several encores, everyone's having the time of their fucking lives, I'm surrounded by a bunch of partygoers dancing their asses off and I've got a huge smile on my face. They end the site with a James Brown false-finish vamp – sweatier and funkier and noisier than ever. The night belongs to all of us. ◼
Qintron and Miss Pussycat: http://www.quintronandmisspussycat.com/
---