Tour:Smart: And Break the Band
starring Martin Atkins
MVD VIsual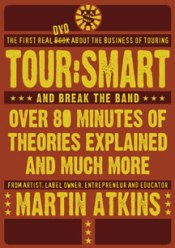 First a disclaimer: I am not and have not ever been in a rock band and thus, I have never had the opportunity to tour this fine country in back of a beat-up bus playing music in empty clubs while living on less than $10 a day. On the other hand, I have seen the Youth Brigade/Social Distortion documentary Another State of Mind so I do have some idea about how badly tours can go without proper planning.
Whether anti-establishment rockers like to admit it or not, having a rock band is just like having a business. You invest time and money and hopefully you will get some kind of return on that investment. That may come in the form of money, but more likely than not it will be free beer and fun times. Either way, if there are potential returns to be made, it only makes sense that eventually someone will produce the 7 Habits of Highly Effective Rock Stars. Martin Atkins has done just that. As a member of Pigface and the owner of Invisible Records, he has knowledge and experience about touring and recording without a label. In Tour:Smart: And Break the Band, Atkins spells out in detail tons of strategies that will allow bands to get more out of their investment. Unfortunately, I'm not reviewing the book here. I'm reviewing the DVD Atkins made to promote the book. It's not so bad though; he does demonstrate how to mic up a drum kit.
Here we go. Besides telling viewers all about his new book, Martin Atkins has put a good amount of information on this Tour:Smart DVD. Tour planning and basic economic forecasting are covered in some detail. Get a map and a computer with Excel and you're ready to compare the costs of a cross country west coast tour vs. a more regional approach. There is also some good info on branding your band and using innovative packaging to set your product apart. I especially liked the section about screen printing. But that covers the best parts of this DVD. Atkins continually tempts viewers with good ideas and promises of information, only to pull back and yes, plug the book again. That kind of sucks. Also, the DVD does not play straight through. It returns to the menu after every segment, adding to the infomercial feel of the whole experience.
If you buy this DVD, the question may always be looming in the back of your mind: did I pay to watch a commercial? Take my advice: skip the DVD and buy the book. I've never actually seen a copy, but it's got over 500 pages and that's a lot. I imagine it includes all the information listed above, plus more. Only check out the DVD if you want to know how to record drums in your basement. That's kind of cool too.
MVD: http://mvdb2b.com
---