White Denim
Always Take Hold of Things by the Smooth Handle
S.D. Green
When asked to give the origin story of White Denim, bassist Steve Terebecki described it thusly:
"Four blue collar workers, Bop, Terry, Nick, and Byshop, were hard at work on gluing hair, eyes, ears, and mouths to doll heads in their rugged blue jeans at Parque Touch Industries Co. One day the plant was raided by 15 masked figures toting super soakers filled with bleach. Three were saved by covering their eyes with the dolls' eyes, but their jeans were all bleached white. In addition, Byshop was captured and exiled to Siberia. Consequently, the heartbroken trio re-entered the workforce with white denim jeans and could not get hired and eventually were banished to the trailer parks. They moved many times but finally settled into a 1940s spartan trailer that was filled with musical instruments. When they picked them up all they could play was country music… so they did. And they called themselves White Denim, named after the cloth that had ruined all of their lives."

Translation? Austin Texas' White Denim formed out of a band known as Parque Touch that consisted of guitarist/vocalist James Petralli (Bop English), drummer Josh Block (Mallard), and bassist Lucas Anderson (Byshop) that later absorbed Terebecki (Terry). Anderson did move to Russia. The band started recording in a 1940s trailer under the name White Denim.
As for their sound, it does have country twang around the edges. White Denim also delivers a unique blend of the explosive raw sounds of early punk and the spindly turns of math rock. Petralli's vocals bring a roaring soulfulness to the proceedings that give them a visceral blues rock undercurrent. Their energy onstage is known to give their live shows quite a kinetic wallop.
White Denim's debut EP, Let's Talk About It, was particularly ripe with this flare, and many of the songs doubled back for their debut long player Exposion. Leading up to the release of their second album, Fits, S D Green shot a few questions Terebecki's way about the band's present and future sound.
• •
What made you guys decide to release two separate mixes of your debut full-length (one for Europe, one for U.S.)?
Europe and the U.S. are two very different places that use their ears very differently. We thought it was necessary to give Europe a chance to listen to the Let's Talk About It EP that had only been released in the U.S., and we felt it was necessary to give the U.S. listeners a break from those songs by adding five additional songs.
How is recording an album different than making an EP? How did you go about choosing songs?
It's not different at all except that it takes longer to make an LP. As far as the songs go we have a rating system that we use (soft, medium-soft, medium, medium-hard, hard, and hard-hard). We generally just try to give the EP or LP a nice flow by not jumping from hard-hard to medium-soft, things like that. Also, we have a gigantic database of recorded songs so we always have a lot of songs in each category so we may get even more specific with flow and things like that.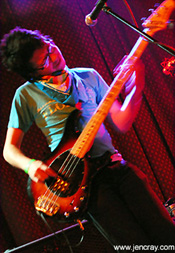 The number three is often thought to have magical properties. What does the number three mean to you?
I don't know if it is because I am uncool or if it is because I am truly American that I think about Thomas Jefferson, our third president. I think I speak for the other two members of White Denim by saying that we live by such quotes of his as "Always take hold of things by the smooth handle."
What is the dynamic like being in a band where you are responsible for 33.3% of the music? How do you guys divide songwriting responsibilities?
Often on our recordings there are many more than three instruments so the burden of the hefty 33.3% is lifted off of our shoulders a bit. However, live, it is a full 33.3% except when Bop, Mr. Mallard, or I are singing. In addition, Bop, Mr. Mallard, and I have taken advantage of some of the newer rock and roll technologies such as the wah wah pedal, loop stations, various stomp boxes, octo-pads etc. These tools also bring the 33.3% responsibility down quite a bit.
You have a lot of raw, contagious energy when on stage. How difficult is it to channel the chemistry between the three of you onto record?
We have rarely tried because unless we have an audience in the studio it really would be impossible to recreate the amount of adrenaline that a live show produces. As a result, we approach recording our songs much differently than we approach our live show. They are two separate media, like oil and watercolor.
What does an audience bring to a performance that is hardest to duplicate in the studio?
Adrenaline.
Your video for "Shake Shake Shake" is really raw and reflective of your band's sound. I love the junkyard, the wildness. What do you think videos add to the musical experience? Do videos help you define your band? Do they help complete the picture or are they just fun side projects?
If it was up to us, I don't know if we would have a musical video yet. We don't regret any of the videos that we have, but there was some convincing involved in making them. The "Shake Shake Shake" video was a lot of fun because it was a beautiful day, there was a junkyard fox, lots of good conversation and lots of filth and interesting imagery. Visuals have never helped define how our music sounds to us. Perhaps it helps other people define us.
What do you dread most about performing live? Hecklers? A comatose audience? Having the venue mess up your show rider?
I can't speak for the other two on this matter, but live performance has always been a selfish act for me. I am serving myself only. I am thrilled if people are moved but don't make judgments if people stand still and blank. All in all, I enjoy playing so much that rarely do I dread anything about performing live.
James [Petralli, singer/guitarist] once described Phish as "smooth music." How would you describe your own band?
Smoother and harder than Phish.
How different is it opening for a band and being the headliner? Do you like the sneak attack afforded by being the opening band?
This goes back to the selfishness of the performance. It makes no difference whatsoever who we play before or after or what time we play. Realistically, headlining is way more awesome for financial reasons.
What's your best experience as an opening act?
I am not really sure, as we've been an opening act 91% of the time. Whenever there is a good vibe, great energy, people having fun, etc., it is the best experience.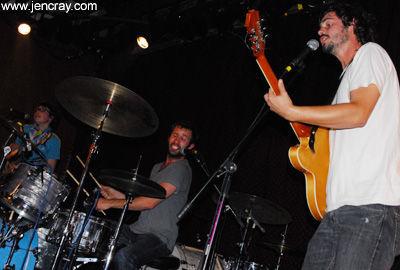 Name one band you would hate to have to play after and why.
ABBA, because I think it would just be an awkward bill.
I know James's dad used to play major league baseball, but I don't know how much you guys follow sports. In basketball they talk a lot about a team adding a "wrinkle" to their offense in the off-season, something other teams aren't expecting that will make the team better in the coming year. What wrinkle are you guys adding to the White Denim sound or performance that we will hear/see on upcoming projects?
As you may hear on our upcoming release, Fits, we have less medium to medium-hard songs (as heard on Exposion/Workout Holiday) and more songs that are medium-soft or hard-hard. We are constantly working, improving, and enjoying our work in this group and as a result a listener should hear the results.
• •
White Denim is currently on tour. Check their MySpace page (http://www.myspace.com/bopenglish) for dates. Their sophomore full length, Fits, is due out on June 22 in Europe; Summer 2009 in the U.S., date TBA.
White Denim: http://www.whitedenimmusic.com ◼
---