Coheed & Cambria's Chris Pennie
Gail Worley
Coheed & Cambria is one of those bands that has been recording and touring for over ten years; sticking it out long enough to enjoy a steady, slow-burning career trajectory from underground obscurity to being on a major label and playing arenas and festivals here and in Europe, often by scoring prime supporting gigs with bands like Linkin Park and, most recently, Slipknot. Not a bad way to make a living. Coheed may not be a household name, but this upstate New York-based progressive rock/metal band's relative commercial success has at least been equaled by actual artistic growth. Bluntly put, not only are they a band I can respect, but I dig their music as well. In early 2007, Coheed, no stranger to line up changes, welcomed a dynamic new drummer in Chris Pennie, who was formerly with math rockers Dillinger Escape Plan. Pennie is well-reputed and respected in the drumming community, and Coheed knows it is lucky to have him behind the kit as they move forward to bigger and better gigs.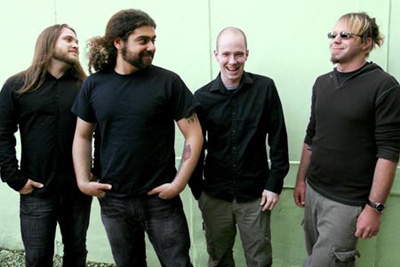 Pennie spoke with Ink 19 two days after Coheed wowed a sold-out crowd at NYC's Madison Square Garden (with aforementioned Slipknot and second support act, Trivium), and he turned out to be a very cool guy!
• •
What's the biggest difference in your playing style between Dillinger and Coheed?
There's a lot to it, but I think that one of the very fundamental things, for me, is that there are not as many notes being played. It's a very "right down the middle" type of gig, which is awesome. I had been with Dillinger for over ten years, and I had other things that I wanted to explore, be a part of, and try my hand at. This was definitely one of them. So, there's [a] lot [of] space and a lot more of a traditional-rhythm-section thing going on in the way we approach the music. Mike, our bass player, and I definitely lock in. He's very in-tune with what I'm doing, and vice-versa. He and I have this thing going on, especially on stage, where we'll kind of just throw little things in here and there and that will add some variation [to the set]. We just let it go where it needs to go.
Also, since I have all of that time to get there – the songs are not moving by as quick – I can hit a little bit harder and lay into the drums. I have more time to react to things. Sometimes, if I'm throwing in a variation of a fill I can mess around with it a little bit more. The space is very open to me being able to throw different things in there without ruining the tune.
It must be fun, also, to have that new opportunity.
It's great! It's really, really awesome. I always feel like when you play with different people – besides the difference of the style, in general – the characteristics of everyone's playing bring out new ideas in your playing. There may be something that Claudio [Sanchez (guitar/vocals/keys)] or Travis [Stever (guitar)] does, where their phrasing is completely and totally different than Ben's [Weinman (guitar)] or James's [Love (guitar)] or Liam's [Wilson (bass)], or somebody in Dillinger. Their perspective on the way they do something changes my perspective on the way I play, and that's a good thing.
I was listening to the newest record, No World for Tomorrow, which I know you didn't do the drum tracks for, and I was thinking of how it reminded me of a Rush album, if Rush were more of a straight-up rock and roll band. Although I don't hear a lot of Neil Peart in your playing, you do have these insane polyrhythms that blow my mind. But the thing is, your playing is so unpretentious.
Being very flash as a player is not my personality. I'm all about serving the music. I'm a team player and I have nothing to do with flash at all. That's kind of odd, because on a lot of these [online] forums, many kids nowadays enjoy that. I really appreciate certain drummers that are very showy, but the ones that really do it for me are the guys that have versatility and the guys that just lay it down. They always seem to be the ones that have the gigs the longest. For instance, just any funk drummer, say Chad Smith [Red Hot Chili Peppers], he may be a little showy, but he just lays it down – and The Chili Peppers have been around forever. There are certain guys in that forum that are great.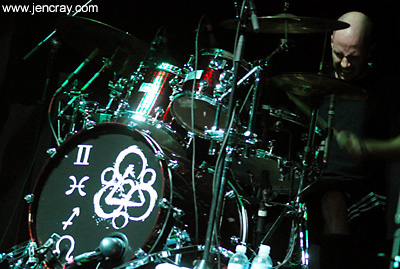 Which players have most influenced that aspect of your style, especially with respect to the polyrhythms?
It's such a vast world. There are all sorts of other guys – and solo drummers as well – that I look to for inspiration; like Terry Bozzio, when he played with Zappa. Then there are guys like Marco Minneman and Thomas Lang, [who are] mainly solo drummers with their role in a gig here and there. Even Thomas [Haake] from Meshuggah and Sean Reinert from Cynic are metal drummers who derive their styles from other influences. I would have to say Bill Bruford from King Crimson and Yes, and obviously Neil Peart and Billy Cobham from the Mahavishnu Orchestra are important influences. There were always guys in every field and there are guys that are doing it now that have thrown a different spin on it and in a different context in a different genre of music, but it's all the same.
I listened to the tracks you have posted on your MySpace page and I was floored at how those tracks show your versatility – from jazz to industrial to worldbeat. How did you become so versatile?
I listen to all kinds of music; like [the genres] you just mentioned, every kind of style that's in there. I just enjoy listening to it, but it's tough, because you only have so much time. When you really try to dive into all those different styles, there are just certain ones that may interest you more, or that you may pick up more than others, and you try to run with those. I always want to learn something when I get behind the drum set. No matter what it is, if it's a different style of music or something that, technically or technique-wise, is going to help me get my methods across and my playing – whether it's with a band or as a solo player – I want to learn it and I want to understand it. I like writing, playing piano and guitar, and composing, that sort of thing, as well. I feel that learning other instruments helps me understand or gives me a different perspective when it comes to playing drums as well.
I understand that you do a lot of home recording, especially at your practice (woodshedding) space sessions. Do some of those tracks show up on projects you do?
Yes, that's pretty much it. My practice space has really evolved. I'm doing one project with a friend of mine and the band is called Return to Earth. One of the MySpace tracks, I think it's called "Captains of Industry," is from that project. That [track] came from a record that we just did on our own at that woodshed space. Since then, we're working on a new record and we already have a bunch of tunes. That woodshed space actually turned into a full-on Pro Tools HD rig. One of the kids who owns that entire [building] complex knocked out the wall of that room and made it into a control room. Then he has a live room, so we tracked all of the drums in there, and it sounds great! What I have in there is a bunch of mics on my drums at all times and that's into Innuendo or a Pro Tools rig. I have another thing [going on] with my friend James Love, who played in Dillinger for a while. We're working on a project together which is in a heavy vein. But I'm always ready to record, so if Claudio sends me a guitar riff and says, "Hey man, can you drop some drums on here and send it back to me?" that's just what I do. I import the track and then drop drums, and send it back so he gets instant ideas.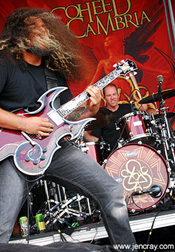 I remember when that process seemed so alien and weird to me, but now everybody does it that way.
I think it's great, but also at the same time everybody that I play with… we're always about getting the ideas and then just really fleshing them out when we get together. That's the important thing, I think: using technology as a tool to create is great, but don't let it dictate what you're ultimately going to do at the end. We all live pretty close, as I live in North Jersey and the rest of the guys live in upstate New York, about an hour away. So, yeah, whenever we need to get together we can do that.
I know that a contractual situation kept you from playing drums on Coheed's latest CD and that Foo Fighters' drummer Taylor Hawkins stepped in for that. Did you have any input on his parts?
What happened was that a lot of the demos involved me writing with the band. When it came time to record, there were just all sorts of contractual obligations and I was trying to figure it out and handle it diplomatically. It was a tough time; I'll just put it at that. Taylor came into it about a week before the actual recording. He used the demos as a template and worked from there. Not everything [he played] is verbatim. It's his interpretation and he made it his own from there.
Usually, Josh Freese [A Perfect Circle] gets all those gigs!
Any session guy will run in and do it but, yeah, Josh Freese is on everything (laughs).
Does the fact that the band's music is thematic or conceptual influence how you approach your parts?
Like, basing it on the story? No, it really doesn't, because that's Claudio's thing and we don't really unveil a lot of the story while we're writing. He's working on that separately from what is going on with the band. So it's more like "Hey, here's what I've got musically, and that's what I'm bringing to the table." We work on that and then after we demo some of this stuff, Claudio really adds his own thing, conceptually, with that.
One of the reasons I like this record so much is that it's… like rock and roll. You don't have to mentally prepare for the onslaught.
One thing that I think is amazing about Coheed, looking at the band from even an outside perspective, is that they walk such a line of everybody in the band playing their ass off, but there aren't all of those moments sometimes where it seems like everybody is thinking, "We're going to show you how noodle-y this part can be," or whatever. Whatever we play still serves the tune and the music.
• •
http://www.coheedandcambria.com • http://www.myspace.com/chrispenniemusic ◼
---