Pure Country: The Leon Kagarise Archives 1961-1971
by Eddie Dean and Roni Stoneman
Process Media / Daniel 13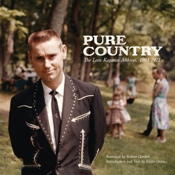 Reading this book feels like finding an ancient box of family photos in the attic, each carefully marked with names and dates and places of long dead favorite aunts and uncles and vacations you never took. Only in this case it's not your family, but the families of country music stars from the '60s and '70s. The ones who built Nashville from a novelty recording town into one of the great American musical engines. Between The Grand Ole Opry and touring beer halls, they played in backwoods parks that were little more than a stage and two lightbulbs. Migrant fans who grew up listening to them on the Atwater-Kent in Alabama came out and paid a buck a carload to relive their roots. The son of one of those migrant families, Leon Kagarise, fell in love with that unadorned picking style and set about recording it for his own enjoyment. In the process, he created one of the greatest musical time capsules in existence.
Kagarise had a job fixing hi-fidelity gear and eventually scrounged up a professional quality Ampex recorder and microphone, and a Zeiss Icon camera. He attended weekly concerts at places like Sunrise Park and New River Ranch, shot pictures, hung with the famous and no-so famous, and quietly amassed a documentary of Dolly Parton, the Stanley Brothers, Hank Snow, and just about everyone in the country or bluegrass business in the '60s. His candid photos fill this book, along with a rather fawning description of his obsession by Roni Stoneman, one of the singers he recorded. Kagarise later became a compulsive record collector and gathered nearly 250,000 discs, which works out to be around the volume of ten dumptrucks.
What's most intriguing is the tape recordings. There's plenty of talk about the Who and How of recording, but no mention of where they landed in this book. Even without thought of copyrights, such a collection is a priceless relic of one of the indigenous American folk styles that now has evolved past the point of slickness and parody, and is useful for little more than selling crummy beer and black cowboy hats. If you're a fan of the old fashioned American sounds, this book is an amazing relic of a time you'll wish you'd been around for.
Process: http://www.processmediainc.com • http:// www.daniel13.com
---