Riverboat Gamblers
with Fake Problems, The Attack
The Social, Orlando, Fl • April 10, 2009
Jen Cray
On Easter eve, Riverboat Gamblers fulfilled the promise of their name and rocked an actual riverboat as it cruised down the St. John's River out of Jacksonville. Unfortunately, I wasn't there. I did, however, catch their land gig the day before, when they woke Orlando up early to play a matinee show at The Social.
The Attack, Orlando's answer to Sick of it All, fought their way through an opening set that no one was there to see. They took the stage at 5:15 pm on a Friday – not the most prime of time slots, "Welcome to our rehearsal," Charlie, the comically frustrated vocalist, quipped to a sprinkling of audience members seated at the bar. It's a sad thing to watch a good band lose heat onstage due to lack of fans to flame the fire, but The Attack trudged through – going over their allotted 30 minutes for a blistering cover of The Explosion's "No Revolution."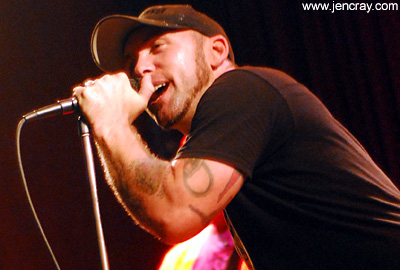 Thank the weekend gods that by the time Fake Problems squeezed onto the narrow stage, the worker bees of O-town had clocked out and put their party boots on – The Social was beginning to come alive.
More folksy than Against Me, less Springsteen-influenced than The Gaslight Anthem, Naples' Fake Problems call to mind both of those current talents with a bit of Cold War Kids thrown in for good measure. Six people onstage – including a cellist (who grabs a mandolin for one song) and a trumpet player – distinguish this young band from the punk bands they're usually on the road with before they even play a note. The music, complete with the wildly entertaining cowbell, further blurred the genre lines – falling knee deep in the amiguous river of cowpunk. The two seemingly opposing music worlds are held in check by vocalist Chris Farren, whose grainy Tom Gabel meets Al Barr vocals sound stronger and less strained in person than on record. A drinking band, by all accounts, what began as a good set slowly became a fantastic one as the beers kept rolling out.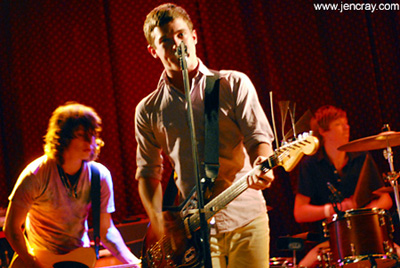 I would go out of my way to see Fake Problems play again, and I had already raced out of the house early in time to catch The Attack's set. Riverboat Gamblers are a horse of a different color. For them I would, and have on many occasions, rearrange my entire schedule in order to not miss a second of their show. They are that good. Even with only about 75 other bodies in the room this Texas band operated on full throttle.
With barely a breath in between songs, Gumby-esque front man Mike Wiebe plowed through an hour-plus set that found him – per usual – on the audience floor as often as onstage. To be more specific, he was everywhere from inside of a trash can to seated on a bar stool – all without missing a lyric or note. While Wiebe is the wiry focal point of the band, the remaining men onstage keep the music fluid and the big choruses soaring.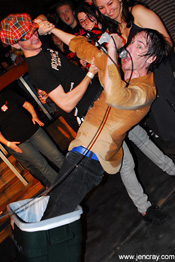 Guitarist Fadi El-Assad nearly burst a vein in his neck while singing through background vocals, guitarist Ian MacDougall quietly drenched himself in sweat at the far corner of the stage, Rob Marchant left his black framed glasses backstage before blindly plucking his way through a torrent of addictive low-lying bass parts, and drummer Eric Green effortlessly ground the beat with the power of a jackhammer. For a band that has seen numerous member changes over their twelve year span, it would appear they have nailed down their core lineup.
Songs off their most recent Volcom release Underneath the Owl inspired a handful of crowd members to sing along as earnestly as their road-worn classics like "True Crime," "Don't Bury Me…I'm Still Not Dead," and "Ice Water," and the band was tickled pink by the new material's ability to catch on so quickly. During the new wave influenced "Robots May Break Your Heart," a change of pace for the otherwise punk 'n' roll band, Wiebe busted out a little robot dance before slinging some more hard earned sweat into the upturned faces down front. "Pilgrims in an Unholy Land," fraught with an old ska riff and Clash-era flair, is a slower groove for the band but surely on its way to being a set staple, as are the traditional 3 chord bursts "DissDissDissKissKissKiss" and "A Choppy, Yet Sincere Apology."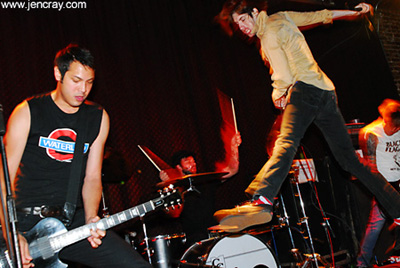 They closed out the breathless set with "The Art of Getting Fucked," during which Wiebe brought a mic stand down onto the floor and fans gathered around to sing along with the "G-A-M-B-L-E-R" chorus. Leaving the floor soaked in the aftermath of a good, solid rock show, the band dashed from the stage, packed up their gear and headed northbound for a tour that will take them well into the summer time – when they join up with Rancid and Rise Against.
To see more photos of this show, and others, go to [www.jencray.com](http://www.jencray.com/bands_live.htm).
Riverboat Gamblers: http://www.theriverboatgamblers.com • Fake Problems: http://www.fakeproblems.com • The Attack: http://www.myspace.com/attackmusic ◼
---