Camera Obscura
The Lonely Forest, Agent Ribbons
Seattle, WA • June 6, 2009
Steve Stav
A local brew of bombastic rock, Northern California avant-garde shenanigans, and some of the best retro-pop on the planet, courtesy of Glasgow, Scotland. All on one stage, in one night, in a venue with a long history of hosting great lineups – Seattle's Showbox. And it was all-ages, to boot; this meant that the segregated younger folks could not only soak up some great performances, they could gaze up at the jaded hipsters in the elevated bar areas and decide they weren't in a hurry to reach 21, after all.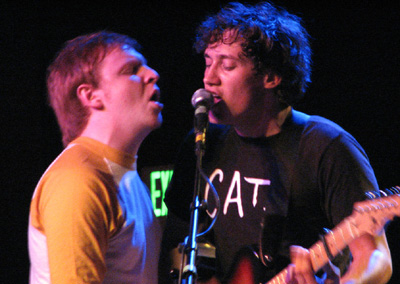 I'm always impressed with an opener that plays like they're headlining; critics' darlings The Lonely Forest came out swinging for the fences, and song after song, they kept connecting. Wow, what a promising young band; they could play Letterman tomorrow. Great, quirky, compelling songwriting examples from frontman/keyboardist/guitarist John Van Duesen; a rhythm section not afraid to compete with the guitars for attention scores bonus points. The Lonely Forest has this intimate, yet fiery sound that's hard to pin down – Green-era R.E.M. meets The Catherine Wheel? Van Duesen does sing and write a bit like a coherent Stipe, but I don't think it's a conscious effort. Just spectacular, all around. All they have to do is leave their sleepy, waterfront hometown of Anacortes – heck, leave the state – and catch the break that's waiting for them elsewhere.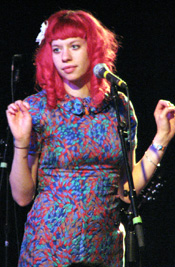 Despite a few technical difficulties, Agent Ribbons persevered with a set that certainly captured everyone's attention. While drummer Lauren Hess held down the fort, violinist/cellist Naomi Cherie played the "straight man" to singer-guitarist Natalie Gordon's vaudevillian hijinks. Agent Ribbons peppered a selection of witty, Gothic dirges and absurdist laments with more lighthearted fare; their finale was punctuated with the arrival of a pink-tuxedoed hawk playing a tambourine with a boxing glove.
With the fabulous, chiming one-two punch of "My Maudlin Career" and "Swans," Camera Obscura arrived. And, within a few seconds, the Showbox spun back in time to its true ballroom salad days, arriving at a dreamland of AM pop perfection. All that was missing were covers of "Downtown" and "The End of the World" – too obvious? In any case, if one ignored the Roland onstage, he could have easily pretended it was 1965; I was tempted.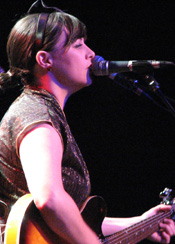 Is it now poor form to invoke the "Spector-ish wall of sound" cliché? With seven players under the lights, this amazing, amazing band replicated the various layers of their signature sound pretty spot-on. Camera Obscura has spent a lot of time on the road, and it showed; the group was super-tight as they focused primarily on material from their last two masterpieces. I could have listened to Tracyanne Campbell – a guitar-slinging heir apparent to Petula Clark – sing all night. Unfortunately, a portion of the audience apparently didn't share my sentiments. Quieter numbers such as "James" and "You Told A Lie" revealed the inexplicable din of idiot-chatter emanating from those elevated liquor gardens in the back of the room; if I had only had a tommy gun loaded with tranquilizer darts, about a hundred people would have had really bad hangovers the next morning.
Fortunately, this minor annoyance was erased by the intoxicants being dished out from the stage: "Forest and Sands," "Honey in the Sun," "Let's Get Out Of This Country," "80s Fan," "French Navy," the wistful nod to Mr. Cole, "Lloyd, I'm Ready To Be Heartbroken"… wave after wave of sheer bliss. Keyboardist Carey Lander was the sonic glue that kept this great set together, and she was on fire. The crowd should have been dancing like they were on Shindig!, but somehow weren't. You can write off the older set as being too cool to get on the good foot, but the college and high school students? I forget that as a general rule, people in Seattle don't dance.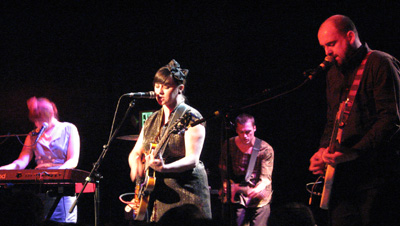 I detected some shifting of feet during their rousing finale, "If Looks Could Kill" – another #1 smash hit if it had been written 45 years ago. Then the Showbox emptied its contents onto the sidewalk, and back into 2009. Hookers, panhandlers, couples searching for car keys and taxis. A vendor who puts cream cheese on his delicious dogs has a big smile for the ladies on their way to work. It's a warm Saturday night in June, and what a kickoff to summer it has been.
Camera Obscura: http://www.camera-obscura.net/ ◼
---