Horrorpops
Longway, 7 Shot Screamers
The Social, Orlando, Fl • May 6, 2009
Jen Cray
They may have lost a guitarist and a pair of dancers since they last swept through town, but Danish psychobilly sensation Horrorpops hasn't lost the power to party, or their popularity with the Orlando fans. The Social was filled and the Jäger was flowing… of course most of it was finding its way into the hands of Patricia Day – the band's sexy and severe vocalist/upright bassist – whose charismatic demand for booze boosted bar sales considerably.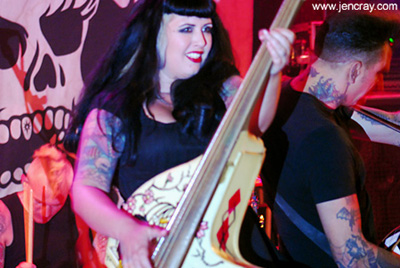 "Just keep 'em coming," Day laughed as the shots kept lining up onstage, faster than she could drink 'em.
Having done their job amply, so much so that the crowd was willing and eager to buy the headliners drinks, were the two opening bands who went above and beyond their job description. 7 Shot Screamers never fails to woo an audience with their rockabilly-flavored, salty-sweet punk rock 'n' roll. The Missouri band, whose drummer and guitarist (Kevin O'Connor and Deano Sabella) have moonlighted as the backup band for X front woman Exene Cervenka as the Original Sinners, is still doing time as a support act on tours even though their performance is always a show stopper. Front man Mike Leahy is the picture of androgyny, especially once he lets his shirt hang open over his wiry frame, twisting and turning like a punked out Morrissey. His mohawk started off towering like a pompadour gone mad, but soon drooped and hung over his long, thin sideburns, sweaty and covering his face while he fell all over the stage and into those leaning at his feet. Included in the set were two of the best rockabilly songs you've never heard, "World Domination Ball," and "Love Always, Charlie."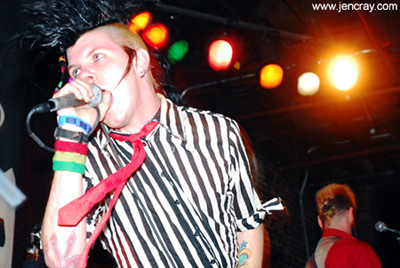 Maintaining the energy level and adding a dose of attitude was Orange County, CA's Longway. An otherwise run-of-the-mill Bad Religion-inspired punk band, what distinguishes these guys is the eye patch-wearing guitarist whose got a flirtatious stage manner and personality to spare. He was the one posing for photos with the girls in the front row – during the show. He was the band member taking his guitar out into the crowd and climbing atop the bar to play. It's also this cigarette-sucking, baseball-capped cartoonish man who brought up a local musician (from Big City Bombers) to sing along on the band's Billy Idol cover, "Rebel Yell." It left us all screaming for "More! More! More!"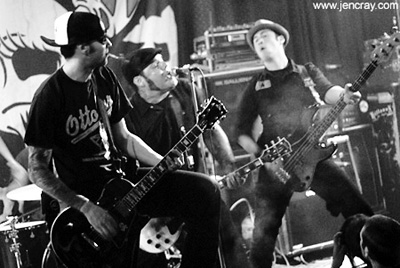 When the newly downsized Horrorpops, a trio these days, took to the stage they wasted no time in whipping the fans into a dancing, cheering mass. Day, who looks like a voluptuous, tattooed Bettie Page, flashed frequently a mischievous smile before thumping her way through some seriously juicy psychobilly. Keeping her company, and keeping the melodies rolling right along, were Henrik Niedermeier on drums, and her husband and vocalist/upright bassist for Nekromantix, Kim Nekroman. The Denmark-turned-Los Angeles group is out promoting their third full length album, Kiss KissKill Kill, and have gone back to their club roots to find themselves back in the up close and sweaty confines of everyone's favorite Orlando venue.
"I don't remember much from the last time we played The Social," Day explained, "because you have Jäger at this bar!"
And so began the never-ending trail of shots that went, one after the other, down our hostess' gullet. Never missing a beat, a note, or a lyric, Day trooped on through an exhausting and liver-poisoning set. Willingly following along through every hip-twisting piece of horror candy – "Walk Like a Zombie," always a ghoulish treat – the crowd went along with the band's every command to dance, to sing, or to drink.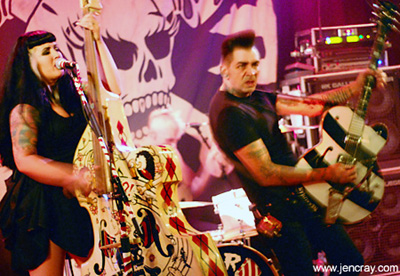 "There's only one way to answer us," Day instructed. "Do you know what that is?"
A resounding cry of "Hell Yeah!" revealed that this audience was home to more than just a few veteran Horrorpops fans – repeat offenders who signed up willingly for the night's party! A party that eventually led to a pack of ladies from the audience dancing up onstage beside the band. So, the Horrorpops got their dancers back after all!
To see more photos of this show, and others, go to [www.jencray.com](http://www.jencray.com/bands_live.htm).
Horrorpops: http://www.myspace.com/thehorrorpops • Longway: http://www.myspace.com/longway • 7 Shot Screamers: http://www.myspace.com/7shotscreamers ◼
---