Tori Amos
Bob Carr Performing Arts Center, Orlando, Fl • July 28, 2009
Jen Cray
It's been 17 years since Tori Amos first popped up on commercial radar with the release of her soul-baring debut, Little Earthquakes. Even after so many years and huge success, the flame-haired pianist has not lost sight of the fans who've stuck with her, album after album.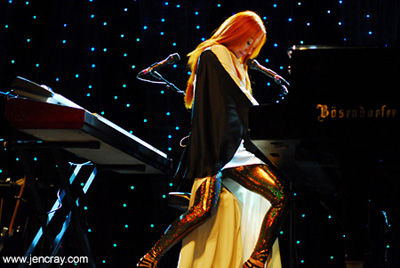 Before every show she still does an informal meet and greet for those who gather outside the venue's doors, and for seated shows, like her recent one at Orlando's Bob Carr Performing Arts Center, she has press photographers shoot her during a private sound check, rather than block anyone's view by shooting during the night's performance. It's as much a courtesy to the fans as it is a special privilege for the lucky photographers who get a short, but unforgettable, private performance.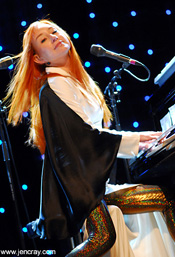 Tori Amos could perform in a blackout and her voice and piano tones would light up a city block – she doesn't need a kaleidoscope of colorful lights shining behind her light bright stars… but they sure looked pretty! The backdrop of starlight and its shifting colors were hypnotic in the best possible way. Though if any of the 2,000 audience members had decided to drop some acid before the show, what was for me a trance-like experience may have taken some darker forms for those with heightened senses. So be warned, for this Sinful Attraction Tour, as it's deliciously called, don't take the acid… or do, whatever, but you were warned!
Torn between a myriad of keys – she switched frequently between her Bosendorfer piano, a harpsichord, an organ, and even a small little synthesizer – and with an intimidating catalog of compositions to choose from, Amos' current set ventured deep into her past only on occasion. She gifted long time fans with "Cornflake Girl," "Icicle," "Past the Mission," and "Precious Things" from her first pair of albums. She even threw out an old B-side (remember those?), "Take to the Sky," as part of her encore.
For all of it she was backed by drummer Matt Chamberlain and bassist Jon Evans, who've both been with her for over ten years. One beautiful tearjerker of a song she performed solo, bringing it back to when she toured the world on her own – just her, the piano, and the demons of her past to keep her company. Ironically the tale she chose to tell this time around was one of maternal ache – a song about traveling back to her young daughter who's anxious to curl up in bed with her mommy.
Like Ani DiFranco, Tori Amos has transitioned from the role of "angry feminist" into that of a settled, and satisfied, mother. Her music has less of a bitter edge, and she isn't humping the piano so much these days, but the fire still burns and her live shows only get better.
To see more photos from this show, and others, go to [www.jencray.com](http://www.jencray.com/bands_live.htm).
Tori Amos: http://www.toriamos.com ◼
---