Jenny Lewis
with Heartless Bastards
The Plaza Theater, Orlando, Fl • January 29, 2009
Jen Cray
Alone, beneath a long white spotlight that makes her red hair glow and her white legs shimmer, Jenny Lewis opens her set with a solo performance of "Silver Lining," a song she wrote with her primary musical family Rilo Kiley. The sold-out seated Orlando crowd soaks up the unexpected inclusion of the non-solo album song before exploding with welcoming applause as the petite Lewis smiles sweetly and welcomes her band onstage with her.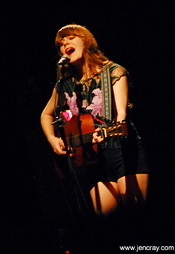 The events leading up to these five minutes were not nearly as magical, but the moment was gorgeous enough to make the evening a rousing success – despite its sleepy start.
Since The Plaza Theater used to be a movie house, a screening of Lewis' new documentary Welcome to Van Nuys sounded like a perfect idea, but watching dimly lit studio footage of the recording of Lewis' recent album – while sitting in comfy chairs and drinking beer – was not exactly an exhilarating start to a night of live music. The 45 minute film was about the making of Acid Tongue with appearances by Elvis Costello, Zooey Deschanel, and M. Ward (all whom provide guest vocals on the record), and would have been a hell of a lot more entertaining had it had a little more out-of-studio footage to break up the monotony of recording.

Also surprisingly unsuccessful were Heartless Bastards as the warm-up act. Their plugged-in bluesy roots rock should have been a good match for the indie-bred country folk of Jenny Lewis, but they lacked the force they had put behind their music when last I saw them as openers for punk-friendly rockers The Gaslight Anthem. Perhaps the sort of band that requires a give and take on the part of the crowd, the foursome weren't getting much more than perfunctory attention and the expected after-song applause from this bunch and so the performance was equally as average. Vocalist/guitarist Erika Wennerstrom's larger-than-her-body voice filled up the room with little effort, and the rest of the band sounded great, but there was no sweat involved. Even Dave Colvin, whose powerhouse seat behind the drumkit fuels the band's fire, hardly seemed to work up a speedy heart rate. This is a bar band, a group that benefits from having to push their music out over a rowdy crowd, and the polite audience at The Plaza Theater was not challenging them enough to put their best foot forward.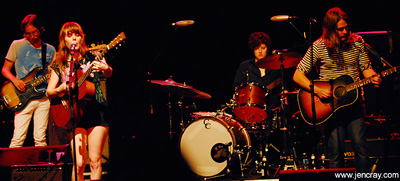 For a woman who's obviously very comfortable at the center of attention, Jenny Lewis likes to surround herself with a lot of extra people when onstage. In 2006, while taking a break from the all-boy-backed band of Rilo Kiley, she embarked on a "solo" project (album and tour) where she co-billed herself alongside the The Watson Twins. For her second solo go 'round she shed the shared billing, but piled on the guest musicians – one of whom, her guitarist Jonathen Rice –doubles as her boyfriend. As gifted a musician as she is, she seems to lean on the crutch of guest stars in an attempt to be taken seriously. It's unnecessary, and – at times – the added bodies only act as a distraction.
Which is why her spotlight solo intro was so satisfying.
The remainder of the set found Lewis switching back and forth between guitars and keyboard, and split the difference between the new songs and those off Rabbit Fur Coat. Of the new, "Carpetbaggers" – which is a duet with Elvis Costello on record, and one with Rice in concert – would have sparked a dance party amongst fans had the seats not been nailed to the floor. Both "Black Sand" and "Pretty Bird" allowed Lewis to showcase her timeless voice, and "Jack Killed Mom" created an eerie, but foot-stomping honky tonk groove.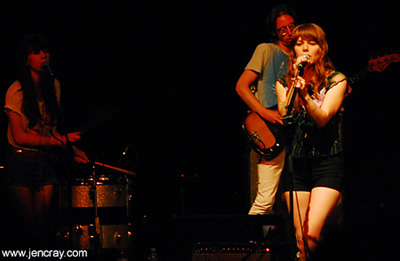 The audience ate up every musical offering, every sweet smile, and every small exchange between band members and crowd. When Lewis announced "This is your song," before launching into "This Charging Sky" – a song that contains the lyric And I share with my friends a couple of beers / In the Orlando streets – the adoration multiplied further.
From the raging red of her long locks, to the sparkly red tips of her tiny boots, Jenny Lewis dripped with sweet and soulful sensuality. Whether standing alone, or mixed in with a crowd of talented musicians, she owns the spotlight.
To see more photos from this show, and others, go to [www.jencray.com](http://www.jencray.com/bands_live.htm).
Jenny Lewis: http://www.jennylewis.com • Heartless Bastards: http://www.theheartlessbastards.com ◼
---