Jeffree Star
with Artist vs. Poet, Watch Out There's Ghosts, Let's Get It
The Social / Orlando, FL • 7.28.09
Christopher Long
The gay pride flag flew high, boasting multiple shades of pink as Jeffree Star, the reigning queen of MySpace made his appearance at The Social in downtown Orlando. Yet despite his MySpace hits numbering in the tens of millions, the transgender pop culture icon barely attracted two hundred fans to the early evening, all-ages event.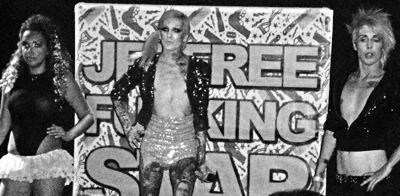 By the time my buddy and I arrived at the club at 6:10pm, we had missed opening-opening-opening act, Let's Get it. However, we did manage to catch the last few tunes of the second act, Watch Out, There's Ghosts. Perhaps best described as a PMS-ing version of Paramore, the Ghosts performed almost entirely in the dark during their well-received set.
The real treasure of the night was the third act, Artist vs. Poet. With its early twenty-something members all dressed in black and sporting obligatory bullet belts and trendy comb-overs, the Dallas-based pop/rock quintet reminded me of a younger version of Taking Back Sunday. They may not be the most original act on today's cookie-cutter rock scene, however, their three-minute, hooky numbers were so infectious, I just had to pick up their CD at the merch table.
"What's up bitches?" exclaimed Mr. Star as he strutted onto the stage at 8pm, kicking off his show with a remake of the current Black Eyed Peas hit, "Boom Boom Pow." Dressed in a silver sequined two-piece bikini ensemble, the man of the hour was flanked onstage by two back-up singer/dancers. One was a beautiful young black woman who resembled Janet Jackson circa 1998. The other was an equally beautiful, tall, thin and very pale, young, blond white man who sported little more than tiny black nut-huggers during the thirty minute performance.
While the two onstage keyboardists (with laptops) and the young man sitting behind a set of electronic drums certainly created the appearance of a live band, I doubt that any of the onstage "musicians" were actually contributing much as Mr. Star and company provided live vocals and choreographed dance moves to what were obviously pre-programmed, techno-style backing tracks.
With an outrageously androgynous look that falls somewhere between Ziggy Stardust and Dolly Parton, a Jeffree Star performance is much more about style than substance. And that seems to suit his faithful flock – which this night consisted of screaming thirteen-year-old girls and adoring (and drooling) nineteen-year-old boys – just fine.
Despite being an honorary member of the Molly Hatchet fan club, I was really excited about seeing this show. And I wasn't disappointed. In fact, I didn't even mind being the token creepy old straight guy, watching from a dark corner in the back of the club.
Jeffree Star: http://www.myspace.com/jeffreestar ◼
---