Lee "Scratch" Perry
with Lionize
The Social Orlando, FL • 09/04/09
Phillip Haire
When using the words "pioneer," "innovator," and other defining adjectives, one must tread carefully and be open to debate. However, the analogy "Lee Perry is to reggae what Elvis is to rock 'n' roll" resonates as a truism few would contradict. In early '60s Jamaica, as ska was transitioning into what we know as reggae and subsequent use of more bass-lines morphed into dub, Lee Perry was a primary force in the transformation of both.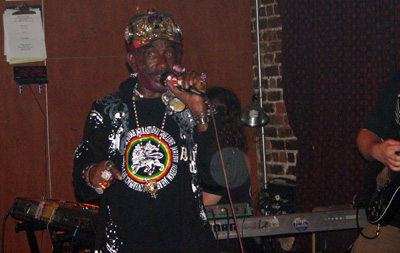 When an opportunity arose to see one of the few remaining fathers from old school Kingston, I would not be denied. Surprisingly, there was not a glut of promotion for the show. Although a sellout, the crowd was quite comfortable and connected to the significance of this show. By now, the Upsetter (among a dozen or so monikers he has acquired over the years) is pushing 70 years of age and I imagine his stage days will further be limited in the years ahead.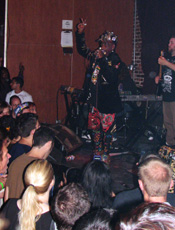 Lionize, a quartet from Maryland, opened the show with a set of original reggae tinged with rock and psychedelia. They easily transitioned into a roots sound while infusing a dose of hip-hop and/or Hammond keyboard. All elements flowed nicely as the vibe was received and appreciated by the crowd.
Perry emceed his way from backstage to center, which really got the crowd into a frenzy. Lionize had come out to serve as backing band. As Perry hit the stage, we were all witness to reggae royalty in his domain. Anyone who has followed Scratch over the years knows of his legendary eccentricities. Our first look at him left no doubt, as evidenced by the accompanying photos. An entire article would be needed to break down the complexities and intricacies of his "kit," so let the pics suffice.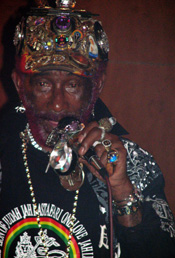 He arrived onstage wheeling a piece of tiger-striped luggage and carrying a banana impaled by sticks of burning incense. After a brief introduction, he proceeded to take over the stage with a set comprised mostly of standards. Considering the scope of Perry's body of work over the last 40-plus years, I guess he can pull about any song into his repertoire. I enjoyed his version of "War in a Babylon," a track he produced and made a career hit for Max Romeo. Bob Marley was also paid tribute via "One Drop" and an encore of "Kaya." As the show progressed, Perry got more comfortable and bantered with the crowd on such topics as legalizing ganja, government, and praise to Jah. He had quite a bit to say, but interpreting all of it is another story. Not one to neglect the ladies, he hand-picked several to join him onstage for a little dancehall-style "New York, Boom Boom Boom." And, by popular demand, worked "Chase the Devil" and the seminal "Roast Fish & Cornbread" into the show.
It was an honor to see the man whose fingerprint has touched every facet of reggae as we know it. Perry still seems to be having fun and sharing his legacy with future generations. Thankfully, he has remained with us while many of his contemporaries were taken much too soon. Long live the Super Ape!
Lee "Scratch" Perry: http://www.lee-perry.com ◼
---