Staind
Congress Theater, Chicago, IL• August 27, 2009
Cindy Barrymore
This latest encounter with Staind has expectedly enraptured the senses, swaddling the body like that scene in Kill Bill where Uma Thurman has been buried alive in a wooden coffin.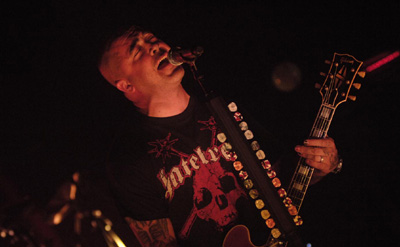 She eventually digs her way out. But on this night had she been in my shoes she may have found her captors more enthralling and the "free world" highly overrated. For here, not even Elvis left the building.
To be sure, any night the metal beast rears its many heads, the Congress Theater swells hard like a pressure-cooked sardine can. Intensity scores release only from clacking the floorboards in the photo pit. And what's going on with that madness? Did the club owners not raise enough dough to build a more solid foundation? Or did I underestimate Staind's ability to rattle the rafters?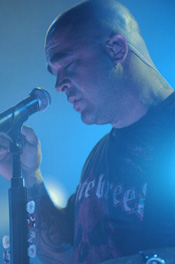 Hmm … the latter, apparently so. This according to an unofficial poll taken by rabble-rousing applause for guitarist Mike Mushok. He proved that if ever ecstasy had a theme song, it's Staind's cover of Pantera's rock ballad "This Love." In homage to what would've been Dimebag's 43rd birthday the week before, Mushok triple-threatened to reinvent the shred.
Naturally, Mushok's flailing overshadowed the more subdued Aaron Lewis, who expressed himself mostly with scowls. As the least animated of the group (which also includes bassist Johnny April and drummer Jon Wysocki), Lewis still managed to win the heart of one young woman who, moved by his brooding sensitivity on "So Far Away," mounted her boyfriend's shoulders to flash her titties.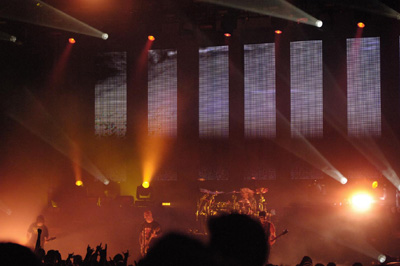 At encore, the audience reiterated her gratitude, this time waving a more appropriate show of hands – although anarchy still lurked, faintly reeking of weed – when Lewis, wielding an acoustic guitar, performed solo versions of "Outside" and "It's Been a While" atop the soundboard.
Staind: http://www.staind.com
---