Night and Day: A Cole Porter Evening
with David Hyde Pierce, Rob Fisher and Victoria Clark
Ravinia Music Festival, Highland Park, IL • August 17, 2009
Cindy Barrymore
As dusk settled over the pavilion, wildlife from a nearby forest began to symphonize. Nature provided a pitch-perfect accompaniment to the sweet melodies wafting throughout the country's oldest outdoor music festival. Ravinia boasted a full house: undoubtedly, lovers of the Broadway musical. On the adjacent lawn, patrons, some of them dappled with candlelight, nestled between blankets and on towels, or reclined regally in their lawn chairs.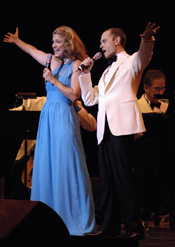 It was under this theatrical but romantic nightscape that David Hyde Pierce mixed a martini from the stage.
Eventually, Pierce along with Victoria Clark, starring as a 1930s-era lounge act, served up a sweet elixir aurally as much as orally: For hard-core Cole Porter fanatics fixed with breathless anticipation, this 90-minute part operetta, part cabaret revue signified an opportunity to hear not only a dozen of Porter's most timeless classics – "Let's Do It (Let's Fall in Love)" and "Goodbye, Little Dream, Goodbye" – but also to spy a handful of hidden gems, including one risqué Irving Berlin parody of "You're the Top."
In between songs, the couple bantered to show their affection for one another but also to contextualize some of Porter's songs, sharing such fun little tidbits as Porter's desire to "work out the psychology of the tune." And if he couldn't find a good climax, he'd throw out the entire song!
"Night and Day," written for the 1932 musical stage play The Gay Divorce, is perhaps Porter's most recognizable tune and is also synonymous with Fred Astaire, who introduced the song on stage in addition to a subsequent phonograph recording that hit No. 1. Astaire later reprised the song in the 1934 cinematic version of the show (renamed The Gay Divorcée), serenading his would-be love interest, played by fellow dancer Ginger Rogers.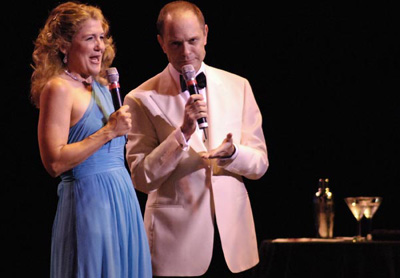 As dancers, Pierce and Clark are no Ginger Rogers and Fred Astaire; yet what they lacked in moves they compensated for in wit and charm. Although their recital wasn't as thrilling and over-the-top as musicals generally are, the duo backed by a six-piece chamber orchestra (including renowned conductor and pianist Rob Fisher) provided a number of solid highlights: Pierce played piano on an instrumental version of "What is This Thing Called Love?" from 1929's Wake Up and Dream, while Clark – sans an actual brass instrument – imitated convincingly the trumpet part with her mouth.
Particularly notable was Pierce's approach to his character, which wasn't much different from his Emmy award-winning turn as Dr. Niles Crane on the sitcom Frasier – minus Crane's pompous accent and obsessive-compulsion. In fact, Pierce (also a Tony award-winning stage actor) performed more so with an air of humility, exemplified in the wryly self-deprecating "The Extra Man" (written for but unused in Wake Up and Dream), in which he lamented at being "a buddy to the understudy." However, if Pierce represented the more famous brand on the marquee, Clark's silky soprano (on "You Do Something to Me") more than offset him.
Ravina Music Festival: http://www.ravinia.org/
---