The 69 Eyes
The Social – Orlando, FL • October 15, 2009
Christopher Long
For me, the definition of getting older is walking into a club and realizing you're no longer hip. The definition of actually being old is walking into the same club but not caring that you're no longer hip. The latter perfectly describes my mindset as I recently stood amongst a sea of trendy, sixteen-year-old, Goth kids waiting for a group from Finland called The 69 Eyes to take the stage at Orlando's ultra-hip nightspot, The Social.
Although I was somewhat familiar with the band, I certainly had no desire to make the sixty-mile drive from the beach to Orlando to see them live. However, an eighteen-year-old buddy of mine who is a huge fan of the band begged (and begged) me to take him. Finally, I gave in and found myself en route to The Social.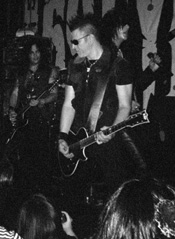 Before both sides of my buddy's ass could make contact with the shotgun seat of my minivan, he'd already jammed the band's new record Back in Blood into my CD player. Throughout our entire ninety-minute journey he insisted on subjecting me to non-stop, select tracks from the record (at a painful volume). And honestly, it wasn't bad. They had a nice, Hanoi Rocks-meets-The Cult rock edge, yet with their dark, Sisters of Mercy-like lyrics and low, operatic Type O Negative-inspired vocals, I kinda thought they suffered from a bit of an identity crisis. But the record didn't suck, and little by little I became somewhat more enthusiastic about seeing the band perform that night.
We arrived at the club at 7:30 pm, just as the first of three mind-numbing opening acts took the stage. Finally, by 10 pm, it was time for the headliners to (hopefully) rock. My buddy was so excited that I thought he might wet himself. At this point, I still didn't "get it." I still didn't understand what the big deal was.
I was totally the odd man out, standing in a roomful of Hot Topic's best customers. At 46 I'm somewhat jaded when it comes to new bands. In fact, I haven't felt truly inspired by seeing a live band since I saw Cheap Trick in 1979, however, that was all about to change.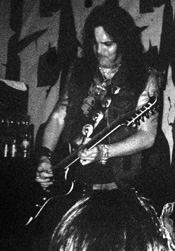 Jussi69 was the first band member to bop on stage. The shirtless, skin and bone drummer wore only black leather pants and sneakers. And with his ratty, long brown hair tied up in a glittery scarf, he looked more like a reject from LA Guns than a member of a cutting edge, modern day rock act. Standing at least six-feet tall and sporting black leather pants, a black leather jacket, black leather boots, tons of trendy, silver rock star jewelry, sunglasses and a thick mane of jet black hair, frontman Jyrki69 resembled a cross between Joey Ramone and Axl Rose. I finally started to see the light. By the time bassist Archzie and guitarists Timo-Timo and Bazie made their way on stage, decked out in denim and leather with their vintage "axes" hung low, the "light bulb" finally clicked on. This was a rock and roll band.
On record, The 69 Eyes seemed to lack a well-defined direction. Live, all of the random pieces of the puzzle came together. I stood in awe for the next seventy minutes as the band worked the stage and rocked the house with such balls-out, hardcore abandon and rock star swagger that Axl himself would have felt inferior.
The band's non-stop, high energy set featured many of the same select new cuts that my buddy had force-fed me on the ride to the club along with such longtime staples as "Betty Blue," "Gothic Girl," and the show-ending "Lost Boys."
Despite my initial lack of enthusiasm, I quickly became a believer. After thirty years of seeing shows, I finally left one feeling inspired!
The 69 Eyes: http://www.69eyes.com ◼
---