The Comic Book Podcast Companion
by Eric Houston
TwoMorrows Publishing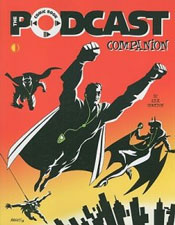 The modern world is such a boon to the collector. Not only are there so many more things to collect, but there are better ways to buy and sell, research, and talk about them. Hanging out at your favorite comic shop is gone, just like the shop. Today you buy online, and if you want the opinions of the most energetic fans, you listen to their podcasts. There are dozens available, providing opinions from all points of view.
The Comic Book Podcast Companion features a lurid color cover and cheap grey paper with grainy pictures inside. The stories are similar – typically two buddies start a podcast on a whim, they figure out how to fill time, get the sound audible, find their voice and audience, and get a few thousand dedicated fellow fans to tune in. There's little money available here, it's all a labor of love. Shows like "iFanboy," "The Crank Cast," and the "Pipeline Podcast" provide reviews, interviews with artist and writers, and reports from shows like Wizard World and Comic-Con.
There's a certain level of self reference in the comic podcasts. As one 'caster pointed out, you shouldn't spend more time discussing a single panel than you do reading an entire comic book. After you sing the praises of Spiderman to the clouds and run out of other books and authors, you can interview other podcasters. At that point it's not clear what value is added to the fan community, except the certain knowledge there are others out there with the same priorities.
There are some fun facts buried in here. We learn a comic collector is a "Panelologist", and a fan who wrote consistently good letters to the editor was known as a "Letter Hacker." There are pictures of the podcasters, as well as panels their favorite artists included them in. There's a dedicated podcast for the gay collector ("Comic Book Queers"), there's a marathon 24-hour podcast out there that includes a major breakdown by one of the participants, and this book's publisher (TwoMorrows) has a podcast. Wrapping up this love fest is a brief listing of equipment and software used to make the podcast, although it's more of a buy list than instructions on setting up your own RSS feed. This book is all about love of the hobby, and the sort of thing a true fanboy needs. The rest of us can read the comics by ourselves, and be glad Batman and Captain Marvel are looking out for our best interests.
Twomorrows: http://www.twomorrows.com ◼
---