Revolting Cocks
with Jim Rose, Blownload, and Left Spine Down
Club Firestone, Orlando, FL • October 21, 2009
Phillip Haire
As the date drew near, three elements were working against me: A late Wednesday night, a nagging head cold, and an hour-plus drive each way. Yet, my will prevailed as the opportunity to see one of the venerable industrial/ post-wave/ rock/ (your moniker here) collectives, Revolting Cocks (RevCo), perform on their Lubricatour Tour was too great for the aforementioned obstacles. Although somewhat a revolving door of personnel over the last twenty five years, RevCo is still tended to under the watchful eye of Alain Jourgensen (Ministry), who is making appearances at only four select dates – this Orlando date not being one of the winning candidates.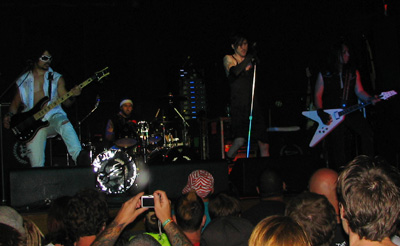 The tour features opening acts Left Spine Down and Blownload. LSD trended more toward the rock side while Blownload gravitated to the "cock-rock" genre with tunes like "Keep Sex Evil" and "Suck It." Both exalted the virtues of weed and partying – and why not? When RevCo is the main attraction, like-mindedness makes it all work. Oh, lest I not forget, master of ceremonies Jim Rose kept the madness on pace throughout. He was supposed to emcee only, but several dates (including Florida's), had "Jim Rose Circus" on the promos. Ever the showman, Jim rallied up a scorpion eater, human dartboard, a wrestler friend to take metal chair blows, and Jim's own trademark razor blade swallowing/regurgitation onto a string – all on short-notice! Back to our headliners…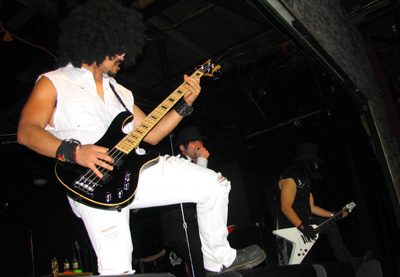 The current RevCo lineup touring in support of Sex-O Olympic-O features members hand-picked by "uncle" Al: Vocalist Josh Bradford and keyboardist Clayton Warbeck, both formerly of Stayte; Sin Quinn, handling guitar work for both RevCo and Ministry; and drummer Aaron Rossi, who also keeps the beat for Prong. The boys wasted no time by launching into "Stainless Steel Providers" as the opener. Extra loud, extra hard… Delicious! Bradford's spasmodic energy translated well, not just vocally – his stage presence is also awesome. He definitely has a penchant for his "unit" and discussed it at length (no pun intended), threatening to show it multiple times. For those of you wondering – he never did.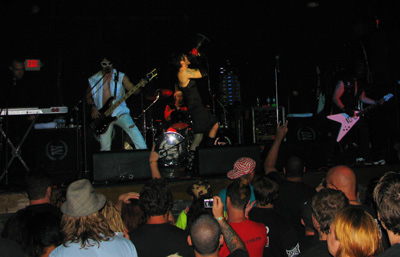 I was also impressed by the seamless integration of new material with the classics. "Hookerbot 3000" and "Abundant Redundancy" weaved nicely around "Something Wonderful" and "Let's Get Physical" as Sin and Aaron kept the pace. The musicianship and song translation was amazing considering all of RevCo's early works were completely "assembled" by Al, Luc, and Richard 23. Loops, synth, voice-overs, etc. could make for a difficult "live" re-creation, but not so in this show! Concluding the initial set with "Fire Engine" and "Purple Head," we were still wanting more. After a brief intermission, RevCo returned to the stage. This time Bradford was adorned in black négligée with full length black gloves, prepared for a blistering last set starting with "I'm not Gay" then on to a medley of "Beers, Steers, & Queers," complete with intro spoken word from the album, into "Crackin' Up." The finale was "Do Ya Think I'm Sexy," complete with a bevy of scantily clad chicks grinding around the band members. THAT's rock & roll, m*therf*ckers!!!
Revolting Cocks: http://www.myspace.com/revoltingcocks ◼
---