Zombieland
directed by Ruben Fleischer
starring Woody Harrelson, Jesse Eisenberg, Emma Stone, Abigail Breslin
Sony Pictures
The revival of the zombie film over the last decade has brought about many interesting takes on the genre. Taking itself far less seriously than Shaun of the Dead, Zombieland continues this revival with a tongue-in-cheek approach. Yes, there is lots of splattered blood and missing limbs, but there is also a sense of comedic kookiness that propels the film above other recent undead forays.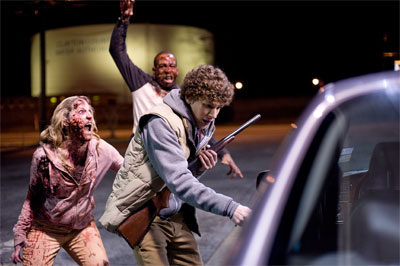 Zombieland opens in a world decimated by a virus that transforms people into zombies. Once bitten, the victims become adrenaline-fueled maniacs that stop at nothing to quench their hunger.
Columbus (Jesse Eisenberg) is a phobic nerd who survives the epidemic by adhering to his own very strict code of conduct for surviving the zombie apocalypse. Despite irritable bowels and countless zombie encounters, he makes it on his own living safely in his own isolated world. Things get interesting however when he decides to leave the Texas town where he attends college and head on the road to find out if his parents are still alive in Columbus (hence the name).
On the open road he meets Tallahassee (Woody Harrelson), a glib redneck with a penchant for killing zombies. Tallahassee's tough-talking, take-no-prisoners attitude is a stark contrast from the tentative and unsure Columbus. Nonetheless, they join forces for mutual survival. Tallahassee's brazen temperament and slaying skills are amped up by his craving for a Twinkie.
A failed raid on a Hostess truck only fuels Tallahassee's desire for a Twinkie. This leads them to an abandoned supermarket filled with food and zombies. While exploring the store they meet two sisters, Wichita (Emma Stone) and Little Rock (Abigail Breslin), who take advantage of their kindness. Wichita and Little Rock are a formidable team who survive on their own by cunning, hustling and grifting survivors.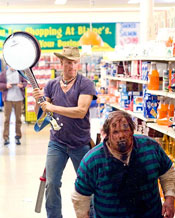 Zombieland marks a comeback of sorts for Woody Harrelson. He is terrific here and hasn't been this entertaining since Natural Born Killers. This return to form gives Tallahassee a smooth coolness that makes him likeable. In turn, Jesse Eisenberg is perfectly cast against Harrelson as Columbus. He brings a goofy naïveté to the role which creates some terrific laughs with Harrelson.
The supporting cast is also exceptional. Abigail Breslin plays off Harrelson well and appears to be transitioning from kid features to adolescent roles. Emma Stone plays Wichita as a tough and tender badass with a soft heart. Her romantic scenes with Eisenberg are some of the best in the film.
Zombieland works so well because of the comedic timing of Eisenberg and Harrelson and also because director Ruben Fleischer successfully combines the grit, gore and guts of zombie movies with the hilarious romps of classic road movies. The result is a darkly comedic cross-country thrill ride that fires on all cylinders.
Zombieland: http://www.zombieland.com
---