Trivium
with Chimaira, Whitechapel
Firestone, Orlando, FL • December 12, 2009
Jen Cray
They've toured with marquee heavy-hitters like Slipknot and Iron Maiden, but for their Into the Mouth of Hell We Tour, theirs is the biggest name on the gig poster. Rather than hit the midsized clubs they could easily have filled, they've scaled back a bit to put their working class metal right in fans' faces, playing the small sorts of venues they haven't played in years. The tour wrapped up at Firestone, in the band's hometown of Orlando, in front of a near capacity crowd that was packed in tight.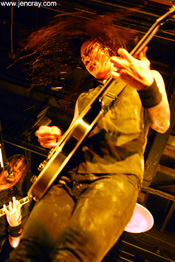 Metal fans of all shapes, sizes, and birthdates came out of their caves for Trivium's homecoming, and they got their groove on early with a Red Bull shot-to-the-veins performance by Knoxville, Tennessee's Whitechapel. Some time over the last few years, while most fans were too busy discovering new ways to obtain their music for free, death metal merged with hardcore – further adding to the degeneration of the "musical genre." Whitechapel, named after the area where Jack the Ripper famously wreaked havoc, is one such denomination-less band. All man-made musical muscle, the noise that reflected off of the sweaty masses had plenty of bite. Not much in the way of words could be deciphered from vocalist Phil Bozeman's beastly demon growls, but my guess is that the songs were not about puppy dogs and lollipops.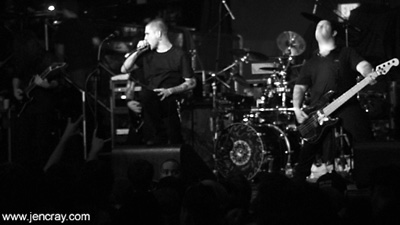 Chimaira added a little more melody to their spin on the metal mash-up, but not much. They used keyboards and samples, which alone placed them in a different box than your traditional metal act, but don't let this modernization fool ya – even with Mark Hunter's sometimes melodic method of singing, this Ohio band is nowhere near the screamo craze that many 21st Century metal bands steer toward. For one thing they've got a couple of metal riff-slinging guitarists who play as if they spent the bulk of their teenage years cranking Slayer and Sepultura in dark, smoke-addled bedrooms. Matt Devries and Rob Arnold, alongside bassist Jim LaMarca and drummer Andols Herrick, laid down a heavy foundation for Hunter and the aforementioned keyboard-playing backup singer Chris Spicuzza to spew poetry atop of. It was murky and maniacal, and the audience ate it up with a fork.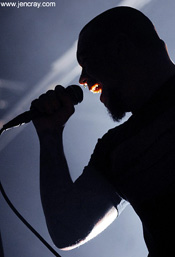 After the heated display brought forth by Whitechapel and Chimaira, the night's headliners wasted zero of that courtesy warm-up. Trivium was hell-bent on delivering the kind of homecoming show that only freaks and geeks swinging into town in brand new Mercedes for their high school reunions could fully appreciate.
Wielding big riffs, memorable melodies, and a just-gruff-enough growl courtesy of Matt Heafy, Trivium is subtly establishing itself as a modern day Metallica that can still appeal to those feisty metalcore fans. Juggling mic time with rhythm guitarist Corey Beaulieu and the charismatic bass player Paolo Gregoletto, Heafy leaped from microphone to microphone – spending time at each corner and edge of the stage. You know those bands that stand and play, believing their music is enough entertainment for your mighty dollar? Well, Trivium is not one such band – and if they're gonna be working up a sweat, they want their fans to be doing the same.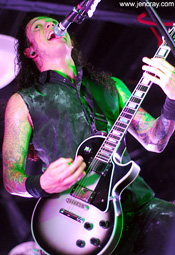 "I wanna see a circle pit down there!" Heafy exclaimed before launching into "Pillars of Serpents" off of their 2003 debut Ember to Inferno.
Even with the band's drummer Travis Smith sidelined for this leg of the tour (former drum tech Nick Augusto filled in seamlessly), they managed to turn Firestone into the mouth of hell – in the most gloriously rockin' sense of the phrase! Since originally forming while Smith and Heafy were high school kids with bad haircuts ("My hair was out to here!" Heafy poked fun at his former frizzed out metal mane) at Lake Brantley High School, they've grown into a mature metal act that can throw down complex compositions like "Throes of Perdition" and "Into the Mouth of Hell We March" – off of 2008's Shogun – next to more adolescent eruptions like "Pull Harder on The Strings of Your Martyr."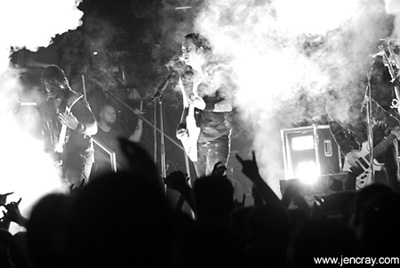 Appearing inside of an ever-changing sea of lights and surging flows of smoke, Trivium may have downsized their tour, but not their show. Here is a band that knows how to satisfy the metal-hungry masses.
To see more photos from this show, and others, go to [www.jencray.com](http://www.jencray.com/bands_live.htm).
Trivium: http://www.trivium.org/ ◼
---