Top 19 Dead People of 2009
Carl F Gauze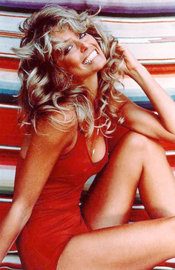 Another tough year is dead and gone, leaving only the tough and the clever. That's not true, of course, many people tougher than you and I are dead and gone, just like 2009. Let's take a look at some of the deceased who didn't make the front page for weeks on end…
You've never seen Bob May, but you've seen his work. He operated The Robot in Irwin Allen's classic TV show Lost In Space. Lost In Space wasn't just another space opera with ray guns and shiny suits, this three year journey included Mom and Big Sis and sent wholesome American family values out into the galaxy. The Robot didn't have a real name, just the number B9 but Mr. May made him more than a prop. Robot excelled at waving his arms wildly to warn of meteor storms, and offering sage advice to young Will Robinson. He was the logical mentor, and though trapped inside a 50 gallon exoskeleton, he was the best-est friend a boy in space ever had. If you look closely at the Robot's neck during a freeze frame, you might see Bob's eyes peering out as he did his job.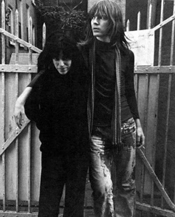 New wave poet, punk rocker, and heroin addict Jim Carroll died from a heart attack this year. Best known for his biographical Basketball Diaries and its film adaptation, his biggest impact came from the great punk anthem "People Who Died." He sang "Bobby OD'd on Drano on the night that he was wed," and to this day I've wondered how drain cleaner would get you high. Mr. Carroll suffered a heart attack, which isn't very pleasant either.
Les Paul didn't invent Rock & Roll, he just enabled it. Born Lester William Polsfuss, he grew up in Waukesha, Wisconsin and there he learned harmonica, invented the solid body electric guitar as well as multi track recording, tape delay, and a bunch of other things that made The Devil's Music sound much cooler than that Hollywood stuff of the early 20th century. After Mr. Paul shattered his elbow in a 1948 car crash, doctors couldn't repair it, and he had it set at 90 degrees so he could play guitar. He married Mary Ford shortly thereafter, and had dozens of hits with her. He was 94 when he died.
I never saw Captain Lou Albano wrestle, but loved him as the unreasonable father figure to the MTV generation. He's right up there with that guy who played
the dad in that Twisted Sister video. Albano appeared in nearly all of Cyndi Lauper's videos after they met on an airplane. He tied rubber bands in his hair and beard, almost daring you to snap one and have him pound you into the ring announcer's table. Albano was a pivotal player in the revival of Pro Wrestling, bringing the ethos of rock and roll and its installed fan base to what might be considered America's favorite style of theater. Wrestling is a hard life, but The Captain made it to 76.
Another MTV veteran we'll be missing is Ken Ober. Ken led MTV's on-air transition from a cable channel that featured hip music videos to a cable channel that specialized in annoying game and reality shows. He hosted Remote Control), a charming yet corny take on the eternal TV quiz show. Ober had several other gigs at MTV, ESPN, and on Los Angles radio, and died at 52.
The Prisoner captivated my childhood TV world. One of the oddest TV shows ever filmed, it starred Patrick McGoohan as a stubborn secret agent trapped in a surreal village. Drugged and tortured, he never revealed whatever information the evil Number Two wanted. He always demanded to know, "Who is Number One?" I'll never tell. McGoohan originally made a name for himself as the suave secret agent John Drake in Danger Man, and appeared in many other films, stage plays, and TV series, although he was in some way trapped in his iconic role as Number Six.
We've all read lurid science fiction under the covers with a flashlight, and some of the best came from Philip Jose Farmer. With a 1953 Hugo award under his belt, he led the introduction of sex into sci-fi. Before Farmer, sci-fi heroes were content to blast aliens and return to base for a rousing hand of pinochle with the Starfleet staff. After Farmer spiced up the genre, the likes of James T. Kirk turned the galaxy into a giant pick up bar.
On April 14, 1912, the World's Largest Metaphor Hit an Iceberg. Of the 706 survivors of this horrific shipwreck, the last to succumb was Millvina Dean. As a 9-week old girl, she was one of the women and children who received priority seating in a life boat, and while she didn't remember all that much of the sinking and rescue, she became active in Titanic-related events in her 70s. She lived to 97.
In 2006, the IAU downgraded Pluto from planet to dwarf planet, outraging elementary science teachers and astronomers worldwide. This year, Venetia Phair (neè Burney) died. She suggested the name "Pluto)" for this distant, icy body discovered in 1930 at the Lowell observatory. The rule in science is "You find It, you name It." and they had to act fast to prevent someone from stealing their limelight. When the IAU announced the downgrade, Ms. Phair was nonplussed, stating "At my age, I've been largely indifferent to [the debate]; though I suppose I would prefer it to remain a planet."
As an actress and pop culture icon, Farrah Fawcett is most famous for a poster that decorated every young man's dorm room in the '70s. Sure, we all knew women had boobies, but Farrah went that next crucial step, revealing the presence of actual… well, check out the picture. Pretty mild by today's standards, but hot stuff in the Disco Days. Beside numerous and often forgettable movies, her hairstyle set the standard for voluminous fluff, and she married Lee Majors, best known as the "Six Million Dollar Man." She made millions off the poster and at the age of 50 posed for a bestselling Playboy spread.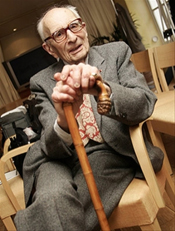 French Scientist Claude Levi-Strauss brought the "Noble Savage" out of the fur-clad world of cavemen and women and into the more nuanced cultural continuum of Western Civilization 101. By applying Structuralist concepts to the similarities and differences in tribal customs, he replaced the fanciful and essentially ad hoc theories that had kept the aboriginal tribes as "[The White Man's Burden](http://www.wsu.edu/~wldciv/world_civ_reader/world_civ_reader_2/kipling.html )" and made them equals to modern society, just with a more limited technical base. He was also the first member of the Académie Française to live to 100 years.
Porn aficionados mourned the passing of Marilyn Chambers (Marilyn Ann Briggs). One of the first megastars in this multibillion dollar industry, she stumbled into her first big role when she auditioned for Behind The Green Door. She was already an iconic model for Ivory Soap flakes, but they dumped her as soon as they discovered she performed interracial sex in a porn film. Porn producers loved the 99 and 44/100% Pure slogan, but this is no way to earn a living and she advised others to avoid the business. IMDB lists 33 films for her, including a minor role in Barbara Streisand's The Owl and the Pussy Cat. Marilyn gets the "Miscellaneous Crew" nod, which must be IMDB's euphemism for her acting specialty, for an additional 25 films.
While most 20th century painters threw pigment at the canvas and called it art, Andrew Wyeth continued in the quaint old-fashioned genre of making paintings that looked like things people could identify. The code word here is "Representational," and Wyeth's views of the Pennsylvania and Maine country side remain popular with the American public despite the ease of identifying trees and people and houses. Wyeth's most famous work is the 1948 Christina's World, showing a young woman in a field looking at a salt box house in Maine. The model suffered from lower body paralysis, and moved about by crawling. In the fine tradition of tacky yard silhouettes, I've seen plywood cut outs of Christina in people's yards in New England. I'm torn between writing a letter to the editor and making one for myself.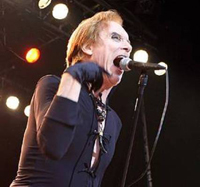 Another crucial punk musician, Lux Interior (Erick Lee Purkhiser), died of aortic dissection, a fancy term for a burst major vessel next to his heart. He founded The Cramps with wife Poison Ivy (Kristy Wallace) and made an impression on the New York punk scene. A good introduction to the band is "Human Fly" a truly warped riff off of "96 Tears." Lux and Poison were obsessive collectors of vinyl LPs, even taking jobs at thrift stores to have first cut at the goodies as they came in the door. Lux Interior gave the world the term "psychobilly," and that's enough for me.
Growing up with Paul Harvey and his booming, silvery, made-for-radio voice set my standards for both announcing and reporting. Unfashionable as he might be today – his newscasts could be heavy-handed in their patriotism and he often took a simplistic view of world events – he always left you with a feel-good ending. With trademark catchphrases and inflection, his style was based on a little-remembered 1940s sportscaster named Bill Stern. Harvey seamlessly flowed his news stories into sponsor ads, many for overpriced products aimed at senior citizens, and in some of his "The Rest of The Story" segments he may have emphasized story over verisimilitude. Call him a Republican, call him Right Wing, call him a huckster for sleazy insurance companies, for over 70 years his voice could hold your attention and make you feel that while the news was always bad, there was still hope for good people everywhere. Try and find THAT in today's tantrum of 24 hours-a-day news pundits.
Another iconic voice to depart broadcasting was Ed McMahon. As Johnny Carson's sidekick for years on The Tonight Show, his booming voice never upstaged Johnny, and the pair was well matched – McMahon played the self-effacing extrovert to Carson's shy guy. McMahon served as a fighter pilot, flight instructor, and Artillery spotter during WW2 and Korea. Late in his life, he had financial and health problems and was involved in several high profile lawsuits. Today he is free of his problems, and rests serenely in Second Banana Heaven.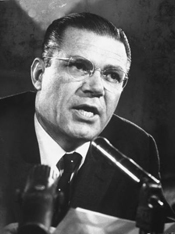 As defense secretary from 1961 to 1968, Robert McNamara was the principle architect of the Vietnam War, and went on to run the World Bank for 13 years. He began his career at Ford Motor Company, where he helped kill the Edsel, introduced the Ford Falcon, and worked to make the automobile safer for the driver. His specialty was Policy Analysis, and he made many important structural changes in the Defense Department. The Vietnam war took much of his energy, and he often overruled the Joint Chiefs of Staff on military matters. Possibly his most important contribution was the desegregation of the military.
This is a very sad one – Mickey Carroll, the last surviving munchkin from
">The Wizard of Oz</a>. Born in 1919, he worked with Mae West and went to school with Judy Garland, who offered him a role in Wizard. He played the Town Crier and several other roles in the film, and in 2007 he received a star on Hollywood Boulevard. He retired from show business after the successes of Wizard of Oz, and he ran his family business in St. Louis until his death. He was 90 years old.
We'll wrap up this list of missing Pop Culture Icons with Gidget, The Taco Bell Dog. Gidget appeared in dozens of Taco Bell commercials from 1997 to 2000. Her catch phrase "¡Yo quiero Taco Bell!" brought a modicum of multi-cultural linguistics to America and bazillions of talking Gidget dogs were manufactured as promotional items. The ads were canceled when they were accused of fostering cultural stereotypes, reminiscent of Bill Dana's troubles with his José Jiménez) character and the Frito Bandito. Gidget was voiced by Carlos Alazraqui, and she died at the age of 105 Dog Years.
That's it for 2009. Stay healthy, and try to keep moving.
---