Sister Hazel
Captain Hiram's / Sebastian, FL • 2/11/10
Christopher Long
Not even an unseasonably frigid blast from the north could deter the 500-plus "Hazelnuts" who packed the otherwise warm and tropical Captain Hiram's outdoor resort nightclub to experience a live performance from the pride of Gainesville, Florida, Sister Hazel. Since gaining national recognition for their 1997 platinum-selling debut album Somewhere More Familiar, Sister Hazel has established itself as one of the most distinctive bands in rock and one that focuses on, of all things, quality songwriting.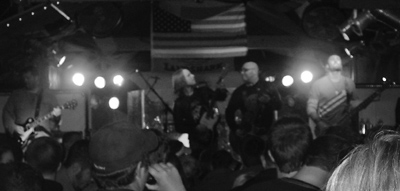 "This is our first time here," frontman Ken Block informed the enthusiastic crowd. "And in case you didn't know it, we're kind of a big deal," he jokingly continued as he led the band through a high energy set which featured early favorites like "This Kind of Love" and well-received tunes from their newest record Release, including the title track and "Ghost in the Crowd."
During the introduction to "Your Winter," featured on the soundtrack for the motion picture 10 Things I Hate About You, Block cited Major League III and Bedazzled as other "classic" films in which their music has appeared. The band paid homage to their southern roots by also treating fans to a brilliant medley of The Marshall Tucker Band's "Can't You See" and The Allman Brothers classic, "Midnight Rider."
Despite being one of the coldest nights of the year, Sister Hazel was red hot. Even on a cramped outdoor stage, the band was, to say the least, on point – delivering one helluva performance. Oh yeah, I think they also managed to fit in "All for You" somewhere along the way, too!
Sister Hazel: http://www.sisterhazel.com ◼
---