Moon Duo
Feeling The Space
Matthew Moyer
On the surface, it would seem that were no limits to the woodsy, twilit sonic vistas explored by drone fiends Wooden Shjips, but guitarist/frontman Ripley Johnson wanted to take things even further out there. But in a more-with-less/ everything-must-go sorta way. He'd been listening to freakout classics by John Coltrane and Rashied Ali, and this led to the realization that a lot of the music he really dug was made by duos – Silver Apples, Suicide, Royal Trux. Recruiting keyboardist Sanae Yamada, they got right down to business, and business was freakout gothic/space case boogie, like the best of Jesus and Mary Chain and Spacemen 3, riding a taut drum machine groove into an infinite horizon, held steady by waves of fuzz guitar and keyboard. Johnson's vocals sound like a mix of J. Spaceman (Spacemen 3) and Alan Vega (Suicide), but the real surprise here is the splatters of impressionist lead guitar throughout the album. Usually more guitar would have me running for the hills, but Johnson's lead guitar is so frazzled, and liquid, and nonlinear that he makes it work. Moon Duo have only been together for a short time but they've already covered some Christmas songs, they have a new EP (the soon-to-be freakbeat classic Escape) out, they will be at this year's SXSW, and they were kind enough to take time off from staring at the sun to answer Ink 19's questions. Ride on….
• •
How did you both meet and then end up playing music together?
We've known each other for a while. We met through a mutual friend. I wanted to start a duo and recruited Sanae to play keyboard.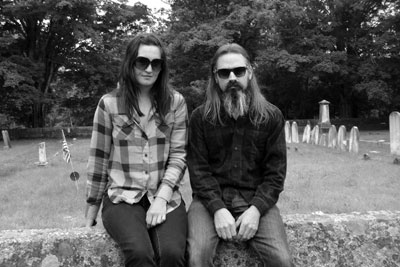 The duo format seems to lend itself to more freedom and flexibility – in terms of creating art and music and all the logistical stuff, travel, etc. Are you finding it that way, especially compared to Wooden Shjips' larger lineup?
Absolutely. Part of the inspiration for the duo formation was musical, but part of it was logistical. We figured we'd be able to do a lot more, especially with touring.
Tell me about the recording of Escape – a lot of it sounds very live and spontaneous.
We may have done one of the songs live. But most of it is tracked. We start with the rhythmic elements, make sure that's solid then build it up like a sculpture.
What sort of moods or feels were you trying to evoke with Escape? Musical or just general aesthetics, either is cool.
Generally, this was supposed to be our all-out guitar record. While we were working on it I was listening to some live Hendrix and that inspired the idea a bit. I'm not sure it made our approach, or the content, any different but it was sort of freeing, drawing that inspiration from Jimi.
Do the songs come quickly to you in Moon Duo?
Yes, when they come it's generally quick. For me if a song takes too long to come together, then it generally isn't going to.
Tell me about some of your musical influences; I've heard Suicide mentioned, and that's always a big plus for me.
Suicide is a great inspiration. Stooges. The Seeds, ? and the Mysterians. I feel like I could name a hundred bands. Other duos: Royal Trux, Silver Apples, John Coltrane and Rashied Ali, jazz duos in general.
You've started playing more shows recently and will be heading to SXSW, is playing out live something you enjoy? Does a live show lend itself to improvisation?
I like playing live but touring can be trying. I'm getting better at maintaining a balance on the road. But each show does bring out different sounds, different energy in the performance. I really like traveling around and talking to people at shows.
What is the composition process for Moon Duo? It seems like it might be freeform exploration over a very tight groove. Do you start out with a drum machine riff and then build and build?
That pretty much sums it up. I might say we start with a groove plus a guitar or keyboard riff, then build from there.
Your two bands, Wooden Shjips and Moon Duo, seem to be vibing off of a lot of the same musical touchstones, the Velvets etc., in exploring the possibilities of drone and repetition. What was it that attracted you to this type of music and made you want to actively create your own?
Like for a lot of musicians it's part of a search for a sound. Something you don't hear in other music, even if there are similar elements. I have a lot of records and can appreciate a lot of different approaches, but there's something personal that's always missing. And that needs to be expressed for some reason. It's a compulsion.
Do your surroundings in San Francisco influence your creativity and sounds?
I really don't know. I get that question a lot. I need to live somewhere else and see if it's different.
What is your first memory of music?
I don't know if it's the first but I have early memories of riding in the back of the family station wagon late at night, in winter, falling asleep listening to the radio. Every once in a while I'll hear some obscure AM radio hit that will take me back to those moments. "Déjà Vu" by Dionne Warwick is one of those songs.
I love the Christmas music that you have released for the last couple of years in both Moon Duo and Wooden Shjips, what made you decide to do that? Was it just for fun, or do you have sort of a nostalgic fondness for the source material?
It's partly nostalgia, but also because it's fun. And holiday songs are some of the only popular folk songs of our current culture, so nearly everyone knows them. Through that I discovered that I really enjoy interpreting songs, and we've done a number of cover versions since then.
Is the Woodsist label a good home for the kind of music that you like to put out?
I think so. They have a fairly eclectic catalog and they're good people. As Burroughs would say, they're Johnsons. That's most important to us.
What are you working on next? Are you able to balance working in multiple bands smoothly so far?
I got laid off from my day job a little while back, so I have some time. We're working on new Shjips songs, and [we] have a Moon Duo single coming out in late March on Agitated Records out of the UK.
Moon Duo: http://www.myspace.com/moonduo ◼
---