Words of Advice: William S. Burroughs On The Road
directed by Lars Movin and Steen Moller Rasmussen
Microcinema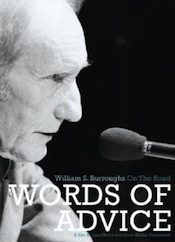 Words of Advice is worth your money just for the rare and hitherto unscreened footage of Burroughs circa (1983) giving a reading in Copenhagen. The footage is electrifying. The further we get away from the date of Burroughs' passing (1997), the easier it is to think of him more as a cipher or a symbol, lost in a sea of cut-ups and white noise, instead of a living, vibrant artist. His performance herein does much to restore this essential humanity. The visuals are the classic Burroughs of myth – a gaunt and wizened Burroughs (though he is quicker and more spry than the Burroughs of his final '90s heyday) sits at a bare table illuminated by a simple desk lamp, clad in a tan wool suit, sweater and tie, his eyes blazing right out of his sockets. However, his bearing and comportment are more akin to those of a stand-up comedian or how I'd imagine Mark Twain regaling a crowd in a way that is simultaneously laconic and utterly committed to the gag. Though his eyes rarely leave his stack of papers, his face takes on the features of whatever character he is describing and the voice… ahhh the voice, it's a monotonous Southern drawl that, just as it is about to lull you to sleep, suddenly leaps into a high whine, a tense whisper, or a haughty pronouncement. An acute sense of theatrics. It's amazing. Then there are clips of him doing a signing in a Dutch bookstore. It's awesome to seeing him playing the genteel southern businessman to a roomful of European goths and trenchcoat mafia types.
By the 1980s, Burroughs, finally returned to the US from decades of travel in Tangiers, Paris and London, was ensconced in the so-called Bunker in New York and began writing again, working on his Last Trilogy. It was at this point that Burroughs realized that the real money was in readings, performances, and lecture tours, and demand was high for his particular mix of outlaw cache and prophet theatrics. So like any good rock band, Burroughs dutifully hit the road. This is the first in-depth cinematic look at that fruitful period in Burroughs life, a prolonged victory lap, if you will. He toured colleges and rock clubs throughout the world, coming face to face with the underground youth culture that he, in large part, had created.
The filmmakers decided to expand the film Words of Advice beyond the initial concept of the travelogue to a more far-reaching biography of El Hombre Invisible. And while its somewhat brief running time ensure that wayyyyyyyyy too much is left out (little discussion of Ginsberg, Tangier, or junk) there is a wealth of archival goodness. Tons of prime footage circa the London years, when he was in a shadowy cabal with Brion Gysin and Anthony Balch. Lengthy interviews with poet and New York colleague John Giorno and assistant/confidant Grauerholz, and fabulously, tours of Burroughs' last two residences, the aforementioned Bunker and the nondescript house in Lawrence, Kansas, where Burroughs lived out his last days. Though this isn't the definitive statement on Burroughs, the filmmakers have done us quite the solid by releasing this footage and adding another side to the formidable Burroughs myth: addict, artist, futurist, and SHOWMAN.
Microcinema: http://http://www.microcinemadvd.com
---