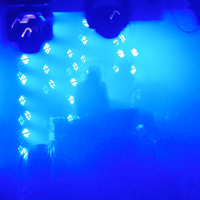 Crystal Castles
with Bear in Heaven
Orlando, FL • September 9, 2010
Eric Donath
While local resident DJ Diddles started the music early, I waited outside with an eager young crowd getting slightly wet in the drizzling rain. There were droves of glowing faces and glow bracelets and necklaces – punks, nerds, and the heavily make-upped. In not too much time I was inside the Firestone Live with a sparkling press pass – "ALL ACCESS" – and my mind swirled with possibilities. My far-reaching imagination was quickly reigned in by security, though. No, I was not allowed to get on stage with either band. Selah.
The masses cheered as Bear in Heaven came on, opening their set with deep and heavy synths, live drums, and slightly high-pitched melodic vocals. Swaying slightly, everyone was hypnotized by front-man Jon Philpot's moustache as he belted out his multidimensional lyrics that were processed into psychedelic layers. Joe Stickney's pulsing and perfect drumming had a remarkable punch alongside Adam Wills' resounding basslines. The trio played without Sadek Bazaraa who was vaporized in a teleportation incident, according to the band's video blog. Still, they have a huge sound even as a three-piece. Throughout the set Jon and Adam did some guitar swapping as the group played track after track from their second LP, Beast Rest Forth Mouth.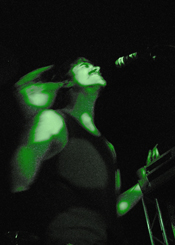 While Bear in Heaven are often dubbed experimental due to their cross-genre delivery, their songs have such a deliberate, driving feel to them that it seems like an almost unfair, underrating description. Each song knows where it's taking you, even if you don't know where it's going. The crowd hung on every syllable, beat, note, and moustache hair, often only snapping out of their trance long enough to cheer wildly between songs. With its time signature changes, elongated progressions, and comparatively staccato vocals emerging into long sustains that burst with energy, "Dust Cloud" was the magic moment of the night for me.
The crowd was excitable as Bear in Heaven left the stage. I was accosted by a fun-loving patron who demanded that I jump up and down with him while yelling "Hey! Hey! Hey!" to the tune of intermission music. I went outside and talked to Bear in Heaven briefly, mostly to compliment them on a great performance and to discuss facial hair. According to Jon, "Everyone should have a moustache." He jokingly added, "Even women," but he was quick to backpedal that sentiment. I left the conversation imagining Alice Glass of Crystal Castles rocking a handlebar moustache. Hawt?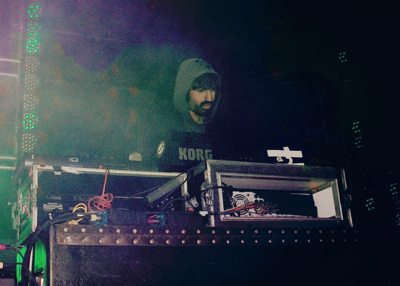 Back inside I met James and Diana, two of Crystal Castles' many biggest fans. I was making notes for this article and wanted to get a better idea of what other fans love about the headlining act. Apparently it's the video game sounds, and I can respect that.
Crystal Castles came onstage and wasted no time bringing in the noise. Their opening number was deafeningly abrasive, setting aside a focus on rhythm and tone in favor of LOUD, and the crowd loved it. Caught up in the music and the fans' energy, I almost missed my window for front-stage photographs. I had to negotiate my passage during the third song by carefully reciting the lines given to me by my lawyer in advance of the show: "TOTAL ACCESS. I NEED TOTAL ACCESS. I'M WRITING A REVIEW. INK 19. PRESS AFFILIATION. PLEASE." Competing with the sheer volume of the show at this point was difficult, but security and the tour's point-man were strictly professional and let me snap a few quick shots amidst the frenzy.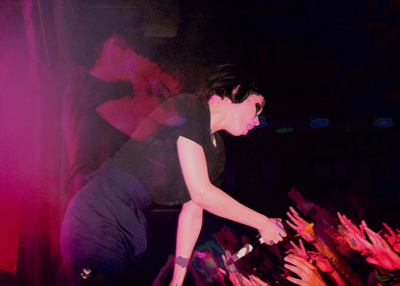 Crystal Castles definitely know how to get attention, even without moustaches: Alice. She bounced around, got in the front row's face, and then sauntered back to center-stage to scream upward while lying on her back. Founder Ethan Kath was front-stage with Alice but didn't capture much visual attention, instead letting her woo the crowd while seductively yelling at them. I didn't notice until halfway through the show that Christopher Chartrand was live on drums, hidden toward the back amidst the fog. His physical placement on stage matched his sonic placement; favoring heavily digitized percussion, live drums are not in the forefront of Crystal Castles' soundscapes.
The audience was completely entrenched in sound. As Alice belted out distorted and completely unintelligible lyrics, the fist-pumping crowd sang along word for word. Ethan's two-dimensional, lo-bit electronic sounds coincide so well with Alice's punk-rock appeal that it isn't surprising everyone was so enthusiastic and engaged. The synths were on. The vocals were on. The strobes were on. The crowd was on. It's been said that either you love Crystal Castles or you hate them. These loving fans knew what they wanted and got it; everything was on, and after a quick encore, so were the house lights.
Crystal Castles: http://www.crystalcastles.com ◼
---