The National
with Owen Pallett
Orlando, Fl. • 10/07/2010
Jeff Schweers • Owen Pallett excerpt by Jen Cray
Everything about The National's crowd-pleasing show at the House of Blues in Orlando Thursday night was perfect – from the opening strains of the introductory Neil Young's moody "On the Beach" to Matt Derninger's thrilling walk across the hands of the crowd to the spirit-stilling acoustic hymnal version of "Vanderyle Crybaby Geeks" that closed the show.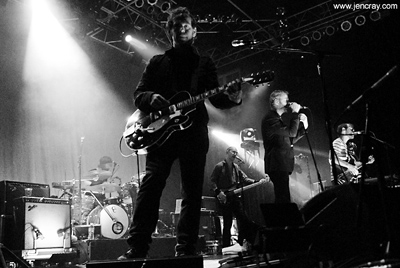 Opening the door to a perfect night of music was violinist Owen Pallett. Seeing one dude with a Beiber-esque haircut and a violin step out alone onto the stage does not instill great confidence in the sort of set we'd be treated with. Thankfully, for all 2,000 of our ears, the young Canadian not only abused the hell out of that poor little violin, but the baritone voice that sprung out of his sweet face was not at all what one would have expected! With the assistance of a loop pedal and a guitarist, Pallett gave a taste of his talents. His sometimes beautiful, other times strangely psychedelic skills have previously been championed by the likes of Arcade Fire and The Pet Shop Boys, both of whom he's done string arrangements for.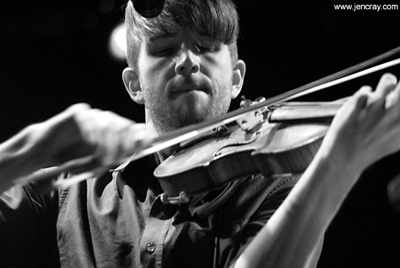 Derninger's performance as lead singer and lyricist of the Ohio-born, Brooklyn-based five-piece band, The National, was a revelation. Dressed like a country circuit-riding preacher in black pants, vest, and jacket, he flapped his arms uselessly as a broken-winged crow, screeching into the microphone like a madman on "Mr. November," teetering over the lip of the stage precariously, and stepping from monitor to monitor like a high-wire artist, always precariously and slightly off balance.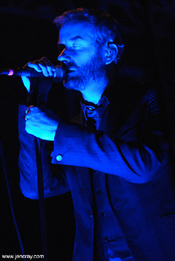 He banged the side of his head, he mumbled to himself between verses, he got on his knees and banged on the drum riser, he slurped beer from his plastic cup, and he threw more microphone stands away than anyone I've ever seen. In fact, I don't think I've ever seen a roadie whose job was to keep replacing mic stands (and mics, on occasion). But the crowd ate up his tortured, anguished singer-poet with relish, and cheered at his occasional forays into light-hearted banter (imagine Tom Waits trying to cheer kids up at a cancer ward for children). After "Anyone's Ghost" for instance, Berninger said that was their only song you could dance to, and if you didn't dance, well, you missed your big opportunity to dance at a National concert. And then they launched into "Mistaken For Strangers."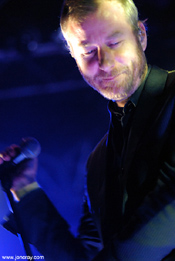 His performance was the perfect near-out-of-control contained rage to counterbalance the "Village of the hipster damned" cool control of the twin brothers Dessner – Aaron and Bryce on guitars, mostly, and sometimes Bryce on keyboards. They showed an amazing lock-step sync with each other, playing sort of a two-part rhythm on some tricky time signatures. Bryce also assisted on banter with Berninger, introducing one song as really depressing, written before Matt found a sense of humor. The song was "Afraid of Everything," and it was followed by something even more depressing. Berninger got back at Bryce when he introduced "Abel" as a song about one brother killing the other.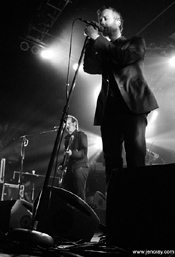 Bryce reminded Berninger of a scuffle with a concert-goer years ago. Matt abashedly admitted to getting into a scrum, which Bryce said amounted to Berninger giving the dude a big bear hug.
"I never hit anyone," Berninger said a bit embarrassedly.
The other, non-twin, brothers, Scott (on bass) and Bryan (on drums) Devendorf, laid down one hell of a rhythm section, especially on the harder rocking numbers. (Is it any wonder that this band is obsessed with The Brothers Karamazov by Fyodor Dosteyevsky?) The band was further complemented by a guest musician on keyboards, fiddle, and other assorted instruments, and two horn players who've been traveling with the band on tour for a couple of years now.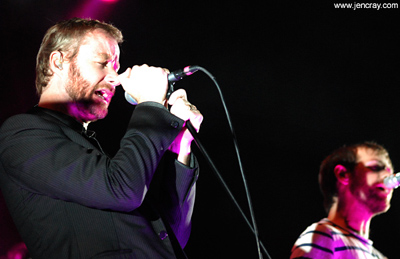 Derninger alluded to their home town, Cincinnati, on at least one occasion, right before launching into "Bloodbuzz, Ohio," another one of several songs that the audience enthusiastically sang along with. Some other highlights were the slowed down "Karen" and the wrenching "Available" – a real gem from their earlier days.
Oh, yes, and when everyone sang along to "Fake Empire," that sent chills up and down my arms.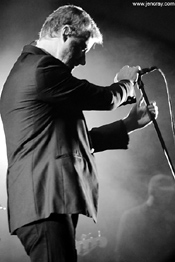 Also their live version of "Squalor Victoria" made me appreciate that song in a new light.
In fact, many of their songs that come off a little too airtight and claustrophobic on studio versions really benefited from live performances, especially with the drums brought way up in the mix.
This band rocked The House of Blues for two hours, then brought it down to a shuddering silence with the acoustic Vanderlyle (but not without someone making a remark about it being like The Eagles). It was one of the best moments in live rock I've seen in a very long time.
To see more photos from this show, and others, go to [www.jencray.com](http://www.jencray.com/bands_live.htm).
The National: http://www.americanmary.com ◼
---