Terry Carleton
Robert M. Sutton
Waking up Pee-wee Herman can be a difficult task, just ask Terry Carleton. For the past few years, the singer/songwriter/producer has been trying to get Herman's attention with "Good Morning, Mr. Breakfast," a bouncy slice of jangly Brit pop that is perfectly suited for Paul Reubens' next "Big Adventure," should it ever be filmed. After hibernating in Carleton's studio, the track finally made its way onto college and NPR stations this summer. However, Herman still remains elusive, but Carleton hopes that he will finally hear a song created in tribute to him. Carleton explains the reasons for this madness to Ink 19.
• •
When did you come up with the idea of writing a song for Pee-wee Herman?
Just trying to find something interesting to write about. I have more music in my head than lyrics. My friend, Marina Towers, suggested that I write about something I love so I chose Pee-wee. She actually took notes for me.
On average, how many songs do you write a week?
I would ask the question like this: How many songs can you write a week? When I'm asked to write for a band or for an event, I can snap them out fast, one or maybe even two a day. But left to my own devices, I co-write with others so much that I let my own music kind of get sidelined. That being said, I write about a song a month. Some just pour out of my head, while some I struggle with for months.
How long have you been a musician? What triggered this interest?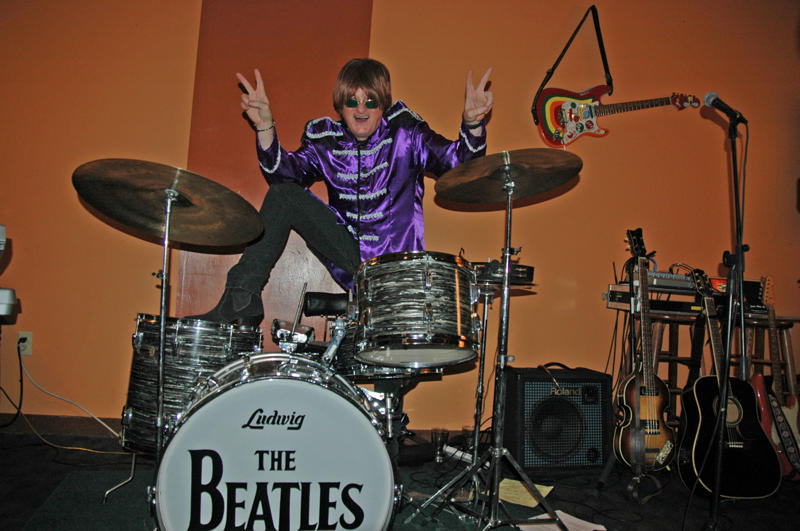 Apparently since birth. As a little kid, I would run into roadside diners and hug the jukebox. No one else in my family played music or sang so I'm not sure why or how I caught the bug, but I've been playing drums, guitar, and singing in bands, non-stop, since I was 10 years old.
The influence of Todd Rundgren and XTC is fairly obvious in your work. What qualities did they have which particularly attracted you?
Those two artists are two of my most favorite, and they may not agree with my assessment of their considerable and vast talents, but I have to feel that they were influenced, the same way I was, by the Beatles. I hear the Beatles in a lot of their writings, and if one of their songs doesn't necessarily "sound" like the Beatles, it nonetheless makes me "feel" like I do when listening to the Beatles.
When did you become a producer?
I became a producer, like most, when I got my first 4-track recorder. I would bet that a lot of producers started out as musicians who were just trying to record their own music on the cheap, know what I mean? As such, you learn a lot about the dynamics and mechanics of music. What you learn on your little 4-track with your own music can be applied to other people's music on a much nicer gear, which is now where I find myself. I see myself as a musician, writer, then producer, and in that order. But, really, it's all so connected.
Would you say that your other work stylistically fits with "Good Morning, Mr. Breakfast," or is this a departure for you?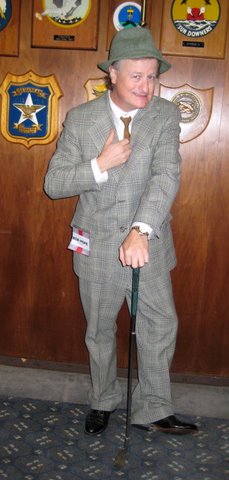 It's something of a departure for me. I write about what I know and feel. My song "Guitars" that I co-wrote with Andy Latimer of the great British progressive-rock band, Camel, is about my guitar collection. I have written songs about joy and great sorrow; "Grey Day" is about the weather in Seattle and the passing of Kurt Cobain so, like most writers, some happy, some sad, life, and death. I do, however, take great joy in writing instrumentals. I was commissioned to write for a circus in my home town of San Jose called, Cirque San Jose. Being very much inspired by Cirque Du Soleil, I wrote music for three seasons (almost 60 pieces of music in three years). I played all the instruments (guitar, bass, drums, keys, and vocals) and recorded it all in my studio. Being a very joyous event – hey, it's the circus, right? – there was a lot of the lightness, compositionally, that you might hear in "Good Morning, Mr. Breakfast."
As a producer, how involved artistically do you become with another musician's songs? Are you more of a collaborative producer, since you are a songwriter yourself?
Definitely, I lean more towards being the collaborative type of producer, but I don't insist on it. Some artists know exactly what they want and how to get it. At that point, I'm happy to be an engineer and/or a session musician. But being a multi-instrumentalist and singer, when given the opportunity for a co-write or collaboration, I jump at it. That is my element, writing, feeling, and using whatever tools I have in my studio or imagination, to make the song reach its full light.
How long have you had your studio? How has it evolved over the years in terms of the technology that you are utilizing?
I have had a studio that I affectionately call Bones and Knives for about 20 years. Other than a few drums and maybe a mic or two, in that time period I have completely changed all of my gear and recording formats at least three times. I started out as an 8-track analog studio and now have a hybrid format that, while the music gets stored in its final stage as digital WAV files, the process is mostly analog – lots of vacuum tubes and 40-year-old technology. So I get the best of old-tech sounds, mixed with the insanely modern conveniences of the new digital tools. Ana-Dig? Dig-alog?
What genres do you generally work with?
Pretty much everything, but I probably am best at catering to the singer/songwriters.
How did you go from being an artist to a producer? Or were you interested in producing first?
Well, I've always had a hand in arranging the songs in the various bands I've been in over the years and pretty much taken that interest into the studio. I became more of a producer when I started engineering for other people and it would always come down to the classic question. After a playback, the band would turn to me and ask, "Terry? What do you think?" I am reminded of the joke, "How many producers does it take to change a light bulb? I don't know, what do you think?" ◼
Bones and Knives: http://www.bonesandknives.com
---