Little Feat
with RoyJay Band
The Plaza Theatre, Orlando FL • January 19, 2011
Carl F Gauze
Talk about antsy audiences – this bunch was squirmier than a three-year old with a pet dachshund. There was never a moment when the band held the audience's interest long enough to get them all seated. Don't get me wrong, the blonde that squeezed in front of me a dozen times was better than the stage act.
I arrived in time to catch the opening set by the Roy Jay Band, led by the eponymous Roy Jay. He looked like a local musician: lanky, a bit weather-beaten, but wielding a solid guitar and penning interesting songs like "One Way Ticket" and "John Brown Is Dead." The Roy Jay sound lies somewhere between Steely Dan and Neil Young – blues guitars that flirt with jams that end before they lose your attention. The arrangements took the standard drum/ keys/ rhythm/ bass/ lead structure, but the players, particularly the rhythm guitarist, make them one of the better opening acts I've seen.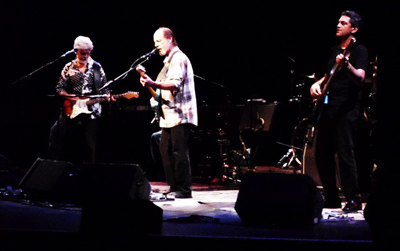 Lights up, long equipment change, everyone heads to the bar. We hang out. Little Feat sets up. They start playing an extended jam, the barflies drift back. Seating changes are negotiated; two very large people sit right next to me in an otherwise empty row and I slide back one. Halfway through a remodel, The Plaza uses semi-padded industrial folding chairs that might have come from a professional wrestling match held in The Armory, making standing a serious option. Little Feat wraps up the opening jam and slides into "I've Been Down" and after a few bars they lead into "Rescue Liner." "Spanish Moon" is up next with Sam Clayton leading on congas, but you listen hard to figure out the tune and once you've picked it up the band is back into the jamming mode. The meandering journey keynotes the evening. Little Feat has an outstanding repertoire of top-notch material, but every time they launched into a fan favorite like "Willin'" or "Don't Bogart that Joint" we heard about half a verse and then either cut to the next song, or went off into jam land.
The audience loved it – they got up and danced, got up for more beers, got up and iPhoned pictures to Facebook. It was like that old joke about the comedians' club – instead of telling the whole joke, they just do the intro and everyone knows the punch line. The oddest experience arrived during "Dixie Chicken" – two bars in and half the band got up and left. Only long time keyboardist Bill Payne and drummer Gabe Ford stuck with us, and Ford did a pretty snappy drum solo. Then the band returned, finished "Dixie Chicken" and took their bows. Astonishing. When the band leaves for "refreshments," that generally implies a longish wrap up, but that was the show except for the encore "Oh, Atlanta!" and house lights are on full. Much as I love Little Feat's music, I'd like to actually hear them sing those songs. Perhaps too few original members are left, perhaps Little Feat is taking the feared "new direction" but if you're "Waiting for Columbus," it may be a while before he comes back.
Little Feat: http://www.littlefeat.net • RoyJay Band: http://www.royjaymusic.com • The Plaza Theatre: http://www.theplazalive.com ◼
---