Judy Collins
with Kenny White
Peabody Auditorium, Daytona Beach, FL • December 10, 2010
Carl F Gauze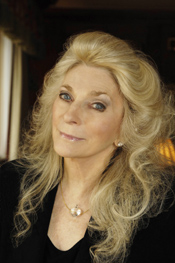 Daytona Beach is a nice town when the bikers, spring breakers and Juneteenthers retire to their normal hiding places. Its charms were visible through the low mist that hung over the town as I cruised for a parking space at a venue I'd never seen before. From the outside, the Peabody Auditorium is less than impressive, but the lobby sparkles and hosts four bars staffed by a platoon of older ushers who actually joke with the customers. Inside, the performance space is a nearly round auditorium with late Art Deco plasterwork and surprisingly clean sound. We were a few minutes late on the drive up from Orlando, and Kenny White was a few songs into his set in front of a comfortably full house.
White plays a jazzy blues with funny and touching lyrics on either a grand piano or an acoustic guitar. "She's coming on Saturday" paints a very ambiguous relationship, either there's no hope of a rendezvous or it will launch fireworks, but no one will know until it happens. "Sing Higher," which mocks the current passion for falsetto indie rock – "Sing higher, and higher still, then repeat the phrase, repeat the phrase…" – is no "Hark the Herald Angels" but you'd sing along if you could hit the high C yourself. Wrapping up with the gentle paean to his dead father "My 16 Bar Symphony," White leads us into the lobby to sign CDs and sell a few drinks.
Judy Collins leads that pack of '60s singer/songwriters that melded folk music with rock 'n' roll. She's still got the vocals, although her sound mix began with a rather strident and tinny tone. Clad in elegant grey satin and an amazingly full hairdo, she sang "Chelsea Morning" followed by a single line of "Leaving on a Jet Plane" before transitioning into "Country Roads." As she sang, her sound man got the tone under control, although there was always an emphasis in the higher registers and a bit of bass off her upper body would have made the sound much more pleasant. More oldies followed: "Diamonds and Rust," an a cappella "Turn Turn Turn," and a very tender "Danny Boy." Between songs Collins told corny jokes, reminisced about her career, and seemed to constantly be tuning her 12 string. I can't say if the instrument was temperamental or if she was shifting tuning in real time, but it was a bit annoying.
The tour is called "The Weight of the World" and she eventually sang this as a modern day anti-war song about a brother retuning from the wars in a box. That led into a politicized "Ghost Riders in the Sky" and throughout the evening she encouraged audience sing-a-longs. Fortunately, the sing-along element was lost in the Peabody's space, which I vote as a credit to the designer. I'm here to hear the person on stage, not a crowd of karaoke bar rejects.
Up to this point Collins had some backing piano from musical director Russell Walden, but near the end of the show she helmed the keys herself and gave us the highlight of the evening – "The Blizzard." It's a song about snow and coffee and trusting strangers, and she was thoroughly mesmerizing. Then suddenly, there was a bow, an ovation, and an audience debate. Would she return, and would she sing Sondheim's "Send in the Clowns?" Yes and no, Collins came back to her ovation and gave us "When You Wish Upon a Star." Then the house lights came up, the crowd shuffled out, and we pointed the car back towards home. Collins still has the magic, and despite some technical flaws, she delivers the goods on demand.
Kenny White: http://www.kennywhite.net • Judy Collins: http://www.judycollins.com • Peabody Auditorium: http://www.peabodyauditorium.org ◼
---