Sebadoh
with Richard Buckner
The Social, Orlando, Fl • March 29, 2011
Jen Cray
The reissues of two classic Sebadoh albums, Bakesale and Harmacy, won't be put out until July so this early spring tour finds the unsung champions of Indie Rock promoting nothing but a brand new t-shirt (available in several colors, but few sizes). You would think that this, and the band's battle with its label (Sub Pop) to re-release the records at all, would have left the group with ruffled feathers that would have led to a half-assed performance.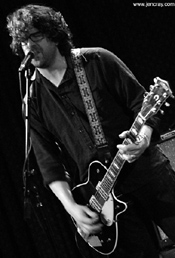 Nothing could be farther from the truth. Ruffled feathers and irritation at the way the corporate system breaks down only fuels the fire for Lou Barlow, Jason Lowenstein, and new drummer Bob D'Amico (who worked alongside Lowenstein in The Fiery Furnaces). Not even having to shave 15 minutes off of the tour's two-hour set in order to finish up in time for The Social's weekly Tuesday night event Phat-N-Jazzy, could bring the band's spirits down.
For a glorious 105 minutes, the band that never got its due in their heyday celebrated the plight of the underdog with a roomful of loyal fans who know what most do not: that Sebadoh was one of the greatest bands of the nineties.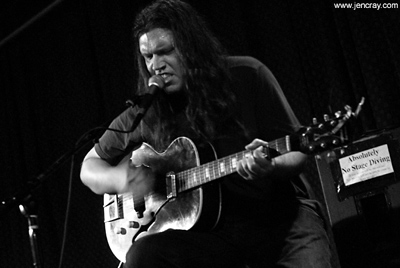 Playing to a sparse crowd that did little more than politely listen to him was Richard Buckner. Not a bad singer/songwriter, playing a sort of warmly hypnotic folk/country hybrid but being seated and hunched over his guitar with a constant snarl on his face made him come across as rather cranky. His set abruptly ended with him standing up barely before the last chord had faded, saying the name of his second guitarist, and leaving the stage. It was an appropriately chilly end to an ice cold performance.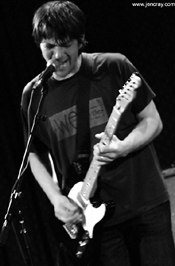 Sebadoh warmed the room back up right quick, wasting no time strumming into a densely packed set so perfect it could have been a mix tape. The absence of Eric Gaffney (a founding member who left the band in 1993, but had rejoined the band for their 2007 reunion tour) meant that the setlist was split between Lou and Jason songs – great for me, since their songs were always my favorites.
For those unfamiliar with the ridiculously eclectic catalog the trio has accumulated since its 1987 inception, Sebadoh has always been more like three bands in one. Their songs steer from blistering noise rock (mostly Eric), to distortion fuzzed punk (mostly Jason), to heartbreaking indie pop (mostly Lou). Throughout it all the men swap vocals and instruments in the studio and onstage.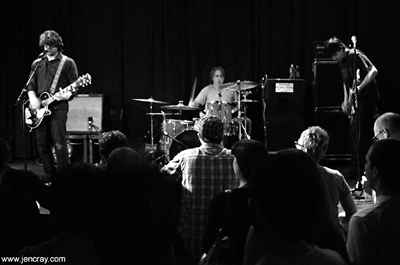 With Bob D'Amico staying put behind the drums (and subsequently drenching his shirt from his hammerhead assault on the kit), Lou and Jason were left to share guitar and bass duties. Any Dinosaur Jr. fan knows that Lou Barlow can kill it on the bass, but his comfort on the six-string has matured into an almost swashbuckling confidence, especially when getting caught up in his self-proclaimed "favorite Sebadoh song," the playfully fast guitar celebration "Give Up."
The pace of the night was swift, with one song fading right into the next as the shouts of approval continued from the closing of one classic ("Magnet's Coil"!) into the start of another ("Ocean"!) and yet another ("Mindreader"!), but not so hurried that the two vocal frontmen didn't have time to chat, banter, and confess.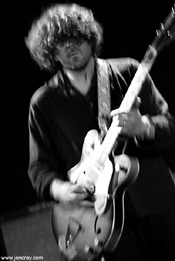 "It cost $120,000 to make this video," Lou grumbled, while telling a detailed story about how their record company screwed them by blowing a ton of cash on a song that was supposed to make them "big." "No wonder we don't make any money off of our records."
The song, and video, in discussion was "Willing to Wait," and though it may not have made Sebadoh into a household name, it is nonetheless one high-quality, heart-wrenching love song. It was with this that the band bid us all adieu.
To see more photos of this show, and others, go to [www.jencray.com](http://www.jencray.com/bands_live.htm).
Sebadoh: http://www.sebadoh.com ◼
---