Lick Me: How I Became Cherry Vanilla
Cherry Vanilla and Rufus Wainwright
Chicago Review Press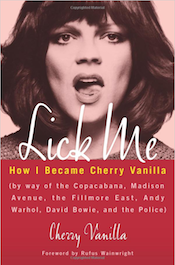 Groupie bios and rocker bios run along very similar lines: abusive home life, awkward adolescence, the discovery of music, and finally a bursting forth as a beautiful drug-powered butterfly, followed by crash and burn and then rehab.
Except for the rehab, that's the story of Cherry Vanilla, but with extra whipped cream on the side. Extreme Catholicism, an alcoholic daddy, and a cramped life in Queens drove Cherry (aka Kathleen Dorritie) to an $85 a month apartment in Manhattan when such a thing still existed. With a knack for television, a low-cut dress, and even lower-cut morals, she made a splash with the acid-soaked advertisers of the early '60s. The first female ad agent, the first female club DJ, and habitué of the cool and trendy, she cut a swath through the drug scene in the city and on Fire Island. At the tender age of 30, she started sleeping with rock stars and eventually became the queen of the backstage pass.
Her tale is charmed – no overdoses, few diseases, no busts, and no heartbreaks in a business that sells them by the pallet. Everything she touched turned as hard as gold and even when stars like Burton Cummings and Leon Russell moved on in the next city, a new friend was turning up. Ms. Vanilla tells an engaging tale of New York's Silver age, post WW2, pre-punk, the sort of town that musicals and old Frank Sinatra movies paint with a golden hue. When she becomes David Bowie's promo manager, her life takes off as she jets around the world spending David's money as fast as any record exec ever did.
While her story features plenty of sex, Ms. Vanilla drops names but never creates the air of eroticism that a letter to the editor in Penthouse magazine can. Bits of her poetry pop up now and then, but they would be best left back in Creem magazine, which better tolerates those abuses of English. Ms. Vanilla is no master of drama, as she flutters over crises from abandonment to abortion, and takes being thrown out in the snow wearing nothing but an old coat with the sort of good grace with which a politician takes a payoff.
Lick Me is oddly engaging and another facet of the greatest cultural revolution America ever produced. Too bad we can never go back; this would have made for an excellent flashback.
Chicago Review Press: http://www.chicagoreviewpress.com
---