Owl City
with Mat Kearney
House of Blues, Orlando, FL • June 16 2011
Stan Kruslicky
Sitting in his parents' basement in 2007, a musical project begun by the singer-songwriter and multi-instrumentalist Adam Young turned into Owl City. In 2009, their debut album Ocean Eyes brought forth the quadruple-platinum hit song "Fireflies," and their latest venture All Things Bright and Beautiful, which features rapper Shawn Chrystopher, is already poised to win over legion of new fans. It was hot on the heels of this album that the band came through Orlando.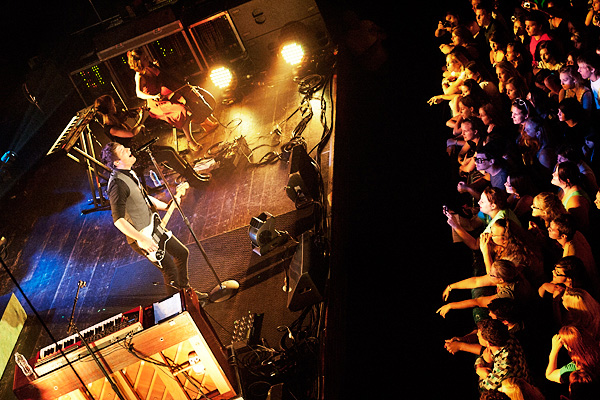 Mat Kearney started the show, and though his mellow pop music was pleasant enough to some ears, for most it left much to be desired. His songwriting has won him spots on some major tours (with John Mayer, Keane, and Sheryl Crow to name a few), but this young audience was just plain anxious for Owl City to begin.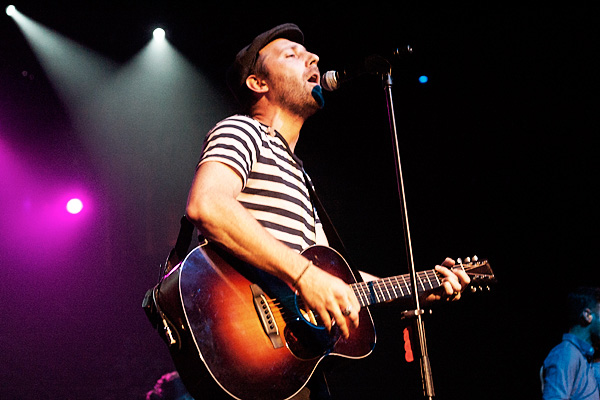 Adam Young appeared on the stage with artistic shades of orange, blue, and pink backlighting him and the band. Half way into the 75-minute set, the front man launched into the "Fireflies" hit, spurring the crowd of mostly teenagers to sing along with Owl City. The crowd cheered, but they did not dance or even bob their heads. Sadly, I noticed that not one person appeared to be moving his feet.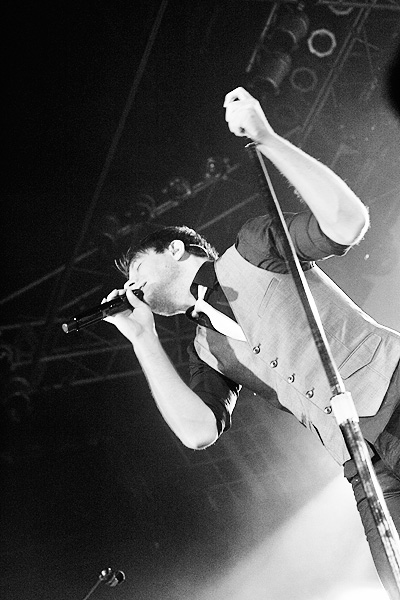 Backed by a five-piece band that included a cello, vibraphone, keyboard, and violin, Adam switched between his guitar, drums, and keyboard throughout the performance that included "Vanilla Twilight" and "Hello Seattle." The instrumental changes were accompanied by a heavy dose of awkward, yet charming, dancing by Adam Young.
On a cool note, I did see my first faux hologram used at a show. It presented the rapper Shawn Chrystopher in the middle of the stage dancing along with the rest of Owl City – actually now that I think of it that was pretty weird. This is going to be horrible if the music industry starts to rely on holograms on a stage and not even actual performers. Why go to a show to watch someone on a hologram and not the person in the flesh?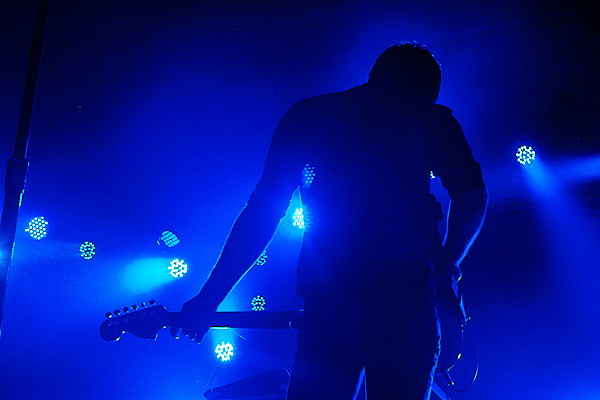 It was easy to get caught up in the atmospheric sounds that Owl City was making, but toward the end of the night everything seemed to bleed together. As I watched and tried to enjoy the music, I failed to get over how cheesy some of the lyrics and sound effects were. The annoying way in which Young had to say, "Thank you very much, I love you" after each song was finished didn't help win me over.
Even though the songs with their mundane melodies got to be a little to much by the middle of the show, you couldn't help but hum along with some songs. Overall, I could tell that the fans were pleased with Owl City's set. The show ended around 11pm, leaving me and a few other people wondering what to do for the rest of the night, as the kids in the crowd found their moms and dads waiting to pick them up outside of the House of Blues.
Gallery of Owl City live shots: Owl City • Gallery of Mat Kearney live shots: Mat Kearney ◼
Owl City: http://www.owlcitymusic.com • Mat Kearney: http://www.matkearney.com ◼
---