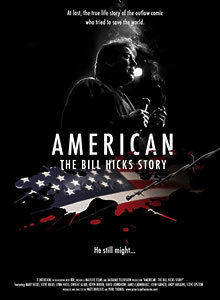 American: The Bill Hicks Story
directed by Matt Harlock, Paul Thomas
starring
Bill Hicks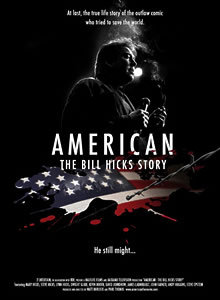 I left in love, in laughter, and in truth and wherever truth, love and laughter abide, I am there in spirit.

– Bill Hicks, February 7th, 1994. (19 days before his death)
It's hard to believe that Bill Hicks has been gone so long. If ever there was a time and a place that screams for his particular genius, it surely is America, 2011. Bill in the time of the Tea Party? I weep with imagined laughter. Like Lenny Bruce and Richard Pryor before him, Bill Hicks evolved from stand-up comic to social commentator, and brought us along for the ride. Bill preached peace and love as an antidote to a society gone insane, made us re-examine our most cherished beliefs and laugh while we did it. He called himself "Noam Chomsky with dick jokes" – and wasn't far from the mark. As this fascinating and gripping documentary shows, Hicks always strove to not just make his audience laugh – he wanted them to think.
Based largely upon interviews with Bill's mother and brother, as well as childhood friends, you watch as he begins his stand-up career as a teenager with Dwight Slade, performing in a local comedy club. Give him a pack of Marlboros and a few bits of well-placed profanity and the Hicks you see at 15 is the Hicks you saw at the end. He seemed to be a natural comic, with perfect timing and the ability to develop material on the spot. And once he gave up drugs and alcohol, he was able to focus all that energy into crafting his art. Not only a comic, he was a gifted guitarist and musician, screenwriter, and social activist, venturing close to Waco during the siege in an attempt to find the truth.
He died at age 32, far too young, of course. But somehow prophets don't seem to stay around long; they appear, preach the truth, and vanish, having planted seeds. And my, but Bill planted seeds! He's certainly more popular and quoted now than during his lifetime, and his acerbic observations of the human condition are even more timely now than then. The title of this film is American, a wise choice, for Bill Hicks is as good an example of America as you're going to find. He believed in America and its people, even when confronted with the worst of them. He believed in our native intelligence, despite all evidence to the contrary. He believed we as a people could handle – and grow from – the truth. He saw an America at peace. An America without the need to constantly apologize. An America free of nanny state nonsense, a nation in love with its entire people.
One hopes he planted enough seeds, and opened enough minds to make it so. He died trying.
American: http://http://www.americanthemovie.com
---