NKOTBSB
with Matthew Morrison, Midnight Red
Amway Center, Orlando, FL • July 22, 2011
Jen Cray
"There are two generations in the audience tonight," declared the youngest New Kid on the Block – who's 38 these days – Joey McIntyre. "For some of you, it feels like 1989… for others, it feels just like 1999."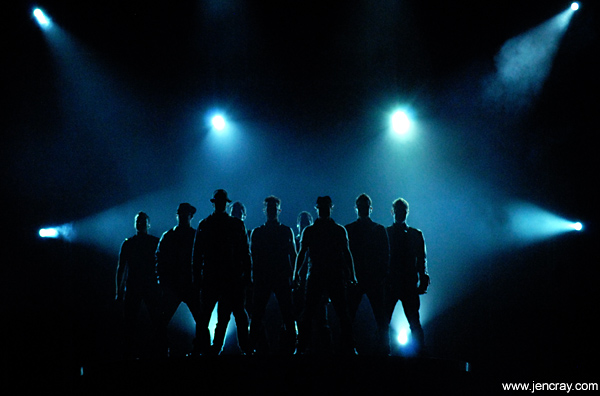 Regardless of what class of boyband you graduated from, the New Kids on the Block/ Backstreet Boys mashup tour (NKOTBSB is the creative moniker they've become) is a time machine to unbridled teeny bopper adoration and, as expected, the ladies (mostly ladies) lined up like bachelorettes at a male revue to revel in it.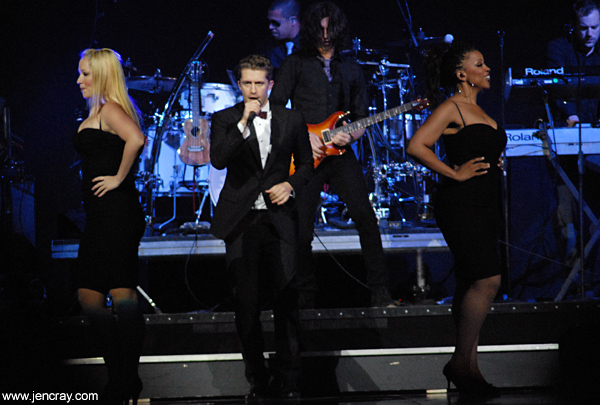 After a forgettable, barely-legal band of boys called Midnight Red opened the door to choreographed romantic dance pop, Glee's Matthew Morrison (who plays teacher Will Schuester) swung from tuxedo-ed class to watered-down hip hop and back again. The versatile singer/dancer is riding the fame wave of his superhit TV series all the way to these basketball arenas and seems to be loving every fortunate second of it.
With a full band, backup singers, and an odd dance break that gave nods to both Michael Jackson and Gene Kelly at the close of his set, the curly-haired Ken doll entertained like a Broadway pro who secretly harbors some Justin Timberlake ambitions. Much like the TV show, Morrison's set bounced between bright, shiny patches of fun and moments of boredom… or maybe I'm just upset that Gwyneth Paltrow didn't make a surprise appearance.
Despite whispered hopes that the Orlando date of this boyband extravaganza would bring N Sync out of retirement, the planets did not align to make that dream come true for the hopefuls – though Joey Fatone was spotted in the audience. The nine-membered NKOTBSB had to suffice and, really, I'm not sure that the Amway Center could have contained the extra flood of melted hearts and puddles of tears that those four extra boys would have inspired.

Hearts were breaking enough as the pair of record-breaking groups took turns in the spotlight, performing handfuls of hits before tagging the other group in to play, with just enough time for a costume change. The New Kids, whose reign peaked in 1989, wrapped their magic around the expected songs like "The Right Stuff," "Step By Step" and a show-stopping "Please Don't Go Girl." In between, they let slip a few forgotten sugar cubes like "Games" and "Cover Girl," which were augmented by resident rebel Donnie Wahlberg tearing off his tank top, revealing physical proof that he is definitely indeed Mark Wahlberg's equally ripped brother.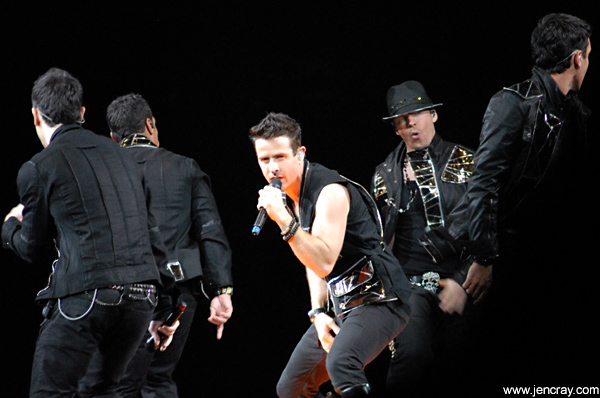 Backstreet Boys, whose domination of pop radio came a decade later in the late '90s, belted out "I Want It That Way" and "Quit Playing Games With My Heart," but when they brought up four fans (well, three fans and Howie Dorough's mom) to serenade during "I'll Never Break Your Heart," plenty of hearts were cracking – as was evidenced by the lackluster applause for the women onstage.
"That was a really jealous applause," joked Backstreet's youngest, Nick Carter.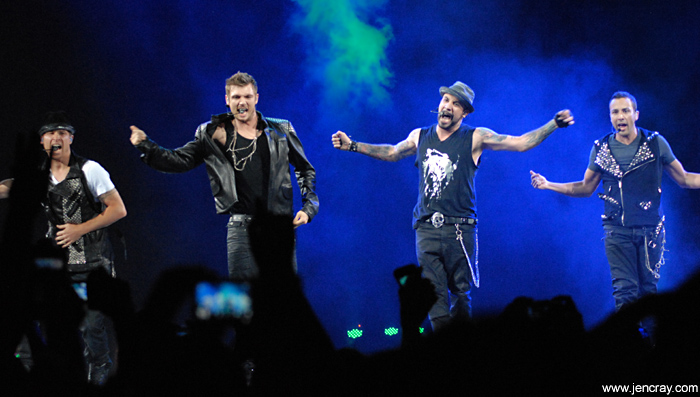 These separate medleys of hits were bite-sized nuggets of nostalgia, but it was when the groups collided to collaborate on the crowded stage that the concept for the tour came alive. Opening with "Single" and "The One" mashed-up with Coldplay's "Viva La Vida," closing with "Don't Turn Out the Lights," and encoring with rocked-up renditions of "Backstreet's Back" and "Hangin' Tough" – it was these overdosed moments of harmony that were a pop fan's dream.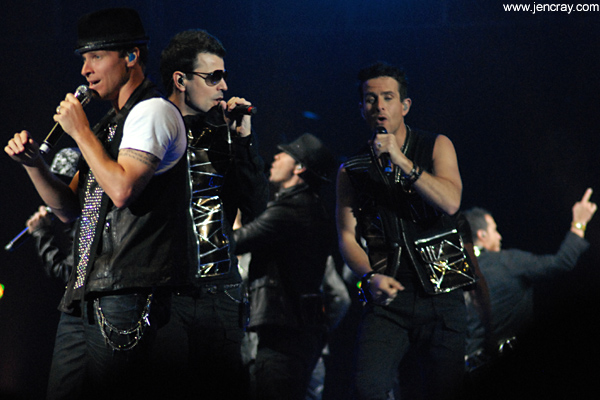 Another dream, a strange one, was the surprise appearance of Boys II Men, who showed up to perform "The End of the Road" and "I'll Make Love to You," inexplicably. It was beautiful and all, but you could almost hear the expressions of "Why Boys II Men?" throughout the room.
Nostalgic pop concerts like this are to be had in small doses, but that's not to say I didn't enjoy myself. The show was so sweet, I'm still trying to scrub all of the sugar off of my teeth and skin.
Gallery of live shots from this show: NKOTBSB • Matthew Morrison ◼
NKOTBSB: http://www.nkotbsb.com • Matthew Morrison: http://www.matthewmorrison.com ◼
---