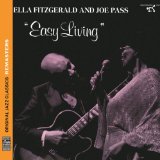 Ella Fitzgerald and Joe Pass
Easy Living
Pablo / Concord
We all know Ella Fitzgerald as one of the great female voices of the 20th century, and sometimes it seems like God held on to her until we had the ways and means to save her performances for future generations. This deceptively simple collaboration with guitarist Joe Pass is one small step from a cappella, and adding anything crass like a piano or sax would only muddy this stunning session. According to the liner notes (courtesy of Tad Hershorn, Institute of Jazz Studies, Rutgers University), the recording session was essentially a jam. Fitzgerald sifted through stacks of music and lead sheets, and then she and Pass picked songs and set keys on the fly. Even with her voice and control, this sort of improvisation is almost inconceivable today: the temptation to nip this, tuck that, and test market the whole schlimazel to death is too great.
Recorded in 1986, analog high fidelity had reached a pinnacle of acoustic performance. I'm tracking this on little white headphones, but I can almost imagine what this would sound like on the old Harman Kardon with its 6L6 final and Koss speakers. Established tunes like "My Ship" and "Don't Worry 'Bout Me" flow past like a limpid river in midsummer while popular hits like "Days of Wine and Roses" and "Moonlight In Vermont" transform from movie soundtrack to standalone art. The introspection of the early cool jazz is still there, but fades to the background like the art on the wall as you consummate a romance. As Mr. Pass finds the magical keys to emphasize Fitzgerald's voice, he seems in his own reverie but the pair might be figure-skating or making aerial passes over the sawdust in the Center Ring. The whole thing is effortlessly magical, and here it is – digitized and in our ears.
This record stands at a pleasant crossroads – while it's a landmark in recording and performance, it's just as easy to lean back and absorb it as pure entertainment. Detailed liner notes by Hershorn as well as pianist Benny Green's rambling steam of conscience album text are right in your hand. Take your pick: this can be an advanced lecture or a half hour in the jazzbo playground.
Concord: http://www.concordmusicgroup.com
---