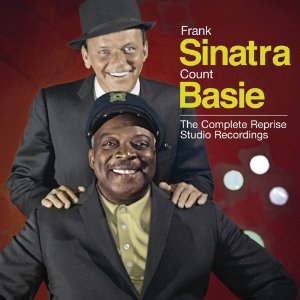 Frank Sinatra and Count Basie
The Complete Reprise Recordings
Concord Records
Here's a weird little item I noticed on the back of this completely hip retro re-release – there are two A&R guys listed in the credits. (That's "Artist and Repertoire," the guys who go out and find and sign hot new bands.) How much A&R skill does it take to sign Frank Sinatra and Count Basie after they've been musical icons for half a century? But that's the record biz – nothing makes sense to outsiders, all we can do is fall in love with the hype and buy the record like good consumers.
If you're looking for a soundtrack to your new tiki bar, this is one collection worth consuming: it's just about the perfect flash back to the Rat Pack sound of the Mad Men decade. Sinatra's sexy, earthy voice, Basie's elaborate and distinctive jazz, and all of the magic on original studio tapes from the Reprise archives brought back to life by Concord. The sound dates for the era when singer, songwriter, and arranger were separate, independent functions. Naturally, Sinatra got the best of them all and gives us gems like "I Only Have Eyes For You" and his signature "Fly Me To The Moon." Vocals are out front, backing lurks unobtrusively like a tuxedoed butler, and there's no audience patter to distract. Even a bit of interesting trivia pops up – the score of "More" (lyric: More than the greatest love) was the soundtrack to the 1962 shocker Mondo Cane, and you might be old enough to remember "I Believe in You" from the Tony-winning musical How To Succeed in Business Without Really Trying.
One bar of Basie's music will set the tone for any period film – the punchy, spare saxophones, a stand-up bass making laconic rhythm, minimal but satisfying piano, and Buddy Rich-influenced drumming. The vocals and the music take turns nicely on songs. "Sit Right Down and Write Myself a Letter" features stunning trumpet solos, and there's even a touch of country in the cover of Don Gibson's "I Can't Stop Loving You." "It Might As Well Be Swing" is Quincy Jones' debut as an arranger, and these two records opened the catalog for Sinatra's Reprise Records as he split from the giant Capitol Records.
Like all Concord releases, there's an amazing little booklet included. You get the original artwork (shrunken down, of course), original liner notes, period interviews, and a thorough modern retrospective of the record and its impact from blues expert Bill Dahl. No bad cuts, no awkward "alternate takes," no baloney here – just cool, jazz-driven class from a golden age of American sound.
Concord Records: http://www.concordmusicgroup.com
---