The Other F Word
directed by Andrea Blaugrund Nevins
starring Jim Lindberg, Tony Adolescent, Art Alexakis, Rob Chaos, Joe Escalante, Josh Freese
Rare Bird Films
You're young, snotty, and in a band with no musical ability. Then you're a father of three cute daughters, have a loving wife, and a job that keeps you on the road more than you want. What's the bridge, the connection, the common thread? It's called punk rock, and if you were hip and tatted in 1979 and you're alive in 2011, well congratulations and here's you AARP letter. You may have a Black Flag doormat, a zebra-striped bathrobe and a post-menopausal wife, but you're still a punker, but now you have to tell your five-year-old why you have a tattoo of a Dominatrix with a ball gag on your bicep. Rebel against THAT, smart boy.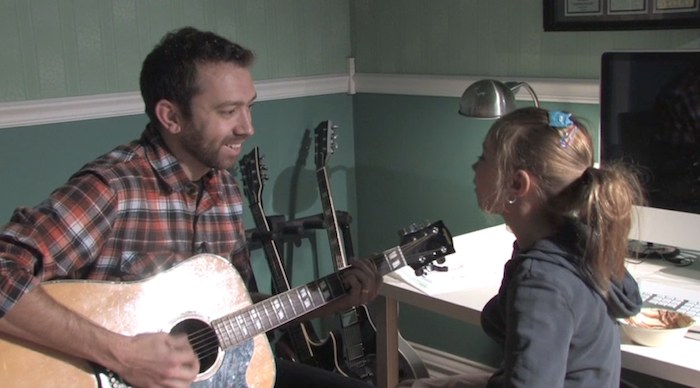 Love punk or hate it, this documentary is subversively funny, touchingly insightful, and proves that no matter how weird, anti-establishment, and hip you think you are, you're still human. These aging punks raise children, take them to the park, form stable relations with middle-class women from respectable families, and become… middle-aged, if a bit eccentric. Jim Lindberg (Pennywise) puts Tabasco on his dog's poop so it won't get eaten. Fat Mike (NOFX) takes his daughter to a hoity-toity Hollywood preschool and Lars Frederiksen (Rancid) can clear out a public playground with his tattoos and hair dye, while Tony Adolescent (The Adolescents) looks like hell and complains that touring is killing him. Most of these guys have nice places in LA or Hermosa Beach, and there's one thing that seems to run throughout each story: When they were kids their dads were either brutal or absent, and they are determined to make up for that with these children.
Sure there's a sappy moment or two, and the middle-class lifestyle they now inhabit makes them look like everyone else in the 33% incremental tax bracket, except they wear more body art. The stories are war stories – hair dye and Ambien keep them moving forward, videos of their early days keep everyone's expectations for parenting low, and the quote of the film might be, "It never dawned on me I'd be a father and have to buy the clean version of my albums" (Mark Hoppus, Blink 182). I loved punk, still listen to it, and check out the shows thanks to this gig, and somehow I'm happy for these guys – it might look like they sold out and became their parents, but they also have found some sort of traditional happiness, even though they never changed the world.
The Other F Word: http://www.theotherfwordmovie.com
---