Protest the Hero
with Today I Caught the Plague, The Safety Fire, The Jeff Loomis Band, and Periphery
The Social, Orlando, FL • April 17, 2012
Christopher Long
There is the pungent fragrance of ripe ass permeating from the pit, so powerfully nauseating that it could have knocked a buzzard off a waste wagon. A passed-out, seemingly inebriated, and barely clothed, tattoo-covered, female twenty-something is carried out and propped up against the venue's roach-infested entryway. Angst-ridden, sweaty teens sporting T-shirts offering various pro-Satan slogans congregate along the front sidewalk. The restroom toilets overflow with steaming urine and heaven only knows what. There's NO room to move inside, anywhere. It's hot and painfully loud. Welcome to another sold-out modern-day metalfest at downtown Orlando, Florida's acknowledged hipster hangout, The Social.
For less than $20 per ticket, fans took in concise, thirty-minute mini-sets from an astounding FOUR opening acts as well as a sixtyish-minute closing performance from the night's headliner, the Canadian combo Protest the Hero.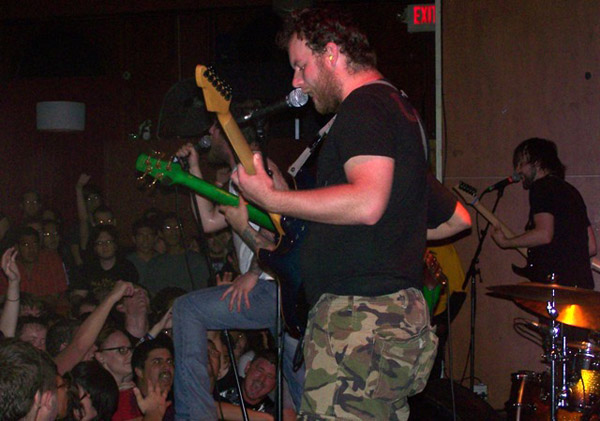 The show started early with the progressive metal band Today I Caught the Plague, featuring A Legend Falls alumni David Journeaux and Mike Ieradi. Based on the snippet of vocal gymnastics I heard upon entering the venue in the final moments of their set, this could well have been the tastiest band of the night.
Serving up heaping portions of angry, hookless progressive metal, Britain's The Safety Fire and the Maryland-based outfit Periphery proved, for me, to be equally dreadful. Hence, I enjoyed taking in the bulk of their two sets from the comfort of The Social's cramped outdoor smoking section.
Forty-one-year-old American metal guitar virtuoso Jeff Loomis soon took the stage with the aptly named Jeff Loomis Band. Delivering non-stop, old school metal shredding and sporting tons-o long straight hair and skinny jeans with black tees, the group would have perhaps been better suited on a bill in 1987 sandwiched between Testament and Megadeth. However, despite articulating frustrations over supposed early technical difficulties, Loomis' primarily instrumental set proved to be a refreshing show highlight.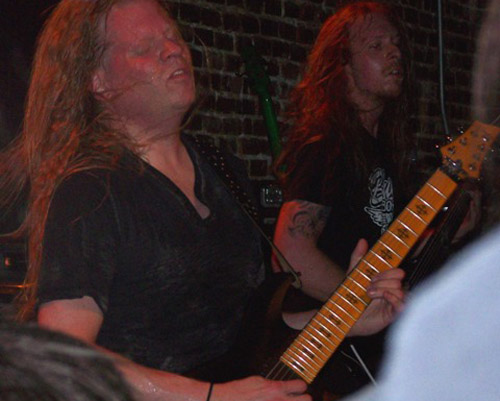 It's become downright comical to me that, as a writer, I'm frequently required to sign all sorts of releases and occasionally even donate a pint of blood in order to be granted photo credentials to shoot an event. Yet, any teenage hipster in the crowd carries the necessary technology right in his hip pocket to photograph and videotape a full show and have it broadcast on a high-quality website with more than 10,000 "Likes" generated by the end of the concert.
Though, honestly, these technological advancements played to my advantage on this night. The concert was not only sold-out, it was too packed for comfort. And standing all of five-foot-six, getting even a marginal glimpse of the stage was a near impossibility. However, I was able to enjoy a bird's eye view of the event via the playback screen on the kid's iDevice who was standing in front of me – a young man so talented that he was able to bootleg the show with one hand, while flashing "the horns" with the other. Impressive!
Finally, shortly past 10 o'clock, the headliners took the stage amid a barrage of flying beach balls and other inflatables.
Kicking off their set with "Sex Tapes," a popular track from their current record, Scurrilous, Protest the Hero quickly annihilated fans with their sheer musical precision and tightness, proving to be twice as impressive live as they are on their well-produced records.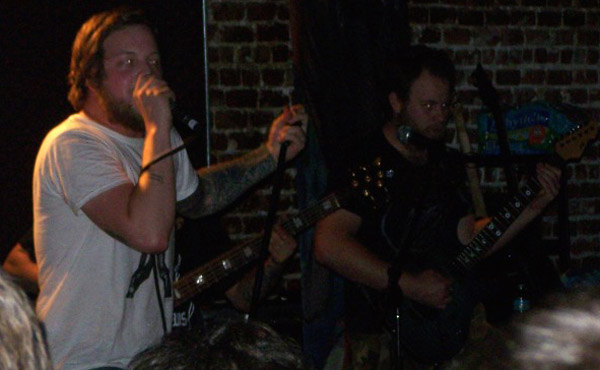 In addition to loads of acknowledged musical street cred, Protest the Hero is equally known for a signature style of lyrical irony, and in that regard, frontman Rody (rōdÄ") Walker did not disappoint. "If you have 'crazy hair,' you look like a fucking idiot," Walker commented during his random ten-minute dissertation on current hair styles. "Mohawks are fucking stupid," he expounded, as he ramped up to a special dedication of one of their early tunes, "Turn Soonest to the Sea." "This one goes out to the ladies," he announced.
During his subsequent in-between-song banter, Walker engaged the crowd in a lively ad nauseam dialogue regarding the currently overused catch phrase, "Slappin' the bass," a popular quote from actor Paul Rudd's 2009 comedy film, I Love You Man. "I like Paul Rudd. He's funny, but he's not that funny," Walker further expounded. "He ruined the bass for a lot of people," he finally surmised.
Appearing successfully to have located the backstage open bar rather early in the evening, Walker then led a five-minute tirade dedicated to the past "virginal" qualities of pop singer Britney Spears and the less than appealing virtues of her ex-husband, Kevin Federline. "He fucked the shit out of her," Walker eloquently commented.
Yet despite Walker's charm and undeniable public speaking abilities, the true focus of the show was the band's amazingly technical, progressive metal-type songs and the members' masterful musicianship. The dynamic guitar duo of Luke Hoskin and Tim Millar were no match for mere mortals as they shredded (and shredded) with machine-like accuracy while drummer Moe Carlson unmercifully punished his minimal-size, four-piece kit, and bassist extraordinaire Arif Mirabdolbagh smoothly moved and grooved throughout. In addition to generous selections from Scurrilous, their set also featured tunes from the band's 2008 Fortress record, such as "Limb From Limb" and "Sequoia Throne," and ultimately wrapped up with a rousing version of 2011's "C'est la Vie."
Protest the Hero: [www.facebook.com/protestthehero](http://www.facebook.com/protestthehero?ref=ts#!/protestthehero) ◼
---