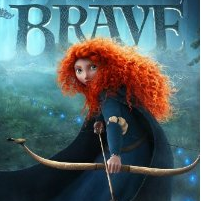 Brave
directed by Mark Andrews and Brenda Chapman
starring Kelly Macdonald, Billy Connolly, Emma Thompson, Julie Walters, Robbie Coltrane, Craig Ferguson, Kevin McKidd
Pixar
Resembling, at times, an authentic, animated, three-dimensional travelogue of ancient Scotland, Brave is either the most outrageously gorgeous Disney movie ever released – or the most traditionally "Disney" film Pixar has ever created. Thankfully, semantics are quickly brushed aside by a genuinely stirring movie that contains all the key elements of a classic fable: A captivating hero(ine), laugh-out-loud hilarity, great action with dark elements of real danger – and most importantly, an engrossing, ultimately poignant story with a few lessons peppered within.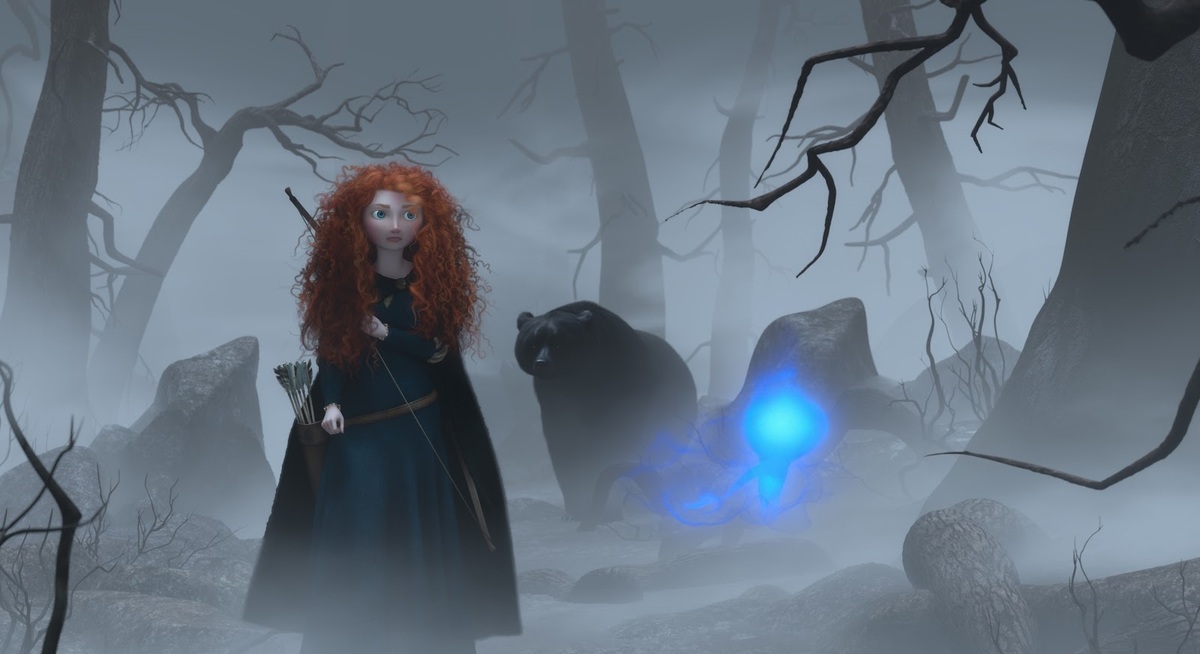 Re-imagined by Pixar, Disney's latest princess isn't exactly the type to be swept off her feet by a homogenous, pasty prince; teenaged ass-kicker Merida (Kelly Macdonald) doubtlessly has a dagger strapped to her thigh. Indeed, under her father the king's tutelage, she becomes an archer with Robin Hood-rivalling accuracy. However, Merida's tomboy tendencies have never sat well with Queen Ilinor (Emma Thompson); the issue comes to a head when it is decided that the lass will solidify a shaky union of Scotland's clans by betrothal to one of the chieftains' first-born sons. Though King Fergus (Billy Connolly) is perfectly happy with his daughter's adventurous, rebel's spirit, it's also perfectly clear who wears the kilt in the family.
[[brave1.jpg]]
A Highland Games-type of contest to determine which clan's favorite son will be the lucky one proves to be the breaking point for refined Ilinor and defiant Merida, and the latter takes off with her trusty horse, Angus. The fiery-haired archer soon becomes a key figure in an ongoing Scottish legend, and makes a mistake or two along the way that she quickly regrets.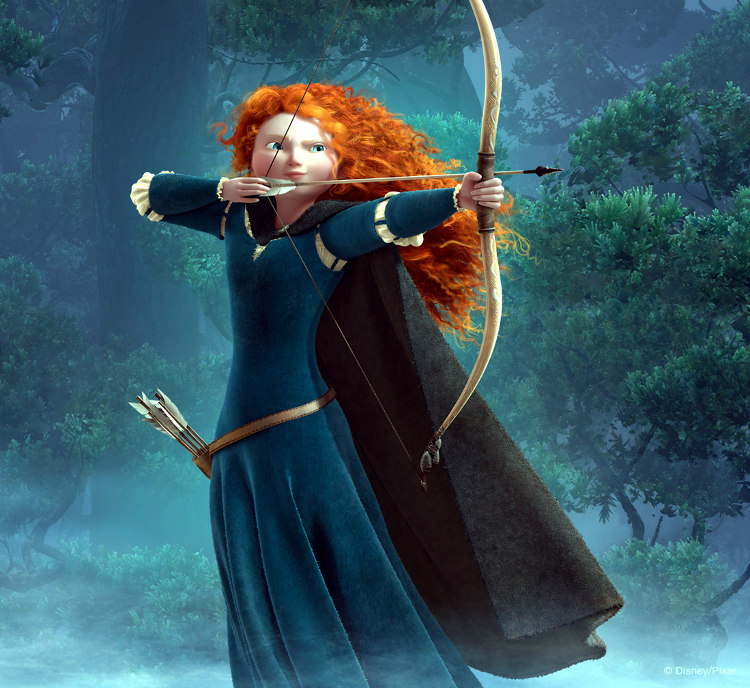 No more should be mentioned of the plot, other than to observe that Pixar also bucks Disney conventions with a lack of wicked stepmother, dashing prince, or evil witch – introducing, instead, a twist that one won't see coming.
Though all the ads and merchandise are aimed at the center of Brave's target audience – horse-loving girls – the PG-rated film has more than enough brawny action and humor to thoroughly entertain rowdy boys. Casting Connolly as the voice of King Fergus was a stroke of genius; the peg-legged warrior steals every scene in which he appears. The not-so-friendly rival chieftains (Robbie Coltrane, Craig Ferguson, and Kevin McKidd) and their respective clans recall Monty Python, albeit lightly. The icings on the comedic cake are Merida's little triplet brothers – bosom-diving hooligans whose devilish pranks become more and more inventive.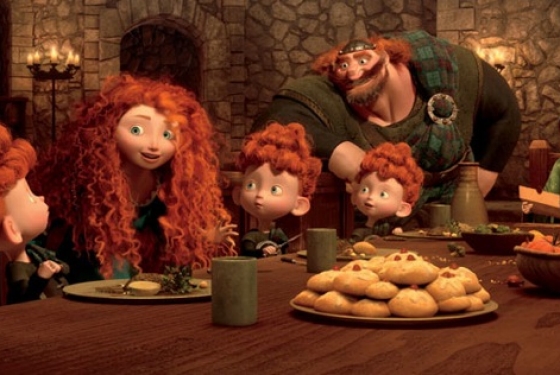 Brave's pacing is almost flawless; a traditional-leaning score by Patrick Doyle complements the movie's flow. There isn't a memorable theme song to be found, curiously; however, original numbers by Julie Fowlis and Birdy with Mumford & Sons fit perfectly.
The film's details are astonishing in scope; directors Mark Andrews and Brenda Chapman have taken great care in presenting the film's Scottish scenery and themes. Utilizing a new Pixar animation system, Merida's magnificently flowing, flaming hair becomes a character unto itself.
Those expecting Pixar's usual, intellect-tickling profundity might be disappointed in Brave. This film does lack the idiosyncrasies of Up, Toy Story's deep nostalgia, or the visual ingenuity of Finding Nemo. Compared to those movies, Brave stands apart as a relatively simple coming-of-age, mother-daughter tale of a redheaded Scottish princess who can hit a bulls-eye like nobody's business.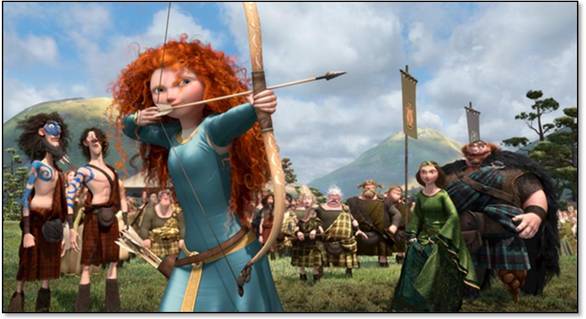 Considering this, Brave is a pretty daring move by Pixar; perhaps it's a one-off, maybe there will be another not-so-irreverential nod to their Disney partners' legacy down the road. It doesn't matter. This is a children's movie, and kids will absolutely love it. How much will adults enjoy Brave? That depends on how much of an inner child remains within them.
Note: The new, Oscar-nominated Pixar short, La Luna, written and directed by Enrico Casarosa, is alone worth the price of admission. Absolutely beautiful.
Brave: disney.go.com/brave
---